There's no doubt that boxing is one of the best workouts for women. You'll burn calories, tone your arms, and shape your legs.
But without the right boxing gloves, your workout might make you develop hand injuries.
Finding the best women's boxing gloves when you are a beginner can be quite a challenge.
This article has taken that challenge out of your hands and includes a list of the best boxing gloves for women to help you find the perfect glove for you no matter your skill level.
Comparison of Best Boxing Gloves for Women in 2022
[table id=16 /]
Best Boxing Gloves for Women in 2022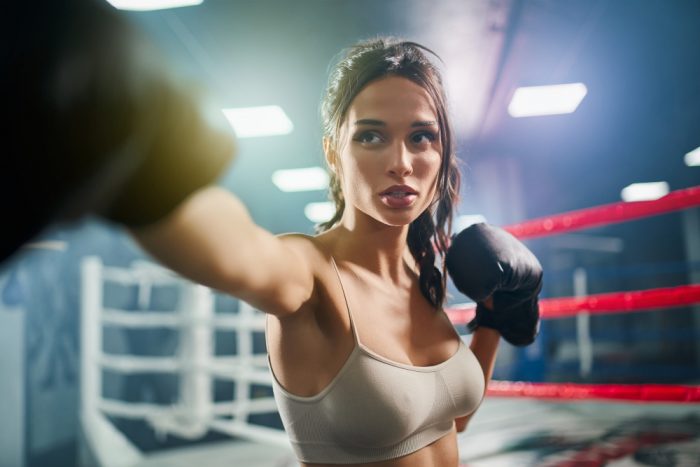 Liverlupus Boxing Gloves
Here are the boxing gloves that both men and women can wear. This is perfect for several activities like boxing, kickboxing, Muay Thai, heavy bag workout, sparring, and MMA.
These boxing gloves are made of premium leather. Its outer is composed of microfiber leather. The synthetic PU leather greatly contributes to making these boxing gloves tear and crack resistant, flexible, and have surface abrasion.
Since these boxing gloves are designed for both men and women, their color is very simple and unisex. You can get it in colors plain black or black with a touch of gold.
It also comes in four sizes to adjust and fit for all genders of players, especially for girl boxers who have small hands. The size you should choose will depend on your weight. The heavier you are, the higher the punching power, and the bigger the weight size you need. 
As you choose the right size for you, these gloves surely provide comfortability since it has holes that allow breathability.
With this, your hands will be kept dry during the fight. Moreover, the hook and loop closure helps secure the gloves but doesn't make them hard to wear or remove.
Trideer Pro Grade Boxing Gloves
These boxing gloves are known for their versatility. It can be used by both genders in boxing, kickboxing, and other activities. But, it's more ideal for training like sparring or working on heavy bags. 
These are made of a tough synthetic leather cover and pre-curved form fit design with a power grip palm. These features make the boxing gloves highly durable and functional in different types of activities such as boxing, kickboxing, sparring, and other fitness workouts. 
These boxing gloves can be used by either men or women so their color black is perfect for whoever wants a simple look and color.
It also comes in five sizes so the smaller ones will fit most women and the bigger ones are for most men. The size and weight you should choose will depend on your weight. Usually, the smaller ones suit women best.
Plus, these are comfortable to wear because they consist of many layers of foam padding. This soft feeling inside also serves as your protection from hard and strong punches.
Lastly, its wrist strap with hook-and-loop attachment makes it easier to wear and remove these boxing gloves. 
Hawk Boxing Gloves for Men & Women
The Hawk Boxing Gloves is perfect for men and women from kids to adults and can be best used for sparring.
These were made sturdy with the use of premium synthetic leather boxing gloves. This material makes the boxing gloves perform their purpose and last long.
These can be available in color white or black. If you are a girl, you might like the white one that has a gold print since it looks pretty and suitable for you.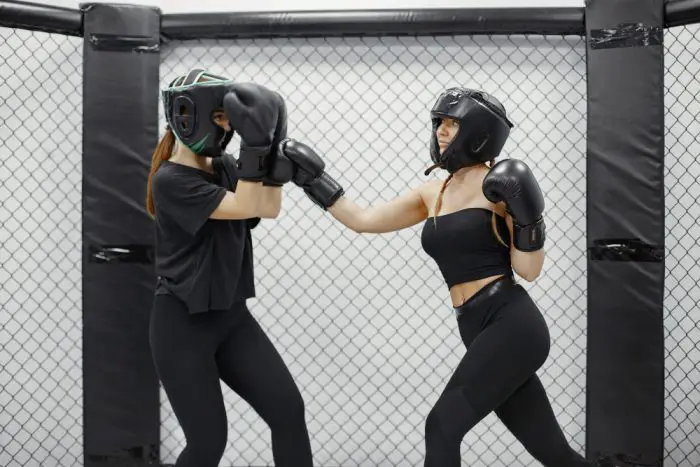 On the other hand, most men would prefer black with a white print because it somehow shows masculinity. But, either white or black can be the best ideal no matter the gender.
This is also available in different sizes. The Hawk brand aims to widen the range of users. It provides different sizes and weights to match the boxer's punching power.
Smaller sizes are usually most suitable for kids or youth. While the average sizes are recommended for women, and larger sizes are perfect for men.
Moreover, you feel comfortable when you're protected. That's what it feels when you use these gloves in boxing and even in kickboxing. It gives protection to your hands during practice and the actual fight.
You will also find a thumb lock on the boxing glove. This ensures that it won't suddenly fall off when you're training with heavy bags. Additionally, it has holes so your hands won't get sweaty.
FILA Accessories Boxing Gloves
FILA offers boxing gloves that can be functional in boxing, kickboxing, Muay Thai, heavy bag works, sparring, and MMA.  
These boxing gloves come in various colors so you have many options to choose from. You can avail of it in Classic (white, black, forest, midnight, red) and Victory (blank, pink, navy). 
It is also available in five sizes. These boxing gloves will perfectly fit your hand matched with the hook and loop wrist closure. 
Reliable materials were used to produce these good-quality boxing gloves. Its outer shell is made of polyester, a material that is known for providing durability and lightness.
Also, you'll find comfort in breathability as these boxing gloves have a breathable mesh.
It also has a pre-curved anatomic design that prevents deformation even if you throw hard punches. This also features optimal shock absorption which protects you and your partner.
Venum Challenger 2.0 Boxing Gloves
Here are the last but not least recommended gloves that even women can wear in boxing or kickboxing. 
This boxing glove is made of premium PU leather material. It makes it extremely durable even when you're executing critical moves in boxing or kickboxing. 
These boxing gloves have many colors and combinations such as pink, gold, blue, red, white, black, black/gold, black/white, black/gray, black/red, white/gold, grey/white, and khaki/black. Whichever color combination you find attractive, it will surely be a head-turner color for others too.
This is available in five weight sizes. If you are just a beginner with small hands, you can go for smaller boxing gloves. These will better match your hand's size and punching power.
Furthermore, its triple-density foam provides comfortability for your hands inside the gloves. It also has a hook and loop enclosure to keep the fit secured during the fight.
Everlast Women's Pro Style Gloves
If you are looking for an affordable pair of boxing gloves for women with the best quality to offer, Everlast's Pro Style Training Gloves are the right pick for you.
These gloves are made of the synthetic leather covering the outside of the glove. Moreover, it has a full mesh palm, ensuring the gloves' breathability to feel comfortable while boxing.
It also has dense two-layer sandwich foam for shock absorbency, preventing you and your opponent from getting hurt.
Here's a deep dive into the Everlast Pro Style Gloves to help you know more about the things it will offer you.
These gloves provide an updated Evershield design of hook-and-loop closure. It ensures protection for the wrist while ladies do their training.
With the secure fit it sustains, women would feel comfort and security while giving various striking angles. 
These gloves come in two different sizes, and they come in two colors, too. The pink and white gloves portray the fanciest feminine type of boxing gloves.
They also have pink and blue gloves that depict a charismatic and strong aura for ladies who would wear boxing gloves.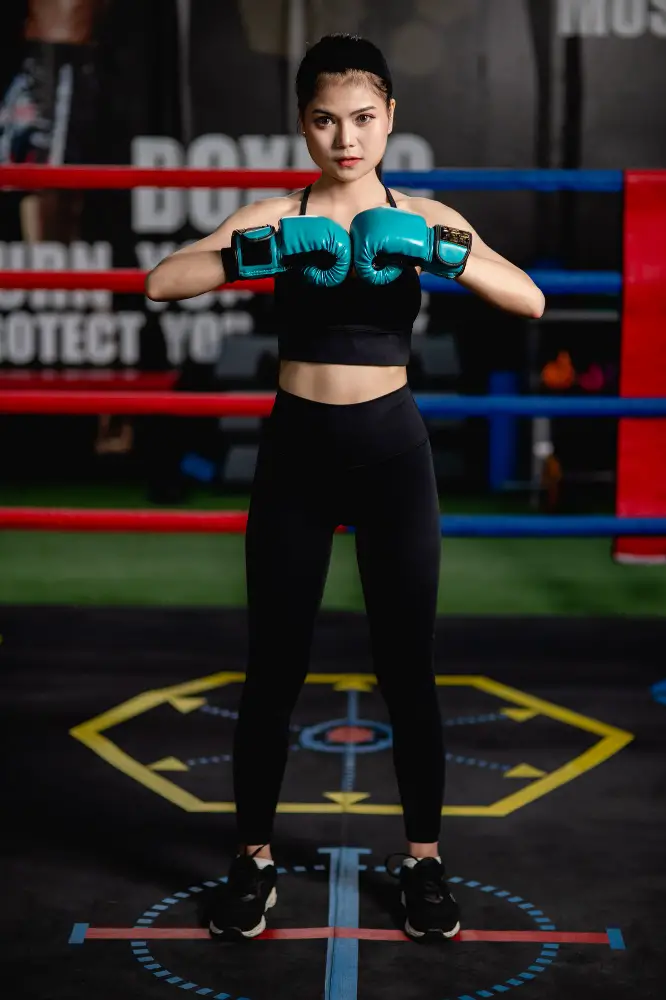 With the excellent construction built specifically for women, these gloves will provide long-lasting durability.
However, the sizes may be too small for some ladies. They would also need to be careful in picking the right size. But, with these gloves, you can also be super fast, you just need to practice with reflex bags to achieve that.
Overall, these are great, and that's why many female boxers use these gloves.
Hayabusa S4 Boxing Gloves 
Hayabusa's S4 Boxing Gloves are made of PU leather with a nylon lining, making them ideal for girls' training and fitness purposes. Although this pair is applicable for women, men can use it too. 
These gloves are assembled with foam that contours your hand's natural curvature. It gives women a proper fist position inside the glove and provides a shock absorption effect, too.
The perfect splint design of these gloves will support and align your wrist, helping you launch decent, powerful, and fast punches at any end possible.
Women cannot only throw proper punches due to proper alignment for the hand, but they can also stay focused and alert while using the gloves.
The closure system of these gloves is a single adjustable Velcro strap that provides a secure fit around the wrist. 
They come in different sizes and colors, which can let women choose the color of their choice. With the materials' durability present in these gloves, the S4 will stand up to high-intensity workouts as long as possible. 
Despite the anatomical curve that lets your hand stay relaxed inside the gloves, the wrist system may be a bit small if you are not an average-sized lady.
Even so, the overall quality is good, and you'll love to wear them while practicing on a standing punching dummy bag.
The video below shows why this glove is great especially for beginners so, check it out!
MaxMMA Pro Style Boxing Gloves
The MaxMMA Boxing Gloves are constructed from long-lasting Polyurethane, making them durable for long-term use. These fit boxing workouts: from the heavy bag to sparring with an opponent.
They are ideal for women, but men can use them too. They have a full wrap-around wrist wrap with a hook-and-loop closure that provides a superior fit and style for the users.
The hook-and-loop strap makes it easy for quick wear-on and take-off. These will let the women get off the gloves whenever they want to remove them immediately after a hardcore boxing session.
These gloves have a full mesh palm, allowing airflow in the gloves even during use. The mesh will help lessen the perspiration smell that would possibly build up after many uses of the gloves.
They come in different sizes and two different colors. Gold-colored gloves will give women a fancy and elite appearance, while the rose gold color will proffer a posh and sexy style. These elegant colors will let women feel more themselves during training, and working out with a speed bag.
Just look at this clip! They come in high-quality overall, and are produced with such elegance and sexy colors!
Venum Elite Boxing Gloves
From construction, assembling, up to the stitches, the Venum Elite Boxing Gloves are entirely handmade in Thailand.
They are made from 100% premium Skintex leather, which will make you enjoy an excellent-quality practice while you train for boxing.
Not only is the premium Skintex leather the best part, but the inside too. The triple-density foam of these gloves will deliver remarkably balanced shock absorption and distribution that would protect you and your partner from any injury that may occur.
Women can strike starting from the lowest energy to the highest with the foam's help, minimizing the stressful sensation of the impact areas the opponent can feel.
The clip talks about why the Venum Elite glove is so popular. Check it to see what features make it stand out among others.
It has an anatomical shape that contours a fist with an attached thumb to let relax the hand inside in a proper position and reinforced seams to ensure the gloves' resistance from tearing.
They come in five different sizes, making buyers choose from more sizes available, and they come in twenty different colors.
These gloves are suitable for beginners until the advanced users, but they may tear if constant heavy-hitting is delivered.
Ringside Women's Sparring Gloves
These Ringside Sparring Gloves were designed principally for women. They are made of leather and textured vinyl combo shells that provide excellent and pretty looks and durability.
The exclusive vinyl overlay webbing on the inside of the gloves offers supplementary reinforcement when impacting an opponent or a bag.
Moreover, the injected-molded foam or IMF padding protects ladies with a hook-and-loop, wrap-around strap that secures in place without it twisting and turning.
These women's boxing gloves have a mesh that promotes breathability for the gloves to ensure airflow while training and allows evaporation of sweat that comes out.
Even when water is present in these gloves, the ladies would still feel comfortable since it would allow the water to dissipate in no time.
These gloves come in two different sizes and two different colors. The pink/black-colored gloves make it look edgy and girly at the same time, while the white/blue gloves offer a calm and light feel for the women to wear.
These gloves provide transcendent support, but they may not last you long if continuous intense training is granted.
How to Choose Women's Boxing Gloves
Here are some parts to consider in buying gloves for women:
Here's a tip on choosing the right glove for you. Watch it to figure out what are the things you need to consider before buying.
Hand Size
Women usually have slim-sized hands: they have smaller palms with a narrower width and slender fingers that look more fragile than men.
Some unisex designs of boxing gloves would fit loose for women even if their size for unisex boxing gloves matches the actual women's gloves.
In ladies' boxing gloves, 8 ounces and above would fit with their slender hands since they are made primarily for their hands' usual anatomical shape.
Choosing the perfect fitting gloves is significant because baggy boxing gloves are not enough to guard your hands, while tight-fitting gloves would only strain and hurt your wrist and hand with constant disadvantages.
Picking very slightly tighter gloves would give you an advantage, too, since they will expand with time and once you break them in.
Material
Cheap gloves would only ruin your drive for training. You need to understand and ensure the most crucial factors required for the boxing gloves you want to purchase: durability, breathability, safety.
Do you want your gloves to last long, or is it okay for you to purchase gloves without an assurance that they may survive long?
That's where durability enters: make your choice if you want gloves worthy of your investment for its longevity or if you want even just a temporary one for the sake of having it only.
Some gloves do not allow airflow on the underside of it, and some do. We recommend you buy boxing gloves that promote ventilation to avoid the foul smell of built-up sweat inside them to make them breathable, which will make you comfortable.
Injuries can be a part of boxing, but you would never want them to be a part of yourself. Purchase gloves that ensure your safety despite any intense strikes.
This will boost your confidence and mentality to work out more, and you would not worry about quickly getting hurt from any hard training. To avoid injuries, you should never forget your boxing headgear.
Closure
Purchase boxing gloves that have closure provided with protection to help you avoid twisting your wrist during boxing sessions. 
Your boxing gloves should be fit enough to wrap around your wrist, and you should be able to adjust them quickly without any possible tear.
The Velcro strap is a nice closure for your boxing gloves since it allows you to adjust them according to the tightness you want it to fit you.
Final Words
Women do not always need to buy the smallest men's gloves; they should also feel like actual ladies choosing their size for boxing gloves.
With all the effort companies furnished to produce gloves only for women, this would comfort the ladies and focus on training because their gloves are their actual size!
Despite the product that fits women, not every glove fits everyone: what works for one woman may not hold for the other.
Choose the gloves you are interested in with the best hallmarks that would suit you. Always be mindful of the safety and comfort, and everything is good to go.
I hope this guide made it more transparent to choose the boxing gloves that would be best for your use without any regrets at the back of your head.