Being a strength training enthusiast, I have been aware of the benefits of free-standing heavy bags for quite some time now.
I have known that they are more effective, more convenient, and extremely easy to set up. But it was only a few months back that I got one for myself.
So, I read and saw many stand-alone Punching bags. Among them, I decided to list out some of my personal favorites and here it goes!
Best Overall Free Standing Heavy Bag
Century Original WaveMaster
This is one of the best free standing heavy bag. Weighing at around 10 kg, its outer material is vinyl which ensures the bag stays durable and damage-free longer. Gone are the days when you mandatorily needed to drill holes in your ceilings and walls to hang your precious aggression burners.
Welcome to the new era where you need a limited place to just set up this convenient piece of kickboxing gear and it can stand on its own! All you need when you bring it home is to set up the base. Fill up that base with your choice of heavy substance (sand or water works best).
Then set up the bag on the base and you are good to go! What I like about this stand-up punch bag is that it has an adjustable height that can be varied between 48 and 67 inches. So it doesn't matter if you are too short or tall, the Wavemaster FreeStanding bag is for you only!
This also ensures you can practice multiple kicking stances on the bag and it will and can tolerate it. Be it roundhouse kicks, head kicks, or oblique kicks, don't worry, our Wavemaster can do it!
Best Budget Free Standing Punching Bag
DRIPEX Free Standing Punching Bag
Weighing at around 182 pounds this piece of the gem is one of the best options for your budget-friendly freestanding kickboxing bag. It measures up to 19.61 inches in width and 68.9 inches in length which is pretty reasonable for decent punch Bags. Its outer material is made of faux leather that gives it protection from damage as well as makes it durable under your rainy blows!
This outer material and multilayer construction not only is great for durability but it gives a fantastic rebound effect. So if you are strength training, this can be one of your best friends as it serves as a strong buffer and it also reduces bruising and breaking your knuckles! With this, continue your kicking and hitting in a constant onslaught, yes, it can take over quite long periods!
Also, the dual PVC shock absorbers feature makes your Free Standing Punching Bag vibration free letting you concentrate on your training better.
Hauling the entire setup every time you need to fill the base is a headache no one wants. But this standalone Punching bag has a removable base that has 12 suction cups at the base. These cups have 172 lbs sucking power and their performance may be improved by adding some sand into the mix!
Best Free Standing Trainee Dummy Bag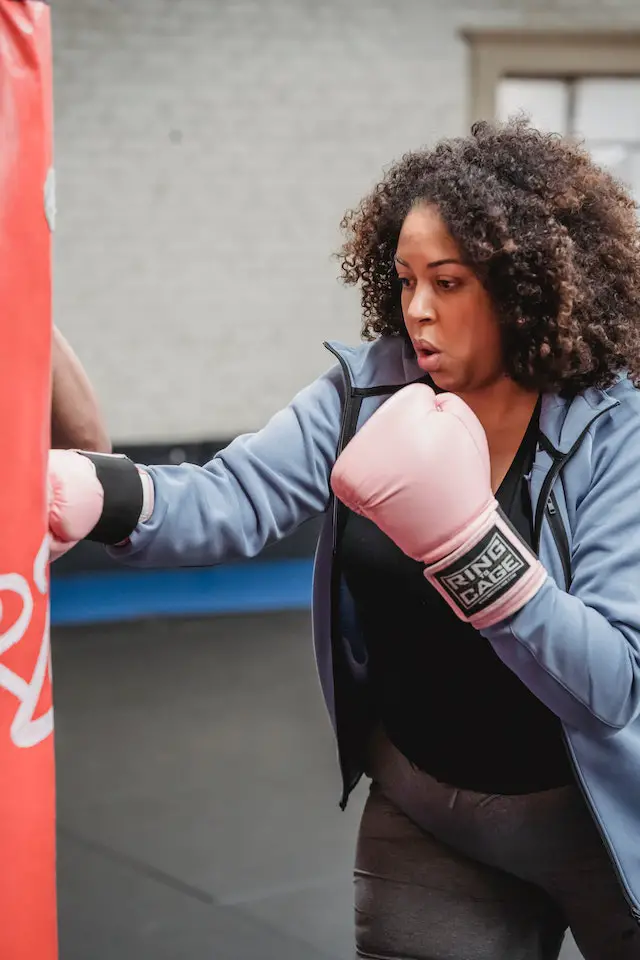 Century B.O.B FreeStanding Training Dummy
Kicking and punching those usually dark-colored Bags might get boring after a point. So what should you do to switch up the palette? Well, instead Punching bag, you could opt for a Punching Dummy. 
It's the same, just that the dummies serve as stimulators by giving a semblance of a live opponent. This also helps the trainer practice strikes and hits targeted at critical areas of the human body. So next time you have tricks too risky to be tried on by your fellow trainers, Dripex dummies are there to take your experiments with open arms!
The 'skin' of the mannequin uses high-strength plastisol and the inner cavity has high-density Urethane foam. Often you might notice that due to inappropriate material you might end up hurting your hands. But this Dummy, no, you hit it as much as you want, but it is too rugged to hurt you or let you hurt itself!
It uses the adjustable Wavemaster base that can be filled with sand to give the required stability at 270lbs. Its height can be adjusted between 60 inches and 78 inches along with 7 variable settings. The best part is these height adjustments can be done easily and rapidly thus giving you a convenient kickboxing bag, erm…Dummy.
This Dummy shaped Free Standing Punching Bag is a huge addition to your training. Because this provides you with a visual about where you should place your hits on a live opponent. While a Punching bag is best for punches, this Dummy is a great way to practice all your fighting skills!
Best Standing Reflex Bags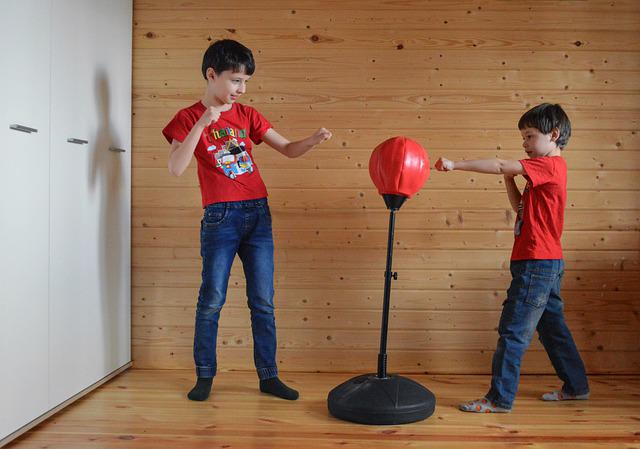 Everlast Reflex Bag
Okay, so this is one of my favorite free standing boxing bag. Manufactured by Everlast, it automatically comes with the tag of being undefeated in all things similar to boxing. Different from conventional cylindrical Punching bags, this Reflex Bag is one of the best options for your strength and speed training.
Mounted on a base that can be made heavy and stable with sand or water, it is one of the most convenient options for boxing your stress and aggression out. The mounting is done using a sturdy spring. This design helps you develop proper speed, timing, and accuracy of hits.
Its base can be easily filled with water or sand weighing 60 lbs. Tall or short, this Free Standing speed bag permits all with its adjustable height system. Although one thing it might not allow is HIgh strength and high-intensity training like kickboxing, kicking, or target-specific hitting.
Since this bag is specially designed for offering you the agility and speed required, it doesn't focus much on High-intensity areas. But it still doesn't fail to be durable with its materials. Thus it sports synthetic leather construction for providing you with a better and more durable free Standing Punching Bag!
Other Good Standing Heavy Bags
Century Wavemaster FreeStanding Punching Bag
Okay, so this is one of the largest and best punching bag with stand I have come across and trust me, it is worth it. With one of the tallest builds, the bag itself is 59 inches and 18 inches in diameter. Now add onto that the base size and it jumps to 69 inches.
Phew! So unless you are planning to fight some zord-monsters, this kickboxing bag is perfect for those front kicks, roundhouse kicks, and other types of High-intensity workouts! The striking area provided by this is more than enough!
Now if you are thinking, oh I have so little space in my house, how can I use this? Don't worry, folks, this Freestanding bag is known for its easy portability. All you need to do is either remove the base separately from the bag and roll it away or you could tip off the entire set and rotate it away to whatever corner you desire. Like this you can store it with other things and take it out as and when required. Indeed it saves a lot of space.
This bag was made keeping in mind your aggressive and stressful hits. So the material of the Punching bag is a vinyl cover that lies atop the high-density foam. This ensures a rugged surface and yet is not too hard for you to hurt yourself!
The base is designed to have the weight distributed equally. This ensures that whatever weight you follow will hold onto the base giving it the stability imperative during your training sessions!
GIKPAL Punching Bags
Considering all those best free Standing Punching Bags, I think this is probably one of those which are specifically designed to not hurt your hands at any cost. My neighbor started using this a few months back, and man, she will just not stop praising this particular free Standing Punching Bag. Especially its ruggedness and its stability are commendable things. 
This is built of premium leather that is too thickened and multiple-layered! This ensures that your Punching bag can tolerate a consistent onslaught of hits, punches, and kicks without breaking a sweat. The EPE High-density foam in the interior keeps your hands less vulnerable to bruises and injuries.
Being a free Standing sports equipment you needn't drill any holes in your ceilings or walls to mount the bag. All you need is some space where you can set it up comfortably. The 12 advanced suction cups at the base of the bag will keep it anchored.
Although you'll still need to fill it with sand or water for the best stability. The dual TPU shock absorbers are to prevent excessive noise and give you proper rebounds. Once hit, this bag will come back hard and fast for the next round!
That said, let me tell you, this stand-alone Punching bag had a height of 70 inches. So along with those well-placed hits and punches to stave off stress and aggression, you can also practice your kickboxing, MMA, Karate, or even Taekwondo techniques on this Standing piece of gorgeousness.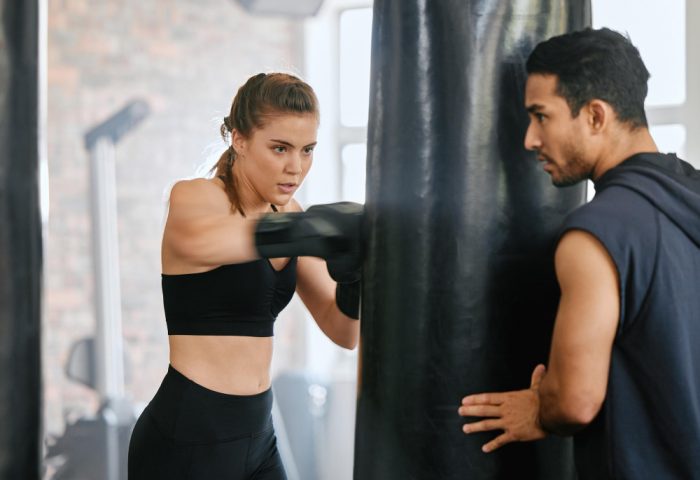 TownMaple Free Standing Punching Bag
This is one of the largest boxing bags that weigh around 205 lbs. With a variable height of 47 inches and 73 inches, this free-standing Punching bag is one of the most conveniently used bags out there. Also, the outer material used is faux leather which ensures your bag has reduced exposure to damage and vulnerability. 
I think this bag is one of the best choices if you have learning or training teenagers at your home. The reason being this bag is not only for boxing but can be used for other target-specific training as well. This comes with an additional foam loop with Punching targets.
These targets can also be adjusted by moving them up and down and making them convenient for growing teenagers. Be it straight punch training, uppercut training, or swing training, Townmaple is just what your kid needs right now! The targeted training is one gem that enhances your hand-eye coordination, responsiveness, and even your speed!
The dual TPU and 4 springs are there to drastically reduce noise to help you focus solely on the hits. It delivers a fast rebound of 15-45⁰ and 360⁰ shock. And the best part is you can remove the springs if you are practicing some high-intensity training! 
The base of this one of the best standing Punching bags is anchored to the ground with the 12 power suction cups. This prevents the bag from moving. But to maintain its stability while you are working out, you need to fill the base with water or sand for the best results!
RORALA Punching Bag
This is again, one of the best freestanding heavy bags suitable for Punching, kickboxing, and all sorts of High intensity-hitting workouts!  With a height of 70 inches, this heavy bag weighs around 203 lbs. Usually classic black, its outer surface is of faux leather that ensures lasting durability if nothing else!
It has a four-layer construction that contributes a lot to its invulnerable attribute. With a stainless steel prop that is sturdy enough to keep in place, it has high-density EPE Foam with 3mm of Premium PU leather. Thus it is strong enough to take hits of all kinds but it is also built in a way to not hurt or bruise you in any way!
What I like about it is its fast rebound at 15-45⁰ which is made possible by the strategically placed 4 spring connectors. Along With it comes the 2 shock absorbers that absorb the noise when you are in the middle of an extremely highly intense workout session. There is something called the enfolding-filled technology communication that ensures that the heavy boxing bag is in commission for kicks and hits worth decades at least!
The quality of the material is so awesome with its tear-resistant and smooth surface. Like other free Standing Punching Bags, this also has suction cups at the base that help keep the bag in place. But at the same time, you need to fill the base with water or sand for the best results in stability
It also has a special conical rubber mounting that serves sturdiness and balance. 
Everlast PowerCore Freestanding Punching Bag 
Manufactured by Everlast it is one of the top free Standing Punching Bags. Weighing at around 1000gm with a synthetic outer surface, it is one of the useful options for all adult boxing enthusiasts out there! What I like about this Standing alone Punching bag is its effective usage of Everlast core.
So the bag with its air-foam chamber gives you a realistic feel. Traditionally though, the rounded design gives you as a trainer better access to the bag for trying out all sorts of tricky and rough-hitting techniques. You can move around as you please to give yourself the perfect angle and perfect target to hit!
The Everlast core comes into play in the powerhouse power transferring. This absorbs all the excess impacts and thus prevents the bag from sliding off or moving from its place. So this feature is one up some other popular stand-alone Punching bags that always pose the risk of sliding off!
Although not so big, the height of this heavy bag is still between 54 inches and 65 inches. For the base to give you the required type of stability you need to fill it with sand or water. Also unlike many others, this can be very easily assembled and it uses durable materials for long-lasting life!
Buying Guides For Free Standing Punching Bags
Stable Base
This is the most important feature you need to ensure that your Punching bag sports. Without a stable base, you cannot hope to have proper training of any kind, let alone strength training or something similar. This stable base is usually provided by the sufficient number of suction cups provided at the bottom of the free Standing Punching bag base.
So whenever you are buying a standalone Punching bag, ensure that the base has powerful suction cups to anchor it to the grounds. Or else even if you make it heavy with sand and water, there is a risk that your standing bag may slide off or move under high-intensity hits.
Also ensure that the suctions work on all kinds of floors, be it marble or wood or any usual floorings.
Height Adjustments 
While Buying any sort of free Standing Punching bag, ensure that its height can be adjusted. That way it will be more useful and convenient as it can then be used by your family members too. And if you are getting it for your gym then you need to buy bags with variable heights.
Now even if you are not planning to share it with anyone else, still I think you should look for bags with different heights. Why? Well, it's more effective. Because when you box, you do it at a certain height. But when you kickbox or practice other target training you have to do it at different heights.
Only then your training will be complete and effective.
Material Quality
This is another important thing you need to keep in mind when you go to buy your Punching bag. Remember that your punching bag serves literally as that only. Yes, you might use it for strength training and other training, but this might also be useful as an effective stress buster.
So now just imagine if you are hitting that bag aggressively and so roughly, don't you think you require a hardy and sturdy enough bag that doesn't fail under the onslaught? For this, you need the bag to use Material that is tear resistant and can take the hits over longer periods. It has to be durable.
Should Not Hurt Yourself
Punching bags are of great use in strength training, speed building, improving hand-eye coordination, and other Great workouts. But if while boxing and hitting you manage to hurt your hands or bruise them regularly, what is the point of such an ordeal? Regardless you must wear some good hand wraps before you start those hits.
But you should also ensure that the bag itself is built in a way to not hurt you. How? Well, a good Punching bag will always have some kind of High-density foam in them. This gives that boxer the much-needed surface for greater impact. Now if you go on hitting on hard surfaces, of course, your hands will ache and will bruise also.
So try and go for foamed bags!
Springs!
Springs in free Standing Punching Bags are extremely useful. Firstly they are responsible for all kinds of shock absorption (which is significant during High-intensity workouts). And they are also great at reducing the noise produced during your workouts. 
This lets you focus more on the training rather than on the noises. Plus they should also have a proper rebound effect. That means after each hit, the bag should be able to come back at you harder and faster.
Only by working like this will you be able to hone your speed and coordination. Without a rebound, the entire process becomes a waste!
Size
The size and shape of the Punching bag also play a major role. Now, say you live in a one-room apartment and don't have a lot of space. In that case, going for large Punching bags doesn't make sense because you won't even be able to set it up in a smaller area let alone start training with it.
So go for bags that agree with the area you have kept for setting equipment. Now the shape of the free Standing bag is also important. Why? Because sometimes you are required to engage in target-specific training.
Now, these cannot be done with shapeless stuff. So sometimes you ought to opt for dummies or mannequin-like Punching bags for best results!