Is your kid joining new boxing classes? Is he going for his one big match against the rival school? Or are you looking to replace your old Boxing Headgear with a new and improved one? Perhaps you want to add a new boxing headgear to your wall of collection?
You are at the right place. In this article, we have discussed some popular headgears of 2023 along with their pros and cons.
Also to make your boxing headgear shopping easier, we have added a few guidelines as to how to buy the best headgear for boxing!
Best Boxing Headgear in 2023
Hayabusa T3 MMA Headgear
So, designed as an MMA protection shield, this gorgeous piece of convenience can be used as Headgear for sparring as well. The best feature of this face shield is its compact design. And it is because of this the entire setup seems light, but simultaneously provides ample protection without restricting wide-angled peripheral vision.
This increases the chances of a better lookout for those mean side hooks. To make training cooler and easy it comes with mesh openings in the ears and an open top to vent out the heat. Though the fit has minimal shifting risk which is good for cheek protection in some cases it is criticized be a too-tight fit.
It sets the comfort bar high with its inner soft lining of the Headgear. But the outer part is made from Vylar-engineered leather, a top-class combat against concussion and harm to your vital assets.
Pros
Comfortable and durable material construction.
Not suffocating. 
Has a compact design.
Patented T-cross closure.
May be used for safety in many sports.
Gives full coverage protection. 
Cons
Maybe too tight around some head sizes.
SANJOIN Boxing Headgear 
If you are a regular practitioner of MMA training and other hand-to-hand sparring classes, you must be aware that the equipment necessary for such things doesn't come very cheap. To combat this and to make Boxing and MMA training accessories a bit more affordable for the general and other factions of people, Sanjoin has brought one of the best sparring Headgear which refrains from creating a huge hole in your pocket.
Apart from it being more widely affordable, there are other features that make it something NOT to be missed. The best part is its innovative shock absorption system which is featured double-density protection of the cheek and face by absorbing the shock from impact hits. In addition to this, we also have gel-integrated padding that absorbs severe shocks and thus protects your face from all kinds of tricky hits.
The material used is quite durable with its PU leather backing which makes it tough and lasting. Also, the inner lining is manufactured in such a way that it remains water and sweat-resistant. This also makes it easier to be cleaned!
It is appropriately shaped and contoured to give a snug fit on the face and around the head. And with the adjustable closures, it gives a fit for almost all faces.
Pros
Excellent shock absorption.
Durable and comfortable material.
Easy and adjustable closure system.
Customizable fit.
Cons
May not be great for peripheral visuals.
Ringside Deluxe Face Saver
If you love sparring there are chances you may often end up with facial bruises like black eyes, and busted or crooked noses, especially in the initial days. To prevent this or to at least minimize some of these you need Headgear that not only protects your head and cheek area but may also offer protection to your sensitive noses. The Ringside piece of beauty is a decent aid to have when you are looking to save the more sensitive areas of your face.
The best part of this is that it is designed in such a way that lessens the exposed areas of the face. Thus it ensures that the potential target spots for the opponent are reduced, thereby reducing bruise probability as well. Although the outer part is made of leather, the inner lining has moisture-wicking properties. 
With these, you can concentrate more on your game rather than trying to defend your face from potential trial bruise impacts every time you need to brace for a hit. Though in spite of the efficient design, it does not provide ample protection to the chin area and that may make you vulnerable. Additionally, the padding may seem a bit stiff in some cases, and in some Headgear, the internal plastic frame may also appear ungiving!
Pros
Lessons target areas on the face.
Designed to give a full range of vision.
It keeps your head cool and dry.
Has easy clasping and fitting properties.
Cons
Inadequate protection to the chin.
May take a lot of time to break in.
The options for sizes are quite limited.
Ringside Safety Cage Boxing Headgear 
I believe for beginners Boxing or any form of hand-to-hand MMA training can seem daunting enough. Now if this is added on by the dread of going to work the next day with bruises, it makes MMA training pretty much undesirable. But wait, now with the ringside safety cage boxing headgear, you don't need to dread looking like a train wreck.
It offers full face protection because of the removable cage that creates a barrier between your face and direct hits. If you are wearing this to your sparring sessions it's unlikely that you'd end up with a busted lip and black eyes. For added safety to your head, it also features a pad that prevents severe impacts from well-placed headbutts. 
Although depending on where this sits on your head, you find the bars of the cage hindering your vision. But that can be remedied with some adjustment in placing it and tightening it with the velcro strap loop at the back. To take care of the seemingly constricting setup, the Headgear features easily adjustable rear closures and ear canals for convenient air release. 
Pros
Provides comprehensive protection to the face.
Features a removable cage.
It is not that heavy.
Can be adjusted to more or less all sizes.
Cons
May hinder your vision during intense spars.
TITLE Boxing Headgear
I personally dig this Headgear because it looks like it can take all the tricks as well as the simple impactful hits associated with sparring. It is designed in a way that doesn't leave much exposed to the opponent's punches and boxes. With an advanced sort of fitting that kind of molds to your face, it has a wraparound design that makes it one of the best Headgear for sparring.
The reason obviously is that except for the eye and nose skin, almost nothing is vulnerable to the hits. Not only the design, but the material used to build this piece of amazement also adds to its charm. It is the best boxing headgear for nose leather with 3 layer setup.
This ensures even with severe hits your face has sufficient padding against sustained injuries. It uses polyurethane, foam rubber, and low-density foam assemblage. All this together gives you that ideal sort of padding required to tackle sparring.
To this is added an advanced style of international cheek protector. Also, the inner lining is made firm yet soft with moisture-wicking properties that make intense training sessions dry and comfortable. Sweat and get hit as much as you want; even blood stains come off the material pretty easily!
Pros
Almost the entire coverage of the face.
Durable and comfortable material.
Special protection to the cheeks.
Internal suede leather gives a snug fit.
Cons
May not be certified for competitions.
Cleto Reyes Classic Training Headgear
Okay, so if you are looking for a decent non-certified Headgear for your sparring training then Cleto Reyes could be a great option. The coverage of this is almost the entirety of the face with only an opening in the eye area. But in spite of the coverage being so holistic, the padding doesn't seem to be equally distributed and efficient in all areas. 
In case you are engaging in intense sparring sessions or if you are fighting, then you may find your temple area and the back of the head not so well protected. But if you want something for your light training sessions, this can be it. It uses cowhide and latex foam padding, especially in the front of the face giving it ample protection against front hits and punches.
It has an easy hook and loops with an adjustable strapping system which gives you form fitted Headgear. With its default size, it is one of the best choices if you have a higher head circumference as it may give you a snug fit and keep it in place during your training sessions! 
Pros
Gives a wide-angled vision.
Features a buckle chin strap.
It has a lace crown adjustment. 
A great option for light training.
Cons
Inadequate protection around the head area.
VENUM Challenger 2.0 Headgear
This is one of the best boxing headgear with a nose bar and one of my absolute favorites.. The reason is it's ultra-lightweight. When I first started sparring as a way to stay fit and have a way of stress busters I used to get hit a lot and at that time, this bad boy challenger seemed like a godsend. Indeed it isn't perfect by a long shot, but it gets the job done more or less.
My issue with it was after multiple hits, especially as a beginner the guards around the face started to hold sweat sometimes. Although functional wise it remained unhindered, it was an icky feeling nevertheless. Keeping that aside this Headgear is one of the best face shields with its triple-density contoured foam padding.
This not only ensures your face is protected from hard hits but also gives you a shaped fitting. But again, remember it doesn't really have enough head protection so try not to get punched in the head much! The material used is leather skin tex which is durable and long-lasting.
Pros
Fantastic coverage and amazing breathability. 
Does not block visuals.
Gives ample cheek protection.
It has flexible hooking and loop straps.
Cons
Not enough protection in the head area.
Size can be an issue
Everlast Elite RTL Headgear
Staying true to its name this is one of the most lasting and durable sparring and Boxing out there. It uses premium synthetic leather that is hard to wear and tear. While many headgears tend to lose their tenacity under consistent impactful strain, Everlast literally tends to last. 
It uses a steel-reinforced crossbar. It is this crossbar that not only saves and absorbs from hitting shocks, but also adds to the protective factor. Coupled with high-density foam layered padding the shocks from the hits are much lessened. 
It is an almost perfect blend of superior comfort and hardened resilience. This allows you to keep your head in the game and keep your game face on!
Another brownie point for this piece of gear is its efficient design that allows the greatest visibility. This ensures you are not caught off guard by that sudden right or left hook. It gives you time to keep an eye out for upcoming shots.
Pros
It is durable and comfortable. 
Provides excellent visibility. 
Uses a steel-reinforced crossbar. 
Provides limited head protection too.
Cons
Padding may not be enough for real sparring.
TITLE Boxing Classic Headgear 
Is your kid going for her first boxing match inside the ring? The most important thing you require right is USA Boxing approved Headgear. Yes, you see not all headgear is certified and thus they cannot be used in competitions, not even in amateur ones. The TITLE Boxing classic solves this problem.
This useful and convenient piece of Headgear is USA Boxing approved and thus it can be carried to matches. Also, its well-placed protections around the face, ear, and head make it a great choice for not only adults but youth and children as well. Additionally, it is designed in a way that makes it last for longer durations against consistent hits; the wear under such straps is minimized.
The material used in this is a 4 layered foam laminated padding. The layers are both high and low-density ones. These layers are useful because they work towards a High range of shock absorption from intense and consistent hits. 
The best part about this is its integrated side ear air channels. It not only protects ears with greater coverage but this protection is given without any added bulkiness. The entire setup is perfected with adjustable chin straps that can give you proper form fitting resisting almost all slippage.
The fittings are also perfected with a lacing system on the top that furthers the fitting just like you want!
Pros
Durable and resistant to wear and tear. 
Has ample ear protection. 
Adjustable fitting system. 
It is certified. 
Cons
Ineffective without the right size.
RDX Boxing Headgear
Okay, so this is one of those Hugh branded headgears that are stacked with Hugh quality material. And yes, I kid you not, almost all the parts of this gorgeous piece carry some fancy name behind them. Firstly, the material used to construct this is none other than sturdy Maya hide leather.
This particular leather is known for its superior quality and the level of solidity it maintains. Apart from the impeccable external material we also have the internal tri slabs foam. It sounds very fancy but its simple job is to take care of the skin underneath the Headgear.
It is paired with Eva cushioning. This is a renowned brand that is hailed for its softness. Its uniqueness lies in the fact that it manages to dissipate the impact of the hits over a larger surface, ensuring you don't feel the brunt of the punches!
There are some other materials used that can easily block or at least lessen the pain from hard-pulled punches. The fitting is done through Hugh quality hooks and loops and it may fit a bit snugly to prevent slip-offs. So if you feel that you cannot be at ease with tight headgear, then you opt for a size up.
But while fitting remembers, for best protection snug fits are better than loose ones!
Pros
Durable and sturdy material used.
Protective internal padding.
SpongeX and DenXo Tron sheets were used.
Quick EZ hooks were used.
Cons
If not decided properly the sizing might get tricky.
Elite Sports Celestial Head Guard 
In the Headgear market that is replete with headgear that contrary to their reference provides sufficient protection only on the face, Elite sports has brought to you Headgear that is specially designed for not protect your facial parts but also your temples. The design is such that it fits and molds to form-fitting headgear. In spite of this, it is lightweight.
But again don't take it lightly because it uses High-quality PU leather that lasts much longer with minimum wear and tears. As a result, this offers you maximum resistance against all kinds of attacks. Due to the 180⁰ wide angled vision it also aids you to keep an eye out for oncoming hits!
Thus it also gives you the opportunity to practice immediate moves and dodges. It also allows flexibility that gives you enough to move your head freely. The closures at the back and the chin straps are adjustable and thus can be used irrespective of your head circumference. 
Pros
It has enhanced Jaw protectors.
It has Adjustable fits.
It has a Wide angled vision. 
It is ultra-lightweight.
Cons
Can get a little tight so choose a size with care.
Buying Advice For Boxing Headgear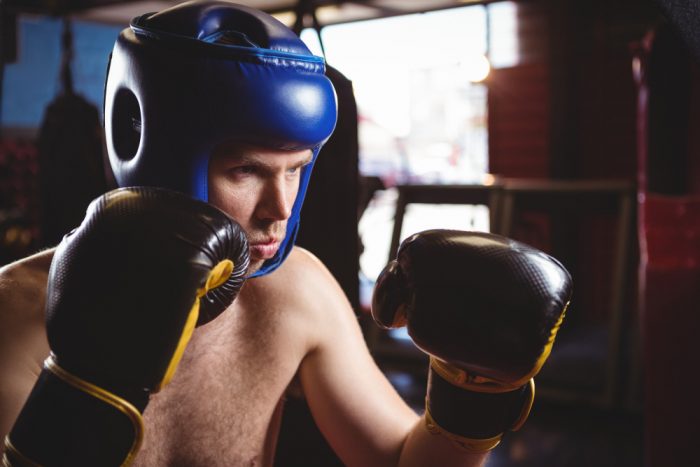 Nose Protection 
Okay, so if you are going to buy sparring or Boxing merchandise, it is Imperative you get something that protects your nose. The reason obviously is that your nose seems to be the most vulnerable in these sports. One well-placed and well-timed punch and you end up with a busted or crooked nose.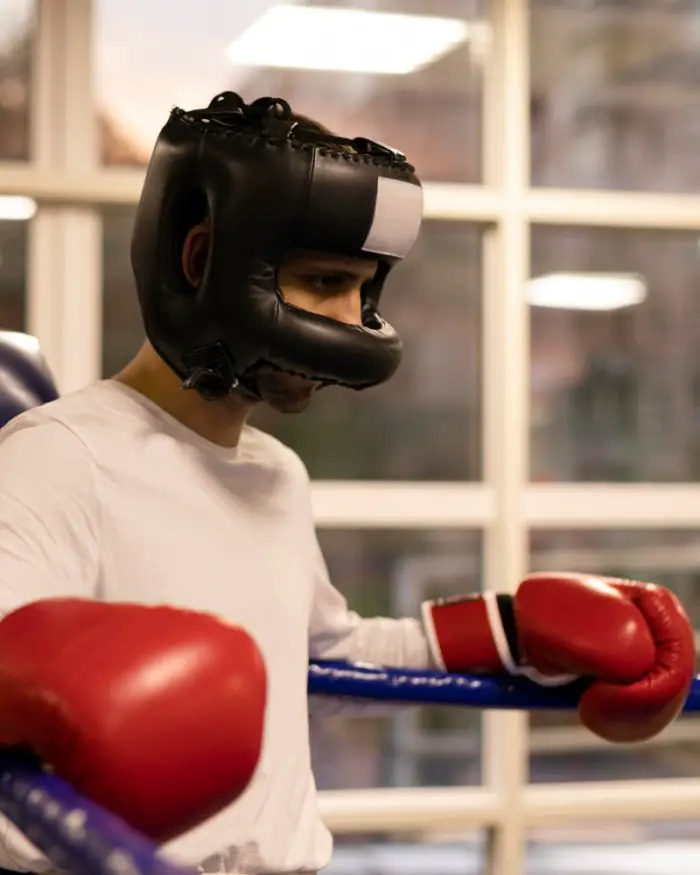 So to prevent a permanent injury or disfigurement to your face, we suggest getting Headgear that doesn't leave the nose vulnerable. You cannot have it covered, of course, since you need to breathe, but with some well-located and padded guards or a caged one, you can protect your nose from attacks.
Full Face Protection 
Well, I don't need to say this since we all know that going for a little stress-busting sparring or Boxing often leads to our faces ending up with bleeding lips, black eyes, and bruised cheeks. Now to protect our pretty faces we can't do what we like. That'd be no fun.
So to continue our ring trips and our sparring training you need to invest in headgear that offer full face protection. It could either be caged ones or you could also opt for the ones that have great padding with sturdy exteriors to take care of the cheeks and jaws. Some headgears miss out on the chin and head area.
You ensure that your headgear provides protection to all parts of your face. This will keep you focused on the training and not worry about bruising your face!
Material 
Okay, so this is another important feature you need to check out when you go Headgear shopping. Some headgear is made of material that easily gives in to consistent strains over the days with daily hits and impacts. In these cases, the headgear loses its tenacity and end up inefficient. 
To prevent such mishaps go for headgear that has branded or at least string leather backup as their construction material. This ensures you have a Headgear that is durable and is less likely to come apart under one fine day under multiple hits. Going for better quality is not only cost-efficient in the long run but also is an addition to the safety precautions. 
Adjustability 
You Use headgear in sparring and fighting training for safety and precaution. Now say this Headgear of yours falls off amidst an intense sparring session. Can you imagine the world of pain and agony you will be in those very few precious seconds?
Because immediately you won't be able to right yourself or back out. You'll end up getting a few hits. So to prevent such an accidental occurrence you must opt for headgear that fits you just right.
But we understand it is not always possible to get the perfect fit. Thus to remedy that we suggest going for headgear that has adjustable straps and loop systems so that you can use them at your discretion. This is especially necessary if you are getting headgear for kids or growing youth.
Comfort
This is another area that needs special attention. Why? Because when you are fighting or sparring you cannot keep being uncomfortable, oh my Headgear is not correctly strapped, my headgear feels like slipping off, my Headgear seems too rough, it feels too stiff, it's too constricting, etc. These thoughts are nothing but distractions.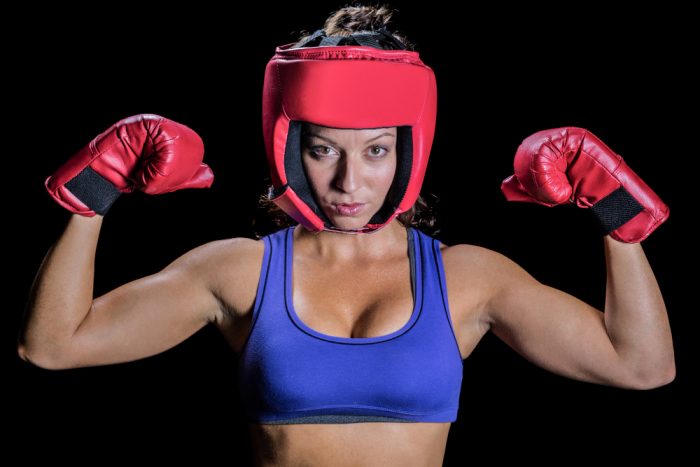 So to prevent such distractions, always go for headgear that is sturdy and yet comfortable. They should have a softer inner lining. The fit shouldn't be too loose or too tight. The wraparound of the head shouldn't be too constricted that you end up with a headache. It should be snug but easy to move in!
Visibility 
Sparring, Boxing, or any other MMA are not only sports for fun, exercise, stress busters, or strength, they are practices that teach you quick reflexes and responses. Now just imagine how counterproductive it would be if you are sparring but you keep getting thrown on your back because you didn't see the punch coming because of your Headgear. But you cannot enter the ring without one because safety is important and there are rules too.
The best option is to find headgears that have guards or cheeks and jaws, but they don't pose any obstruction in your line of vision. You should opt for headgear that has a 180⁰ wide angled range of vision. Wearing these you can fight as well as be on the lookout for the upcoming hits coming from corners.
Ventilation 
Headgears in themselves are quite huge objects and in many cases, they are heavy and uncomfortable. Sparring and training while wearing those seemingly humongous things may often get sweaty and suffocating. To prevent this you should always opt for headgear that has its inner parts built in a way to be dry and comfortable. 
Due to sweat many times headgears fall off and are constricting. So while buying ensure yours has moisture-wicking properties that can keep your headgear from turning into gross bags of ickiness. Sometimes headgear with ear channels also helps in air circulation as well as protection.
Quality Vs Price
This seems like an eternal debate but in this case, the former will always win. See, there may be many cheap headgears in the market that may boast their cheapness. The inexperienced may fall for those sales pitches and buy them thinking "oh I just need Headgear for my sparring lesson, who cares about High-quality material, it's gonna get hit anyway".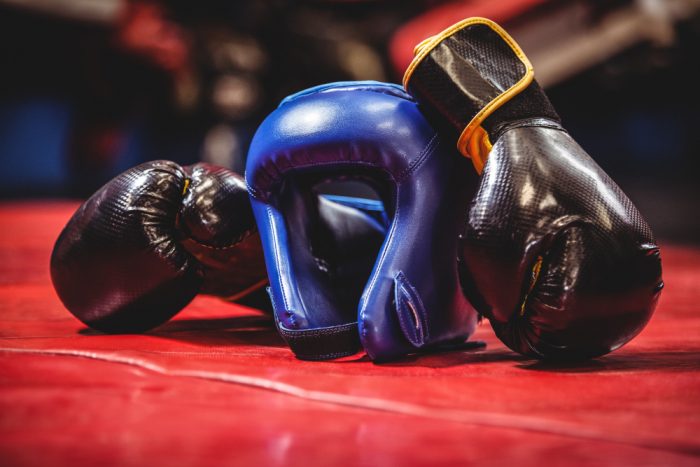 Well, let me tell you this is where you are mistaken. If your Headgear is not good enough, then more than the inanimate object it will be you who feels the pain. For instance, if the exterior quality is bad then the Headgear may fall apart suddenly landing you in the land of bruises, if the interior is not high-quality padding, there won't be ample shock absorption, and again hello, bruise-land! It may also add to the grossness factor if the inner lining is not moisture-wicking.
So never fall for low prices. Often they need to deliver significant requirements. Always go for better quality Headgear with the above-mentioned features!