If you want to train safely using your heavy bag, then it is a no-brainer that you should also choose suitable boxing gloves for it.
Heavy bag gloves are made differently compared to other types of boxing gloves to meet the specific needs of heavy bag training, which requires more padding to protect you from the risks of injury caused by punching a firm and dense bag.
Below is a guide to help you determine what features to look out for to have the perfect heavy bag gloves for you and a curated list of the best gloves for heavy bag training.
Best Boxing Gloves for Heavy Bag in 2022
Everlast Mixed Martial Arts Heavy Bag Gloves
The Everlast MMA gloves are hands down one of the best heavy bag boxing gloves encompassing some features that make them worth it.
If we are talking about comfort, these heavy bag gloves are topnotch. The overall design is carefully crafted to offer comfort and efficiency.
The contoured pre-curved palm design, along with the foam padding, enables you to throw punches with significantly reduced pain even if you train with the heaviest punching bag for a prolonged session.
Its redefined shape has improved finger flexibility to keep your thumb and fist positioned correctly, so you don't dislocate it when throwing hard-rock punches.
This flexibility enables you to have more freedom to your punches and saves you from potential injuries caused by the stiffness of your hand against the rigidity of your punching bag.
The Everlast MMA heavy bag gloves utilize a far-east-style open thumb design that significantly helps create the most compact and powerful punch that you can. It enables you to develop the strength and technique of your punches to bring out your best performance.
The Velcro on the wrist wrap on these heavy gloves provides security on your hand; however, many wish it is a bit sturdier to better withstand regular wear and tear and offer more support.
Hawk Sports HWK Boxing Gloves
If you are looking for training gloves for heavy bag training that has versatility, these heavy bag gloves are for you. These all-purpose boxing gloves can kickboxing, sparring, heavy bag workouts, and mitt work.
It is made with premium synthetic leather that provides long-lasting durability and functionality. The multi-layered foam padding in the palm delivers protection to minimize risks of pain and injury while training with your punching bag.
It has extra-thick Supremo-Shock foam-based padding on the knuckles with a separate padded block over the wrist joint for better protection and support on your knuckles and wrist.
The design also allows correct positioning of your fist and knuckle, making you feel more comfortable while throwing punches and further helping to prevent injury.
These heavy bag gloves have a breathable Pinhole Palm that offers increased airflow, thereby reducing foul odors, bacteria buildup, and sweat throughout your hands for a more comfortable and fresher feeling when training for long hours.
The HWK Boxing Gloves have a hook and loop large Velcro wrist strap to secure the gloves in place. The large strap size ensures that the gloves are tight and snug.
Although, after regular and heavy training, others noticed that it had become busted and saw some signs of chipping, and the stitching came undone.
Everlast Pro Style Training Gloves
As the name suggests, these Pro Style Training Gloves by Everlast are your best bet for all your fitness and boxing training.
It has high-grade synthetic leather construction that provides comfort and durability, lasting for a long time. These training gloves' excellent glove construction makes them ideal for sparring, heavy bag, and mitt workouts.
The curved anatomical grip and fit deliver incredible comfort even if you train for prolonged hours using your heavy punching bag.
It also gives you more ease in your movement, allowing you to develop the strength of your punches and your ability to throw solid and impactful strikes with comfort.
If you tend to sweat a lot, the entire mesh palm will aid you by ensuring breathability and improved airflow.
It also has anti-microbial treatment properties that fight offensive odors and bacteria to keep your hands feeling dry, fresh, and comfortable during your workouts.
The Everlast Pro Style training gloves have full-length Velcro closure that allows you to adjust the fit of the heavy bag gloves to ensure that you have the perfect-fitting gloves.
If you are a beginner or plan to use it for light heavy bag training sessions, you can get away with the padding and support.
However, others wished these heavy bag gloves offer more protection and support on the wrist and hand area, which is definitely needed for severe and regular training.
Everlast Train Advanced Wristwrap Heavy Bag Gloves
If you are looking for boxing gloves for bag work, the Train Advanced Wristwrap is the pair for you.
The heavy bag gloves offer incredible resiliency and excellent construction suitable to use against your heaviest punching bag.
It is made with premium-grade synthetic leather that can withstand intense bag work and contribute to the functionality and durability of the gloves.
It utilizes closed cell Durafoam padding that provides protection when throwing punches. It also gives you unrestrained movements for a more comfortable feel and amplified performance.
The padding is engineered with state-of-the-art gel material that dissipates impact energy and protects knuckles during training to reduce the risk of injuries.
The Advanced Wristwrap heavy bag gloves have a contoured fit that places your hands into a natural fist position to maximize your punching technique.
It gives you a more comfortable and natural feeling during your training. It also helps you avoid getting your knuckles and fingers dislocated when hitting a heavy bag.
These heavy bag gloves have a full wrist wrap strap that helps keep it securely in your hands; however, some observed that it could be a little too loose and can get uncomfortable if worn for too long.
MaxxMMA Neoprene Washable Heavy Bag Gloves
The neoprene material on these heavy bag gloves makes them completely machine washable and easy to care for.
The lining has moisture-wicking properties to keep your hands dry and prevent any sweat or moisture buildup from giving you a relaxed and comfortable feeling while training.
It also has an open palm and thumb design to deliver increased airflow and ventilation and more control to help you improve your punching techniques.
The MaxxMM heavy bag gloves have a pre-curved foam and a padded palm grip to give you excellent protection when hitting your heavy bag to prevent risks of hand, knuckles, and wrist injuries.
Thanks to its pre-curved design, it also allows your hands to throw punches more comfortably.
It has a wide hand opening and elastic strap that allow easy fitting and gives you a snug fit.
However, these heavy bag gloves are more on the lightweight side. The lightweight feel gives you more freedom and speed on your motions; however, it is not suitable for intense and hardcore boxing training sessions.
Especially if you're working on a highly stiff and firm heavy bag, it might not provide ample protection, thus exposing yourself to injuries.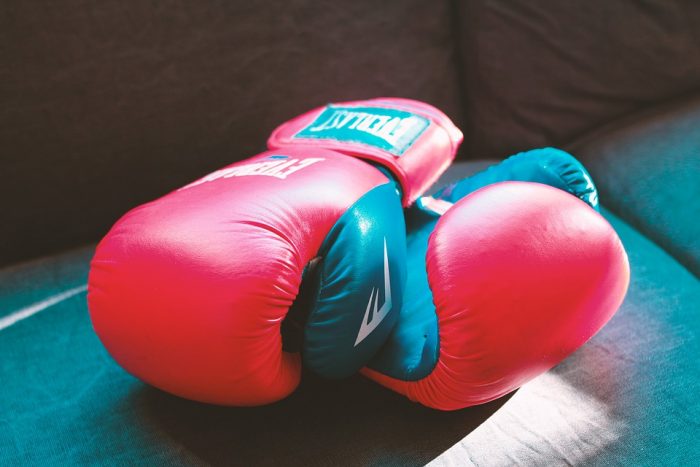 How to Choose Heavy Bag Gloves for Your Training
Size and Purpose
The key to the perfect heavy bag gloves is to find the right size and weight suitable for the boxer's weight and purpose.
Manufacturers usually provide size guides and charts to help you determine which size is appropriate for you.
However, it is not as accurate; therefore, it is also advisable to consult your coach or a professional to help you select a perfectly matched size for yourself.
Heavy bag gloves generally come in sizes 8 oz., 12 oz., 14 oz., and 16 oz. The weight dictates the amount of padding and protection the gloves have.
The heavier the gloves, the weightier and more padding it has, and in turn, the more protection it can provide, which is essential when training with heavy bags. Heavier gloves are perfect if you're developing the strength of your punches.
However, it can also slow your movements down, so if your purpose is to improve your speed and reflexes, you might want to check out heavy bag gloves that are more on the lightweight side.
Material
Another thing to consider is the material; the material determines the comfort and durability of the gloves.
Leather, synthetic leather, and neoprene are among the material construction you would want to look out for if you will be using the gloves for prolonged and heavy training sessions as it guarantees to last longer than others.
These rigid materials can generally withstand regular wear and tear and are durable enough to take as much beating as you want without crumbling over.
It is also essential that you pay attention to the padding of the gloves, which are usually made of thick, dense foam.
It should have ample padding to protect you from potential injuries and should be able to absorb the impacts to keep your training sessions safe and comfortable.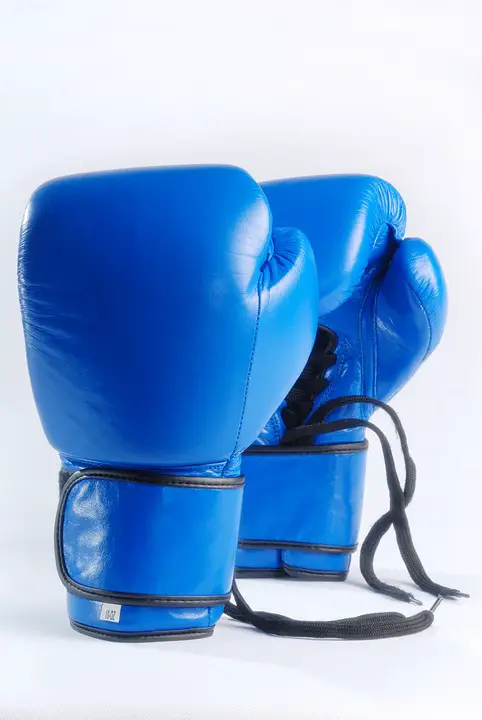 Comfort
When it comes to comfort, pay attention to these critical areas: flexibility, ventilation, and overall fit. Contoured and pre-curved gloves are among the most comfortable feeling heavy bag gloves.
These excellent features provide more ease and freedom to your movements to help you improve not just your strength but also your punching techniques.
Because you have much more control and less restriction, it will also deliver you excellent comfort while training.
Another problem with wearing heavy bag gloves is the heat and sweat you can accumulate over time, which is very uncomfortable.
Look for gloves with moisture-wicking properties or lining that can increase the airflow throughout your hands.
Open thumb and fingers are also nice as it literally frees your fingers for more air to cool your hands down.
These valuable features also prevent sweat and odor buildup from keeping you dry and comfortable.
To keep the heavy bag gloves in place, a sturdy strap closure is one thing to consider.
Adjustable wrist strap not just allows you to have the perfect and snug-fitting gloves but also provide added wrist support and protection to ensure that you can throw accurate punches without worrying about your glove snapping off.
Final Words
I hope the information provided in this article has helped you pick the suitable heavy bag gloves for your next training.
The products mentioned above are definitely among the best products currently available in the market, and I'm sure you will enjoy whichever you choose, so feel free to check them out.
Have any questions for us? Leave a comment below and we will get back to you with the answers ASAP.