It's no secret that boxing involves a good combination of strength, resilience, and speed.
To be a well-rounded boxer, limiting your training to sparring and training bags can do you more harm than good.
That's why you need to incorporate jump rope workouts to revolutionize your boxing training and improve your overall stamina and endurance.
But you can't just use any ordinary jump rope for your boxing workouts.
Below are some of the best jump ropes for boxing that you can buy this 2022 to help you take your fitness regime to a whole new level.
Best Boxing Jump Ropes
RDX Leather Gym Skipping Rope
The first one on our list, the RDX Gym Rope is a great boxing jump rope. It has a lot to offer to anyone looking to upgrade their fitness quotient.
To begin with, this 9ft. long rope is made of 100% cowhide leather.
This provides the rope with fantastic durability and allows it to withstand even the most aggressive workouts with extreme ease.
Another unique offering is the 90- degree swivel design of the rope. It permits you to undertake speedy rotations without hurting your wrists or tiring yourself out.
This particular design of the rope not only allows you to build your muscle strength but also helps you to boost your stamina indefinitely.
Furthermore, the adjustable weights in the handle allow you to customize your workout. This enables you to optimize your training while keeping it convenient and comfortable for you.
The wooden handle with the ergonomic design additionally provides a secure grip, keeping it tangle-free and easy to use.
One thing to note is that the handle might be a little heavy. Nonetheless, it is of the highest quality and has a 'traction control' grip system embedded within it.
This permits you to practice even the most complicated moves like crossovers, double-under, crisscross, etc. with utmost ease and comfort.
All these features accompanied by the monochrome color design make this skipping rope a reliable and durable option for boxers who are looking for a good overall cardio workout.
Degol Skipping Rope with Ball Bearings
The Degol skipping rope with ball bearings is a top choice among many boxers. It offers fantastic features to give you the best training with enhanced power.
The novel ball bearing system of the rope provides stable rotation. At the same time, it prevents it from bending, twisting, and winding, thus forbidding it from hampering your vigorous workouts.
This is especially important when you are in the middle of your training. If your rope gets twisted or tangled, it affects your rhythm and causes a disturbance or even an unforeseeable injury.
The rope is further made with durable braided steel wire coated with PVC. This ensures that it's robust enough to handle maximum wear and tear without breaking down or cracking.
Adding to the durability is the fantastic comfort provided by the rope. It features ergonomic lightweight handles coated with 6-inch soft EVA memory foam grips.
This allows for a relaxed and firmer grip without weighing too much or slipping away. This results in the best fluency with enhanced speed.
Furthermore, the 9ft. long adjustable length of the rope permits quick and easy customization for all different users, with their training requirements and heights.
All these specifications by Degol make this rope an excellent alternative for MMA, boxing, and other training, which requires robust jump ropes that are sturdy and high-performing for an extended period.
WOD Nation Speed Jump Rope
A reliable option for the toughest boxers in training, the WOD Nation Speed Jump rope can transform your workout regimen and take it to a whole new level.
This skipping rope for boxers features a patented four-metal ball bearing system in the handles (two on the tip of each handle for better grip and two for smooth rotations)
This allows the rope to move faster and more continuously. It also enables you to move conveniently and in sync with the rope.
Additionally, the handles are 6.75" long. They are made of high-quality nylon resin with a tapered end design for a firmer and smoother grip.
The length of the cord is also highly adjustable. All you have to do is snip it with a wire cutter to get that personalized benefit from the gear.
Accompanied with extra cable, attachments, and a bag to carry everything, this jump rope is ideal for boxers, MMA, and martial art enthusiasts looking to elevate their training for a longer duration.
However, you must note that if this rope is used on rougher surfaces like cement or asphalt, the coating on the cable might get damaged, affecting the overall life of the gear.
Nonetheless, it is a winning choice for boxers, is available in nine eye-catching colors, and can last for years if used as instructed on smoother gym surfaces.
Renoj Jump Rope for Fitness
Another well-known choice among boxers, the Renoj jumping rope, is a simple but effective gear that gets the work done without difficulty.
First off, the 9-feet long rope is highly adjustable. This makes it an exceptional fit for people undertaking different workouts for fitness and endurance.
Made with high-quality material, the rope features a steel wire construction design embedded with PVC for robust durability and performance.
This PVC coating over the steel wire keeps the rope tangle-free. It prevents it from winding, bending, or breaking for a long duration.
Moreover, the ergonomic design of the handle, coupled with the pre-fitted 6-inch EVA memory foam, allows for quick sweat absorption, providing a fantastic grip without weighing too much.
The Renoj jump rope is available in three different colors, and it comes with a small girdle and a pouch. These add to the overall appeal of the equipment.
To sum it up, this rope is an excellent option for boxers who want to include jump rope exercise in their daily workout for fitness and enhanced performance.
Heavy Jump Ropes for Fitness
Moving on to the last one on our list, this weighted jump rope is a sturdy piece of boxing gear equipment that helps you in building up your core more substantially and powerfully.
Made with durable synthetic polymer fiber, these large ropes are dependable and can handle the most aggressive workouts without any significant wear and tear.
To add to the durability of the gear, they are further tightly woven together. It ensures long-lasting, reliable performance for an extended duration without any hindrance.
Moreover, the entire rope is covered with protective nylon sleeves. It boosts the abrasion resistance and ensures that the cord doesn't break down due to frequent friction or workouts.
Another fantastic feature offered here is the technologically upgraded handles, which are easy to grip and don't fall off easily.
These handles come embedded with thermoplastic technology along with a sol inside. They make them softer and more comfortable to hold without slipping away.
The three-strand-thick design of this rope makes it an excellent choice for vigorous training.
In a nutshell, if you are searching for jump ropes to include in your power boxing workouts or just to boost your overall strength and flexibility, then these weighted ropes have your name written all over them.
Multifun Jump Rope
The distinct feature of this jump rope from Multifun is its built-in digital counter which shows the timer, weight, and calories of the owner. It's a plus to have a rope that counts the number of jumps you take within a time to have a more accurate way of monitoring during training. 
Worrying about your height and the rope's length isn't a problem because of its adjustable feature. Rope binders are available to fix the excessive part instead of cutting it off completely.
The product might be the boxer's next favorite equipment for it also ensures fast and stable rotation with its high-quality steel ball bearings. The material made of steel rope and protected with PVC sheathing also makes it more durable.
For maximum comfort to suit a boxer's fitness needs, the rope is ergonomically designed with non-slip and thick foam handles for optimal grip.
Overall, this brand produces one of the best jump ropes to improve endurance, stamina, and speed that are much needed not only by boxers but other athletes as well.
WOD Nation Speed Jump Rope
Tagged as the best jump rope for speed work, WOD Nation Speed Jump Rope can also exceed the standards of an excellent boxing jump rope.
This product utilizes a patented four-metal ball bearing system at the tip of the handles. Each handle is durable to hold the cable and to handle smooth rotations. For better grip, both handles are made of tapered nylon resin.
It also comes with cables that can be cut depending on your height and preference for perfect customization. 
The rope is guaranteed to last for a long time when used on smooth surfaces. But abrasive floorings shouldn't be an option when you decide to purchase this as your training rope for it may weaken its coating over time.
This specifically designed rope for a faster spin. It comes in nine colors and with an extra cable, replacement hardware, and a carrying bag. A very convenient option for boxers who undergo a series of training sessions to improve speed.
BERTER Jump Rope
The brand highlights the quality production process of the jump ropes that make them soft and fast.
These are guaranteed with the availability of a ball bearing system that avoids the twisting, winding, or bending of the rope.
Made of a lightweight and durable aluminum handle with anti-slip stripes, the handles are assured to be comfortable for the hands even after long-term use.
It's also a bonus to have this rope as part of a boxer's training. It is designed to be adjustable for your height with the help of screws.
The braided steel wire rope is also coated and protected with PVC. With this material, the coating is less prone to cracking while giving the boxer a smooth skipping routine. 
This rope has proven to be one of the best ones ever created for fitness enthusiasts who aspire to improve their stamina and gain more health benefits. Undoubtedly, with all the features made possible, this can be also the best jump rope for boxers. 
Wastou Jump Rope
With the promise of producing a jump rope for fitness journeys while following the personal pace, the brand lives up to it by designing a skipping rope with a built-in digital counter.
It is specifically designed to track time, and rotation and to measure calories. Made for fitness enthusiasts and boxers who monitor their progress regularly.
Boxers and athletes of different ages and heights would also love this rope's adjustable length feature. Originally 9ft long, you may have it customized with its spare rope.
Handles are built with a heavy jump rope system with the help of metal blocks. For firm and comfortable grip, handles are also supported with an anti-slip design.
Maximum durability is also reached with the PVC coated steel wire rope. It doesn't only give fewer opportunities for tangles but it also allows smooth jumps on any surface. Overall, a great deal for boxers and even simple fitness enthusiasts.
GoxRunx Jump Rope
The product is a versatile set of ropes suitable for basic exercises and even intense training for athletes, most especially boxers. 
This boxing skipping rope is available at a very affordable price. It serves its purpose not only for different uses and a variety of skill levels but as well as for different heights. The 9.8ft length is adjustable for your size.
Effortless and smooth skips are also assured with its PVC-coated thickened braided steel wire. Furthermore, the soft memory foam anti-slip handles help achieve maximum comfortability. Also, the anti-dust ball bearing system available in the product keeps it more durable and stable while in use. 
Overall, it is designed to improve speed work with excellent materials and features. A good buy for its price and might be a boxer's winning gear in 2022. 
AIZIYUO Jump Rope
Comes with a braided steel wire rope coated with PVC, this set of boxing jumping rope ensures smooth rotation while giving maximum service life without cracking.
It has high-quality ball bearings for a smooth and rapid rotation that lessens the chances of twisting and bending of ropes while in use. 
Handles are easy to hold and grip because of their soft and light materials. Ergonomically built and breathable for overall convenient use.
Length is adjustable. Originally made 9ft long, its size can be trimmed down depending on the boxer's height.
Also suitable for all types of workouts, all genders, all ages, and all sizes. This rope works best as a jump rope for boxers. 
What Kind of Jump Rope do Boxers

u

se?
Boxers perform a lot of skipping during their training as a way to improve their footwork in terms of coordination and timing. Other benefits are their endurance and stamina. Jump rope is an essential piece of equipment for this.
Common features of the jump rope that boxers often use are made of lightweight materials, slim handles, and a 90-degree connection.
Ropes that are made of PVC plastic cables or polyvinyl/licorice are the top picks of professional boxers. In terms of the rope length, it should be dependent on the boxer's height.
Is Jumping Rope Good for Boxers?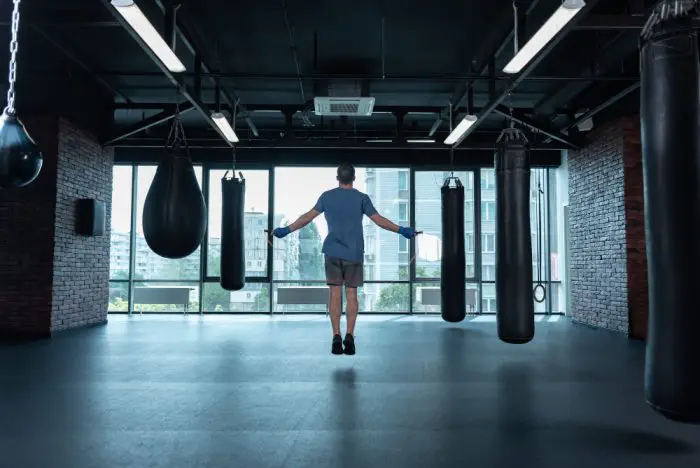 Boxing is a sport that requires full-body coordination along with synchronized footwork.
And jumping rope is one of those activities that help the boxers achieve all the things mentioned above and more.
If religiously included in their workout routine, jumping rope can do wonders for many boxers in terms of improving agility, speed, and overall balance for an extended period.
If you don't believe me then keep reading to know how jumping rope can truly benefit the boxers and why boxers should jump rope.
Improves Footwork
It's no secret that footwork in boxing is extremely essential. More importantly, using your hands and feet in unison is even more crucial, and jumping rope can help you achieve this.
Boxers who skip rope usually replace the traditional skipping with something that's called 'boxers skip.'
This is where they practice by mimicking the movement and footwork they would use during a fight.
This allows the boxers to 'stay light' on their feet (as they shift their weight from one foot to another) while learning how to preserve energy and last longer in the ring.
They learn how to always stay on the balls of their feet while training their body to move in the same manner as they would move in an actual fight.
Incorporating other footwork drills for boxing is also a great way to improve footwork.
Improves Lower and Upper Body Coordination
At some point in their training, every single boxer needs to master their overall body coordination to optimally perform in the ring.
Jumping rope is one way in which they can achieve this seamlessly.
To put it more succinctly, skipping rope needs both your arms and legs to work together to be successful.
The swinging of your arms needs to be in sync with your legs, signaling them when to jump over.
Do this repeatedly, and that's where your body's overall coordination improves, thus increasing your efficiency, especially in the boxing ring.
Improves Conditioning
Many people think that running or jogging is the only best way to improve cardiovascular endurance.
However, the truth couldn't be farther from this.
While we can't deny the importance of running for boxers in training, jumping rope provides the same benefits but only within a fraction of the time.
Jumping rope can provide you with the same level of conditioning as running a couple of miles at a fast pace.
It effectively works all your body parts (arms, legs, wrist, shoulder, etc.) without even asking you to leave your house!
Aside from this, adding focus mitt drills to your boxing training can further improve your body conditioning by enhancing your speed, accuracy, and stamina.
Builds Mental Toughness
The benefits of skipping rope are not just limited to the physical potential for the boxers.
Rigorous rope jumping drills also enhance the boxer's mental strength in training, asking them to be completely aware of their body movements while boosting stamina and balance.
In a nutshell, jumping rope improves more than just your physical capabilities; it pushes boxers to master advanced movements and drills through continuous hard work, patience, and body awareness.
Final Words
It's right to assume that jumping rope is no longer a child's play, limited to only playgrounds and gardens.
If used correctly and religiously, this simple piece of equipment can transform your fitness regime and elevate your boxing skills subsequently.
And choosing the right rope for yourself is half battle won; that is why we have listed only the best of what the world has to offer.
Have you added jump ropes in your daily workouts yet? If yes, how has it influenced your boxing techniques? Let us know in the comment below!