Thanks to the innovation in the boxing industry, punching bags are among the most significant inventions of all time. The notorious punching dummy bag is just one such example.
Aside from enabling you to use different techniques and full power when practicing, the appearance and material of a punching dummy bag simulate a real fight with a real opponent.
There are many products that you will find in the market. To help you narrow down your choices, check out the below-given list of the best punching dummies in 2022.
Best Punching Dummy Bags in 2022
Century BOB Freestanding Training Dummy
Century's BOB or Boxing Opponent Body bag is one of the best body shape MMA punching dummy bags that exactly resembles a human torso structure. It is a life-like mannequin with vinyl skin to achieve realistic self-defense training.
It has a trunk that includes a face, neck, chest, abdomen, and back that can be utilized while performing punches, except that it does not include the arms.
This BOB has seven height adjustments that can be modified from 60 inches to 78 inches. This seven-step increment would depend on the user on how high or low he wants the BOB to be, so long as he could train well in boxing by a BOB punching dummy.
Users can also increase this BOB's weight: it has a base filled with either sand or water, and its heaviness can reach up to 270 pounds when filled. Filling up the low-profile base can help the BOB dummy stay still and balanced while in business.
It allows users to practice boxing, kickboxing, or MMA by throwing kicks and punches towards the BOB while targeting the opponent's weaknesses to hinder them from the attack quickly.
This BOB boxing dummy may be a lot taller than you if you are an average height person at a total height. You can train with this with or without boxing gloves.
Here's a video showing what you can do with the Century BOB dummy bag.
Century BOB XL with Base Unit
Century's BOB XL is the bigger version of the regular BOB punching dummy bag. This BOB dummy also resembles a human torso, and it has a high-strength plastisol body filled with urethane foam for a more vivid feeling during your boxing target work session.
If the regular-sized Century BOB boxing training dummy covers the abdomen, this XL version covers until the lower abdomen, where it gives you a more generous space to practice for your boxing skills. Boxers can throw more kicks, and more target work can predominate. 
The video below talks about its features and what it offers to see if it is the one for you.
Heavy hitters can go all out with their punches and kicks since the BOB dummy itself weighs 50 pounds, and the circular base can weigh up to 270 pounds when filled with either water or sand.
It can be rolled for transport, and the weight it can take up can prevent the punching bag dummy from moving around while every boxer gives it his all in flexing his boxing skills.
This sparring dummy is tall enough at its lowest height, but the user can adjust it at multiple height settings: it depends on how high one wants to strike this dummy bag. This BOB is large enough to receive more strikes aiming for the head or body. 
Title Freestyle Throwing & Grappling Dummy 2.0
The Title Freestyle Throwing & Grappling Dummy is made for MMA, constructed with engineered leather and rugged seat belt nylon on all the stress points.
While BOB punching dummies are held by bases to be filled, this grappling dummy is professionally packed and stuffed with shredded poly fiber to balance the weight it has for the users, and it does not have a base.
This dummy mimics a human body, and it stands by itself that can absorb takedowns, strikes, throws, and so much more.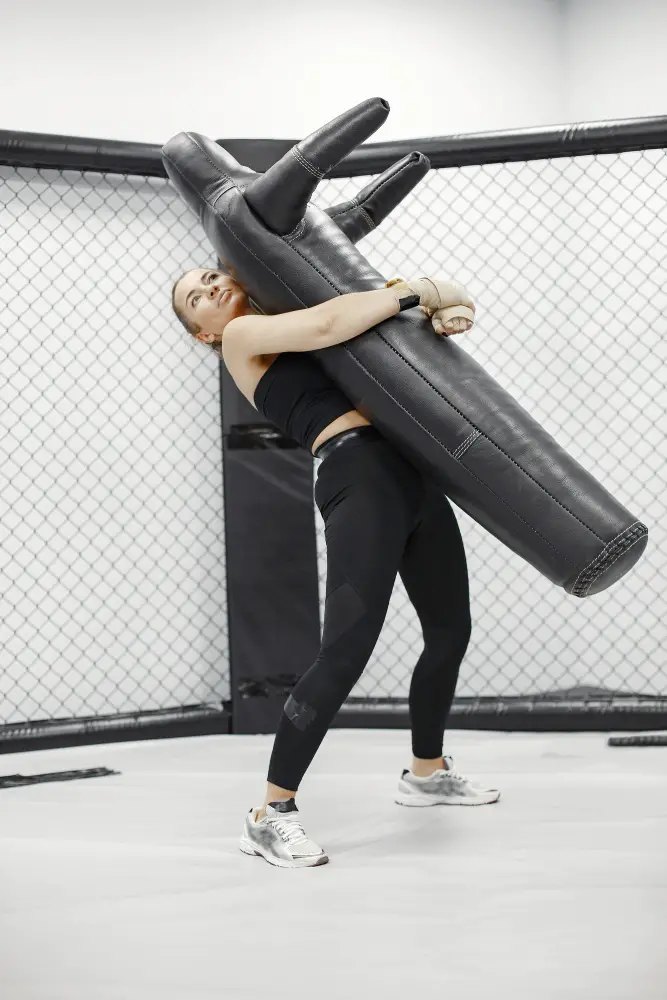 This comes in two different sizes, the 70 and 80 pounds, ideal for adult warriors. 
Training your MMA skills can give you a more in-depth focus if you prepare with a dummy first.
Throwing techniques with this dummy can be a lot easier, and every area of your execution progresses.
The weight options and the excellent-quality materials used in this dummy won't make you worry about the intense maneuvers you should train since they are made durable and resistant to tear.
However, breaking in this dummy will take longer since the limbs attached resemble a human body that is stiff and steady.
Mytra Fusion Big Punching Dummy Torso
Self-defense and precision training will be excellent if you consider Mytra's Punching Dummy as your pick.
This punching bag dummy is explicitly designed for fighters to test and hone their punching skills, sparring, grappling, choking, and kicking.
It can be a perfect partner for precision training since it mimics a human torso and enhances accuracy for boxers in the rings.
This BOB is made from high-quality latex and plastisol filled with urethane foam gives a realistic human body feeling while throwing punches during your boxing practice.
Here's a practice training video guide to know what you can accomplish using it.
Multiple height options are available for this dummy torso: users can adjust it from 61.4 inches to 70 inches. This punching dummy won't move around when the base is filled with sand or water, whether you want it higher or not.
The base is made with hard coat polyethylene, making it steady and stable enough to withhold up to 270 pounds of fill.  
From face to stomach, everything in this dummy for punching resembles the feel of a human being. It is stable enough to receive strikes, but the dummy can only let you perform limited actions.
Suples Speed Dummy with Legs
The Suples Speed Dummy will make your MMA training better. This dummy is made with vinyl, making it durable in receiving throws, takedowns, and anything hardcore with the throwing and grappling dummy.
This workout dummy can help professionals and amateurs exercise and hone their MMA skills without hurting their partners seriously.
It is a real-life substitute for an actual human body, and this dummy comes in different sizes where both adults and children can use it.
This dummy has limbs attached, and it can stand still without falling because it is lightweight.
The weight is distributed to MMA professionals, amateurs, and beginners to throw and grapple this dummy for high repetition.
The stuffing inside is distributed well enough to balance the dummy and prevent a sudden fall.
The speed dummy has long arms, allowing you to perform arm-throws that most other dummies don't.
However, the lightweight dummy may not be suitable for users who want to throw a heavy dummy.
This video shows the drills you can conduct using the Suples dummy bag to improve your skills.
How to Choose a Punching Dummy Bag for Yourself
There are multiple choices as to what dummy punching bag you should purchase.
It shouldn't slip out of your mind that your opponent is not an actual human, but it should feel realistic you're dealing with a human among all the strikes you deliver.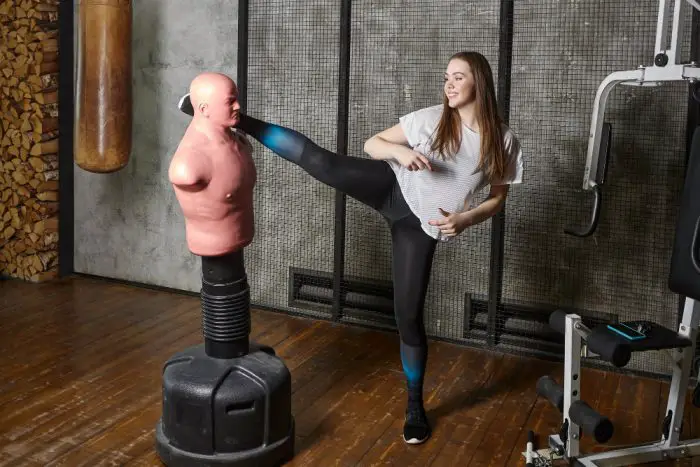 But how can you choose the best one without even knowing the primary and fundamental factors it should occupy? 
Material
You would want to train continuously without hurting an actual person by the strikes you give, and so punching dummies are made to resemble a human torso or the body. 
The dummy material should be made resilient and robust regardless of the high-intensity punches and kicks it accommodates.
It should also protect you from injuries, which means it should not hurt either your hands or feet when you plan to strike ahead.
You should be capable of hitting the dummy even without shin guards or boxing gloves; thus, it makes you more concentrated to train for your improvement.
A dummy material with a soft but sturdy built should be your best pick.
Height & Weight
A dummy punching bag should be the height of your preference and the weight you can handle during training.
Maybe you would want your opponent to be at a specific height, which will focus your mind and skills on fighting him.
The weight the dummy possesses should give you the chance to train on how hard you can give your strikes towards it.
Grappling and throwing dummies for fighting should be of a weight that you can handle takedowns, and BOB dummies with base should be of a weight you can punch and kick simultaneously without seriously hurting yourself.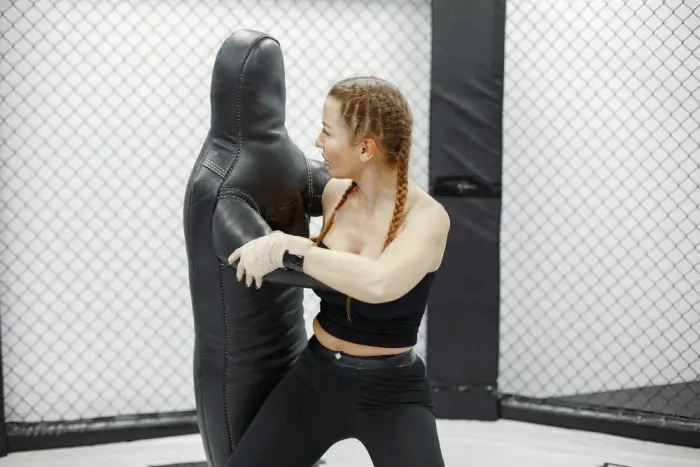 Stability
Despite the height and weight of the dummy, if it is not stable enough to stay in one place, it does not make sense.
A dummy should be stable enough to stand on its own, and it should stay still despite the intense punches and kicks you commit towards it.
It should not fall off after one punch or even after multiple punches it gets. Once it falls, it may cause you injury, making you constantly take a break from training. 
Stability is the most crucial factor for choosing the best punching dummy bags. If it suddenly moves while using it, it may cause you sharp injury due to a sudden situation your body never expected.
Final Words
There are multiple things to contemplate to purchase the best punching dummy bags, and your own opinion is one of them.
Keep in mind that your investment in your progress is dedicated to what your future holds. Once you get a hold of your best choice, it will help you develop your persistence to learn.
Always go through the best dummy bag for you, and it won't leave you regretting the choice you made.
Hopefully, this guide enlightened your knowledge of which dummy bag suits you with the best features it holds to satisfy your training needs.