If you're serious about boxing, kickboxing, or other martial arts, a heavy bag stand can be an essential addition to your training equipment. But with so many options available, how do you know which one to choose?
And although selecting a suitable heavy bag for training is in itself a daunting process, choosing a stand for the same can be further challenging since they are available in so many different types and numbers.
But hey, that's why we are here!
In this article, we'll review some of the best heavy bags stands on the market in 2023, so you can find the one that's right for you.
Read on to know more!
Best Heavy Bag Stands in 2023
Outslayer Muay Thai Heavy Bag Stand
Designed explicitly for Muay Thai and kickboxing, the Outslayer heavy bag stand is definitely one of the best punching bag stands available in 2023.
This stand offers a remarkable weight capacity of up to 350 pounds, withstanding even the most potent kicks and workouts without breaking down.
Another noticeable feature is the gear's height, making it one of the tallest stands available in the market right now.
It is at 7.8ft. tall and therefore, can easily carry any heavy-size bag without any difficulty.
You can also customize its height by adjusting the legs of the stand for better stability and performance.
So irrespective of whether you are boxing in the gym or at home, this stand is perfect because it's space-sufficient and highly flexible.
Talking about flexibility, this Outslayer stand is also straightforward and quick to assemble. All you've to do is pop seven different screws into their right place, and you are done!
To add to its stability, it further comes with four unfilled sandbags, absolutely free of charge.
You can fill these empty sandbags to stabilize and weigh down the stand's legs to avoid knocking them over.
When completely filled, these bags weigh 60 pounds each, providing enough bulk to steadily hold the long bags for your kickboxing and other workouts.
Furthermore, Outslayer also offers an exceptional 15-year warranty, proving, once again, that the stand is built to survive even the most aggressive boxing workouts with absolute ease.
Weanas Folding Heavy Bag Stand
With a distinct 2-in-1 design, the Weanas Folding Heavy Bag stand is a fantastic addition to your home gym, especially for kickboxing and Muay Thai training.
Featuring a collapsible construction design, this stand comes with three strong stabilizing pins that are tall enough to separately lodge two weight plates.
It also features a distinct built-in pull-up bar providing you with that extra motivation to train and strengthen your core and upper body.
Made with a durable iron frame with powder coating, this heavy bag boxing stand is sturdy and highly wear-resistant, allowing you to train for the longest time without bending or breaking.
In fact, this stand is so robust that it can hold up to 132 lbs of weight without any difficulty.
Furthermore, it's 6ft. tall and comes with a 19-inch adjustable range allowing you to customize your training requirements with ease.
This boxing stand is also extremely easy to assemble, thus saving you a lot of time and space in the long run.
 You can quickly set this up anywhere in your house and engage in various workouts at your comfort.
They are highly suitable for people with different heights and training requirements because of their foldable design, quick assembly, and adjustable height range.
In essence, this heavy bag stand is an incredibly supportive and powerful gear with a lot to offer for anyone looking to elevate their kickboxing and other fitness sessions.
Titan Adjustable Heavy Bag Boxing Stand
Another fantastic option for your home and boxing gym workout sessions- is this adjustable heavy bag stand-by Titan has plenty of unique features to offer.
Firstly, it features a notable gusseted footplate, which delivers extra stability and strength to both amateurs as well as skilled people in training.
It even comes embedded with a distinct vertical design, which occupies minimal floor space allowing for more convenient and compact use without compromising on performance and execution.
Furthermore, made with heavy-duty and powder-coated robust steel material, this post is wear-resistant and can withstand aggressive workouts without showing any significant wear and tear.
This particular stand also permits 360-degree access to the bag enabling you to improve and enhance your footwork without worrying about falling over.
It can support a heavy bag of up to 300 pounds and is highly adjustable in height.
In terms of adjustability, it offers you two different sets of heights at 7'4″ and 8'6″ to accommodate the many users' varied height requirements without any hassle.
Now, if you are a kickboxing enthusiast, this stand is particularly a fantastic alternative for you because it provides adequate space to train for powerful kicks and punches from all angles.
Additionally, it provides an excellent setup for Muay Thai training because the stand's vertical design needs minimal space, allowing for complete freedom of movement even in a compact place.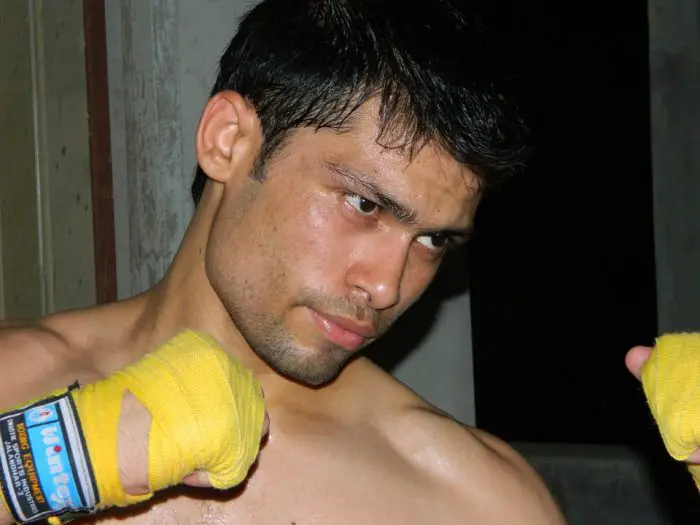 Century Heavy Bag Stand
This heavy-duty bag stand by Century is an excellent alternative for boxers and martial art enthusiasts looking for a dependable boxing stand for regular training.
Featuring a durable 3-inch tubular steel construction, this stand is a solid piece of equipment that can endure tough workouts and practice sessions for an extended period.
Whether you are training for Muay Thai at the gym or undertaking some kickboxing at your home, this boxing bag stand has easily got you covered.
It can support a weight of up to 100 lbs and stands at a height of approx. 7ft. after complete assembly.
This indicates that the frame requires very little space to set up and be fully functional.
However, this heavy bag stand is comparably lightweight, making it prone to moving around on the floor and thus disrupting your sessions.
To avoid this, the stand comes stacked with three pegs at the bottom of the frame for additional stability, preventing it from tipping over when in use.
Furthermore, with quick and hassle-free assembly, this boxing gear makes training even more convenient for you.
In a nutshell, if you are looking for a piece of durable, good-quality equipment to enhance your daily workout and boxing sessions, then I strongly recommend Century's Heavy Bag Stand for your use.
Everlast – 2 Station Heavy Bag Stand
A global leader in the boxing world, Everlast has been manufacturing and selling sports equipment for decades now.
This has helped the company create a reliable brand image where its products are dependable, efficient, and cost-effective.
Similarly, the 2-Station Heavy Bag Stand is an excellent addition to their line of gears and is particularly beneficial for Muay Thai and martial art devotees looking to elevate their workout sessions.
This heavy-duty stand is crafted from robust powder-coated steel tubing for maximum durability and resistance against rough use.
It further comes accompanied by three different weight pegs, which offer increased stability and dependability.
These weight pegs are used to hold down the frame more firmly, preventing it from falling or sliding over.
Additionally, it has a weight capacity of 100 lbs and stands tall at 7ft. when fully assembled.
With dimensions of 48.25″ W x 69″ L After complete setup, this stand is compact and space-sufficient, making it ideal for regular home gym workouts.
The adjustable platform further allows the boxer to customize the setup to match their different training requirements.
The quick and simple assembly, along with an inclusive 4-month warranty, only adds to the favorability of this stand.
Moreover, Everlast also provides a full-speed boxing bag set up with its heavy bag stand, saving you a lot of time, money, and space.
So if you are looking for an efficient and compact boxing setup for regular training, then this 2 Station Heavy Bag Stand is definitely an option worth considering.
How to Choose a Heavy Bag Stand
No one can deny the importance of using a sturdy heavy bag for your home and gym workout.
But appropriately setting up a heavy bag in your preferred space for training is where the real confusion sets in.
Although there are a couple of ways of installing this particular boxing gear, here, we will be discussing explicitly setting up a heavy bag with a stand.
Below is everything you need to know and remember while selecting a heavy bag stand for your kickboxing, Muay Thai, and other training sessions at home.
Space and Storage
The first thing you need to do is figure out the space you want to set up and erect the heavy bag for your workout and practices.
Ensure that the place where you plan to assemble your stand has plenty of room on all sides for adequate movement for both you and the bag that you swing.
Purchasing a relatively big stand for a smaller room or vice versa will only cost you more money, time, and energy in the long run.
Also, storing these pieces of equipment can get a little inconvenient if they do not fit in their designated area, so make sure to measure the space and storage available before purchasing the stand.
Quick Assembly
It's no secret that all heavy bag stands need some level of assembly.
These stands are typically shipped with an instruction manual and pieces of hardware like screws, frames, rubber grips, anchors, etc. for correct installation.
However, while choosing an appropriate frame for your heavy bag, make sure that it's quick and easy to assemble, particularly by you.
You wouldn't want to buy a heavy bag stand that is difficult to set up, rendering it useless for the chosen purpose.
Ensure that the entire assembly process is quick, hassle-free, and understandable to you.
Quality of Construction
Your heavy bag stand's quality is another essential factor that you need to consider before purchasing one for yourself.
The type of material used in the construction of your stand will significantly impact its overall durability.
While most of the stands in the market today are made of sturdy and high-quality steel, many frames now come embedded with additional wear-resistant powder coating for extra durability and longevity.
When applied to the steel, this powder coating shields the frame and protects it from corrosion for an extended period, adding to its endurance and robustness.
The Weight Limit of the Stand
The weight capacity of the heavy bag stand is a crucial feature that definitely influences the overall decision and choice of the boxer.
The majority of your stands in the market have an average weight capacity of 100 lbs. This means that you can hang up a heavy bag up to 100 lbs. without any issue.
However, many stands also offer a weight capacity of 300 lbs. to 350 lbs. for more aggressive and assertive training sessions.
Make sure that you double-check the weight capacity of your chosen stand so that it can easily carry your heavy bag without bending or, worse, collapsing on you.
Height of the Stand
Although a no-brainer, many people forget to make sure that they choose a stand that isn't too small or too tall for them.
If someone is 5ft. tall, then the last thing they need is a stand which is also just 5 ft. tall.
Now, that doesn't mean they should go ahead and buy an 8ft. tall frame just for the sake of it.
You need to ensure that the stand can easily fit in its designated space for storage and training while also confirming that it offers you just the right amount of height to work out efficiently.
These are some of the essential factors you need to remember while choosing a suitable heavy bag stand for your kickboxing and other training sessions.
Final Words
Everyone knows that a dependable heavy bag stand can make a whole lot of difference to your boxing workouts at home.
That's why you must choose a stand that will offer you adequate flexibility along with a robust execution.
It's imperative that your heavy bag platform can handle your workout for an extended period without diluting the quality of the training or breaking down in the middle.
And although choosing the right stand can be a little time-consuming, we've gone ahead and already researched for you so that you can pick the best of what money can buy!