Are you looking for the best MMA shin guards, but you got a whole lot of choices on your list?
Well, we chose the best options for you, so you might as well relax a bit and bring your Muay Thai and MMA training to the next level with these shin guards that are available for you!
Let's not waste any more time and begin!
Best MMA Shin Guards in 2023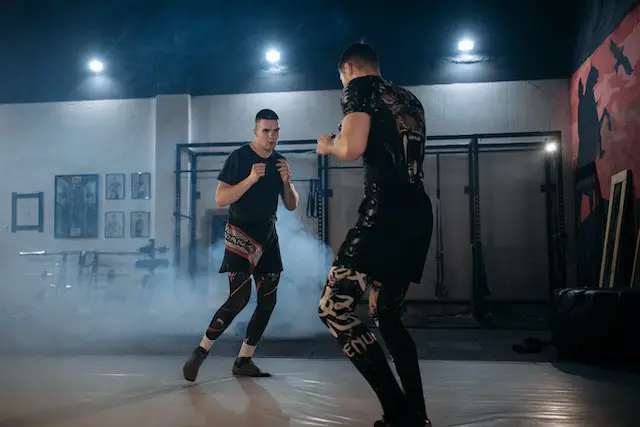 Contender Fight Sports Shin Guards
This Contender Fight Sports Shin guard is one of the most secure fitting MMA shin pads you can find in the market, and it comes with a neoprene wrap that keeps the shin guards held together firmly in place even when you are in an extreme Muay Thai lesson!
To ensure that the striking surface provides optimal protection, these shin guards made for MMA, Kickboxing, and other martial arts have strategically placed a shock-absorbing foam in the leg guards that come with synthetic leather to ensure the player's security while fighting.
These are designed explicitly for grapplers, so these can be the best sparring shin guards for martial arts you can consider adding to your sports wardrobe.
These shin guards come in different colors, and you can purchase these for your kickboxing sessions.
However, these pads have regular padding thickness only, and if you use these for Muay Thai, the padding might feel a lot thinner for you.
No worries though, the leg pads will protect your shins as they should, but the whole product's durability might be an issue in the long run.
Fairtex SP7 Shin Guards
Since Muay Thai requires shin guards with elite pad thickness and protection, the Fairtex SP7 Shin Guards will make it up for your Muay Thai and other contact sports needs!
These guards can be the best shin pads for Muay Thai because they are made with synthetic leather's innovative detachable shin and foot protector design, which fighters can adjust to fit their shins.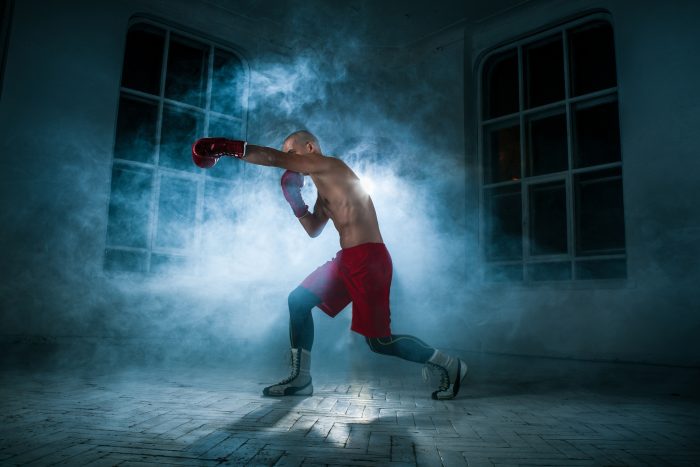 These can be twisted 90 degrees from the foot protector to follow the fighter's movement, allowing maximum comfort and natural feeling to be perceived.
The front padding is reinforced with a double-layer high-impact foam core interior that fighters can benefit from, and these can even get you protected for your kickboxing session with the guys or MMA training with your coach.
The adjustable hook-and-loop straps will make the way easier for Muay Thai fighters and allow the shin guards to be worn and taken off quickly.
Even though these shin guards are made for Muay Thai, they are also good for all kinds of martial arts that use toe kicks. These come in various colors to have multiple choices for the match!
These will hold up well with stability, but they may slide down a bit when things get extra rough and sweaty during training sessions.
Meister EDGE Shin Guards
The Meister EDGE Shin Guards guarantee an ergonomically designed fit with a gel-enhanced feature that follows the contour of your legs for an ideal fit.
They are constructed with 100% Cowhide leather with high-density impact foam situated on all contact areas, ensuring that you will be protected in your Kickboxing and MMA matches.
The unique gel padding provides maximum strike absorption, and the three-foot straps will hold the pads on your shin perfectly still.
The strap under your foot comes with rubber dots that create an excellent grip, providing extra traction for maximum movement.
Even when kickboxing training comes up, these shin guards are incredibly light when worn.
However, if we talk about hardcore training, you need to get used to it before making it your gear so you can finish 2023 with a more decisive kick.
You can use these shin guards for MMA, Muay Thai, and other martial arts, but the quality might be an issue if not properly used.
Venum Elite Standup Shin Guards
The superior Skintex leather construction makes up for Venum's Elite Standup Shin Guards.
These can provide great comfort and durability at a reasonable cost for Muay Thai, Kickboxing, and MMA fighters!
These best Muay Thai shin guards come with high-density foam padding with additional padding for the shinbone and instep, enhancing shock absorption to prevent injuries from occurring.
Despite the high-density foam that takes over these shin guards, these are made lightweight to keep everything in place for the fighters, plus the mobility and speed will be unrestricted at all times.
To ensure that Muay Thai practices will be smooth and steady, these leg guards' two Velcro straps are made oversized to provide a no-slip fit and ensure holding the pads in place while kicking.
The elastic bands under the foot and heel will also ensure a secure custom fit!
These shin guards come in different colors, and they are made in Thailand, which means Muay Thai protection will be sure enough!
These might be a bit hard on the first purchase, so you have to get used to it.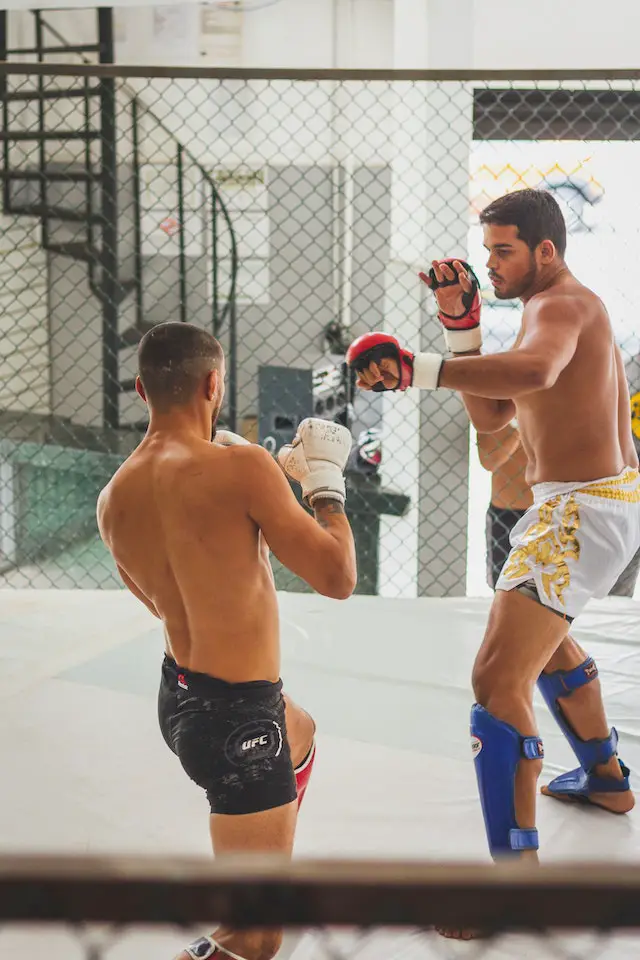 Meister Cloth Shin Guards
If you prefer a body-hugging fit for shin guards, the Meister Cloth Shin Guards must be for you.
These shin guards are fully elasticated and hug both legs and feet, in which the hook-and-loop strap only comes at the top part of the guard to ensure a tight fit when worn for MMA matches.
These slide on quickly when you wear them, and they fit according to your leg's size if you got the right size for you.
The padding retains your leg form through use while allowing fighters to move freely without any restriction during training, even with grappling. 
The adequate padding also provides a good cushion and protection for the players to ensure that the Muay Thai and MMA training is not harsh when contacting the opponent.
The only thing that you might be concerned about is the sizing. These might be smaller than the usual shin guard sizes, which can be too tight for you.
Venum Kontact Shin Guards
The Kontact shin pads are best used for Kickboxing or MMA, but you can use these for other contact sports.
These protective shin guards are made comfortable for users because it is a quick slide-on type of guard that hugs your legs and foot during martial arts training.
It comes with a Velcro that assures a precise fit for maximum comfort, plus the fabric is stretchable to avoid extreme friction contact from the skin that may induce rashes in the long run.
Using your shins while striking during sparring can be dangerous for you and your partner, but these shin guards will allow you to use your full striking arsenal without worrying about injuries that may occur.
These can be used dramatically for martial arts that incorporate kicks, but keep in mind that the Velcro quality must be taken as a concern, the fabric may be too tight for others, and you cannot find a sizing chart to estimate your size.
RDX Shin Guards
The RDX Shin Guards are constructed with lightweight Maya Hide Leather and Nylon inner fabric for interspersed sturdiness and damage resistance.
CE-certified, SMMAF, and SATRA-approved shin guards are instilled with a shock dispersion sheet for inevitable impact resistance, making you a great MMA fighter. Shin guards should make you feel comfortable after a kick check.
For MMA and Muay Thai training, even Kickboxing, these Quick-EZ hook-and-loop straps will deliver you an adjustable fit depending on your preference to reduce the chances of slippage.
These will keep you guarded in your Muay Thai sparring, for it allows optimum leg flexion without restriction.
It comes in four sizes: Small, Medium, Large, and X-Large. 
Here's a video showing what RDX shin guards have to offer you to see what to expect.
Despite the plausible positive product claims, it also has its downsides. The product is fragile, making it uncomfortable when you try kicking or even standing with the shin guards attached.
Despite the complete protection, quality is questionable, and you should be careful with your Muay Thai or MMA sparring. It would be better if the sizes were precise and on the right fit despite their calves' largeness.
Venum Challenger Standup Shin Guards
The Venum Shin Guards comprise 100% synthetic leather that works excellently with durability and performance for your Kickboxing, Muay Thai, and MMA training.
You don't want to have cheap foam, especially when your gear is for safety. These shin guards, they have a high-density foam with padding across the shin and instep for improved shock absorption, making you feel safe when you throw a Muay Thai kick. 
No one wants to wear heavy protective gear during MMA training. Hence, these shin guards are designed with a lightweight feature, providing unrestricted speed and mobility for your MMA session, giving you a lot more confidence in throwing an exceptional and powerful kick.
This video review shows the performance of the Venum Challenger shin guards.
It comes in three sizes: Medium, Large, and X-Large. The calf and shin measurements stand out about their sizing: it helps you pick the correct size for you since two measurements are counted. 
They also have large velcro straps, preventing slippage during a Muay Thai session.
However, these shin guards' inside texture may be risky for some people; one should be aware of the chemicals and materials present in the product.
Hayabusa T3 Striking Shinguards
The Hayabusa Shinguards are made of the most robust, resistant material available, Vylan-engineered leather, to give you maximum protection when you strike a kick in Muay Thai.
These are professional shin guards made with multi-layered foam that keep your leg protected from knee to foot without shifting around during a movement.
The lightweight open-back and soft lining design are made entirely for Kickboxing, MMA, Muay Thai, Taekwondo, and other traditional martial arts.
These shin guards help you keep calm and comfortable during a spar, for you will not worry about the weight of the shin guards itself on your leg.
They are secured with two customizable straps and silicone beads that provide grip for an ultimate non-slip fit, saving you time from adjusting and more training.
These are also odor resistant and pre-curved and contour your leg to feel protected.
This video talks about the features and performance of Hayabusa T3 shin guards to help you understand more about it.
These shin guards come in four sizes: Small, Medium, Large, and X-Large.
However, their sizing is challenged with accuracy to one's leg size. It will help if you are careful in picking the correct size.
Sanabul Essential Hybrid Shin Guards
The Sanabul Shin Guards are made especially for traditional martial arts use. These shin guards are designed to be comfortable when worn and give standard protection at the same time, giving you high safety for your MMA training.
These are made with one-piece foam, especially for protection during sparring, providing high-impact protection.
During training, you do not need to keep adjusting these shin guards since the Neoprene slip-on design joined with the top leg and mid-leg fastener ensures a comfortable fit and minimizes shin guard shifting while moving.
Throughout the shin guard, their triple stitches add reinforcement and supply them with admirable durability.
They come in various colors and three sizes: XS, S/M, and L/XL.
If you are still a newbie in Muay Thai training, efficient and effective protective gear would be at the top of your bucket list.
These would be best for beginners and those who are not hard kickers; however, they may not be breathable and may not last you long.
RIMSports Muay Thai Shin Guards
The RIMSports Shin Guards are made especially for Muay Thai. You are looking for complete shin protection during Muay Thai training, right?
Well, these shin guards proclaim that they ensure your legs' protection during the session. You do not want your protective gear to stink, and a moisture-wicking fabric would be best to eliminate foul smells from hard training.
These shin guards are made of blended cotton material, which provides comfort, longevity, and breathability.
The adjustable non-slip design feature of the RIMSports Muay Thai Shin Guards hits you a win.
They can be adjusted using the Velcro strap at the top, and their innovative non-slip design provides a snug fit to the user. 
You would want high-impact protection when absorbing Kickboxing, MMA, and Muay Thai's most brutal strikes.
These shin guards provide four-way compression shin support for calf support and muscle stabilization.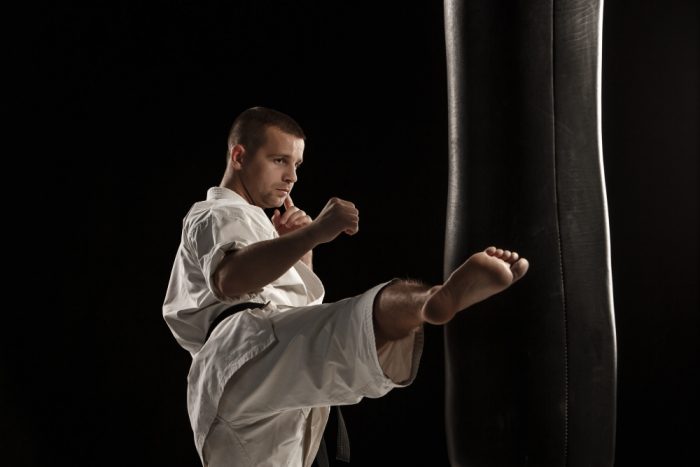 These are perfect for your intense boxing workout sessions, and you will be confident enough to receive hard kicks from your opponent without both of you getting injured.
There are three sizes in their sizing chart: Youth/X-Small, Small/Medium, and Large/X-Large.
The pad may be of good quality, but it may not be the shape you want it to be.
How to Choose Shin Guards for MMA and Muay Thai
It is beneficial to differentiate the specs of different brands of the product you want to purchase.
The product should meet your needs, and you should weigh its advantages and disadvantages based on its features.
All shin guards may look the same, but they are all built differently.
Here are some tips on choosing the right one that works best for your call.
Maximum Coverage on Foot
Most injuries in martial arts sparring occur around the feet, particularly ankle joint injuries. Having maximum coverage on your foot will prevent further damage once you flex your ankle.
The covering should sit right on the foot and feel comfortable when the foot provides movement, and excellent padding should protect the ankle.
If your shin guards cover your foot correctly, you won't feel pain when you deliver kicks on the Muay Thai pads.
Proper Straps Placement
Just because the shin guards have straps does not mean they are in the proper position of your leg when worn.
Shin guards should provide proper strapping to avoid slippage during sparring. It would be best if the strap around the foot is a tight and secure fit; thus, the user will feel comfortable while standing, sitting, and performing hard kicks in a spar.
Precise Fit
Shin guards can sometimes be bulky and heavy. However, too much bulk may hinder your ability to kick since it compromises your comfort. Also, don't forget to wear comfortable Muay Thai shorts for easy movement.
Heavy guards can also make you conscious of your movement since it doesn't slip off your mind during sparring due to the weight you carry.
Make sure to measure your leg and base it on the shin guards' sizes to pick your best option. Check the shin guards' build if they are generally bulky or heavy to ensure your comfort when using the protective gear.
Measure its length to make sure that your feet or ankle doesn't hurt from the protection the shin guard provides.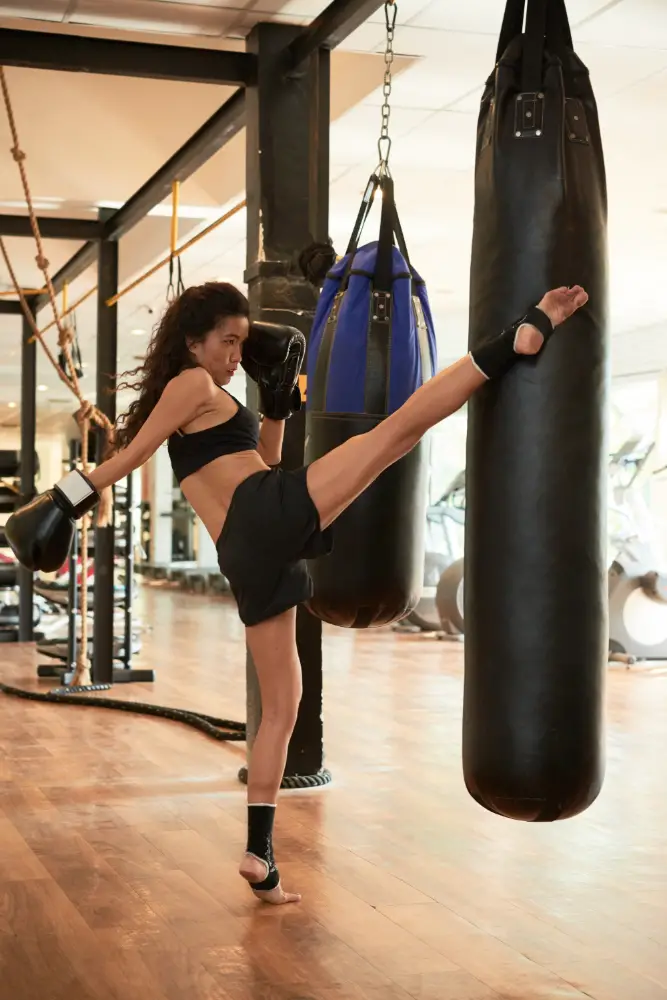 Material
Think about your ideal shin guard: should it feel tough and full-protect? Do you want leather that provides a fantastic shin guard facade? Or do you want a thin fabric or sock-sleeve type that gives you the breathability and best protection?
It would be best to remember that the suitable material for a shin guard provides durability and breathability. Your shin guards are just like your Muay Thai gloves; you can't ignore them.
You do not want your shin guards to have a short lifespan; you also do not want your shin guards to smell.
Consider buying shin guards with linings or made-in quality breathable materials that are not easily damaged.
Final Words
Contact sports are somewhat dangerous, especially when you don't have protective gear.
These shin guards will come your way and stay by your side to protect you from any danger, so you might as well choose the best pair you want to add to your martial arts equipment.
Always think about what you want and prefer before purchasing the shin guards because what fits others might not fit you, so always trust your instincts about which one is the best for you.
Hopefully, this article helped you know the different features of each shin guard we chose to offer you.
FAQ about Shin Guards
What is The Best Brand of Shin Guards?
Venum and Hayabusa produce the best shin guards. They are highly regarded by MMA and Muay Thai fighters for several good reasons. Both of these brands are known for producing excellent leg guards made of high-quality materials offering a maximum level of safety. They are also available in different styles, sizes, and colors to fit the needs and preferences of every user.
Why Do You Need Shin Guards in MMA and Muay Thai?
Shin guards are always a must-have whether you train in MMA, Muay Thai, or Kickboxing. They protect your legs, feet, and ankles to prevent injuries when taking strikes and kicks during training.
Should Shin Guards Cover Your Toes?
Shin guards for MMA and Muay Thai should protect the top of the feet but not cover the entire toes. This is because not every strike and kick will land exactly where your partner is aiming, so there's a good chance that it will hit your feet. However, if it fully covers your toes, you will not move quickly.
How High Should Shin Guards Go?
The ideal length for MMA or Muay Thai shin guard is for it to hit just under your kneecap. They should not cover your kneecaps, nor should they be higher than this area, or else they can compromise your mobility. If you need extra protection and coverage on your knees, you can always wear separate knee pads but don't use your shin guards as they are not meant for this purpose.