Kids sure have overflowing energy, and as parents, you somehow have to manage it for their benefit.
Engaging them in boxing will help them exert that energy to develop their strength, flexibility, and stamina at a young age.
But of course, you want that experience to be as enjoyable and safe for them as possible. That's why it is crucial to choose the right suitable equipment for them.
The list below will guide you in making a wise decision before purchasing the right punching bag for your kids.
You will also find a list of the best punching bags for kids currently available this 2022 that you definitely don't want to miss.
Best Punching Bags for Kids
Whoobli Punching Bag
Whoobli punching bag is a freestanding bag that comprises of fun red and white inflatable ball bag and an adjustable stand to help energetic kids use their energy for something worthwhile and fun.
This punching bag is designed for boys and girls aging 3 to 8 years old. It also comes with boxing gloves to match the bag.
The stand can be adjusted from 34 inches for smaller and younger kids up to a maximum of 44 inches, which is advantageous since kids tend to grow faster.
With this height adjustable feature, you are sure they won't outgrow this punching bag quickly.
The Whoobli punch bag is made with tough, non-toxic PU leather that you can inflate using the air pump that comes with the package. It is guaranteed durable, won't fall apart easily and is safe for your kids.
What makes it, so fun is the 180° durable spring that lets your kids throw punches as it bounces back to them.
The bag can be filled with water or sand to weigh it down to ensure that the punching bag doesn't move around and fall over your child with their punches and strikes.
It also has EzyCarry handles, enabling you to move the punching bag around your house quickly.
Rovtop Kids Punching Bag
This freestanding punching bag features its punching ball with a bigger built-in rubber basketball model measuring 9.8" x 9.4" that guarantees staying inflated for a more extended period and frequent use.
The exterior of the ball is made with 0.4" thick PVC material and uses reinforcement stitching to ensure that the ball stays durable and doesn't tear up while using.
Furthermore, the bottom of the ball is polished to prevent scratches and ripping guarantees to last for a long time.
The height of the stand can be adjusted from 41 inches to 53 inches, suitable for kids of 4 to 12 ages.
It allows you to adjust the punching bag as your kids grow taller to suit their height and age.
The spring of the Rovtop punching bag has a thicker wire and larger coil diameter, which provides more consistency and more resistance to help kids build strength.
An upgraded tube with a bigger size and thicker wall is also installed to enhance the stability of the punching bag.
The base can be filled with sand or water and incorporates four suction cups at the bottom to keep the punching bag in place and doesn't tumble down to prevent accidents while your kids are punching and hitting it.
Stats Inflatable Boxing Bag
This boxing bag can be used by kids aged six and up as this freestanding punching bag inflates up to 160 cm tall.
Since this bag is elevated, it is perfect for kids to develop their strength and balance by throwing punches and practicing their kicks safely.
It is made with durable material to ensure it doesn't inflate quickly and won't burst with your kid's strikes. The surface is also made with a soft material, so it doesn't hurt or injure your kids.
The base can be filled with water or sand to provide stability and prevent falling over. It guarantees to take punches and kicks as it bounces back ceaselessly without tripping over for a lot of fun exercise for your kids.
The Stats Inflatable Boxing Bag features fun and colorful graphic designs your kids will surely love. It can be moved easily to use indoors or outdoors and allows for easy storage.
Tauliy Kids Inflatable Freestanding Punching Bag
This freestanding punching bag is made with durable multi-layer PVC material that can withstand thousands of punches and kicks.
It features a sealed double cover design that effectively prevents water and sand leakage.
Moreover, Tauliy made a leak test on this product before delivery and has found no apparent leaks in the full punching bag during a month guaranteeing its durability.
It can stand at over 63 inches when inflated, making it suitable for kids ages five and up.
Since it is filled with air, it also allows your kids to throw punches and kicks without hurting them and just bounce back, so it is safer and more fun for them to use.
The diameter of the base measures 21 inches which are larger and provide more stability than other freestanding punching bags. It can be weighed down by filling it with water or sand for further stability.
Although the Tauliy Inflatable Freestanding bag has a large size, you can quickly move this around your house so you can use it wherever you want.
This punching bag can also be deflated and folded down for easy storage.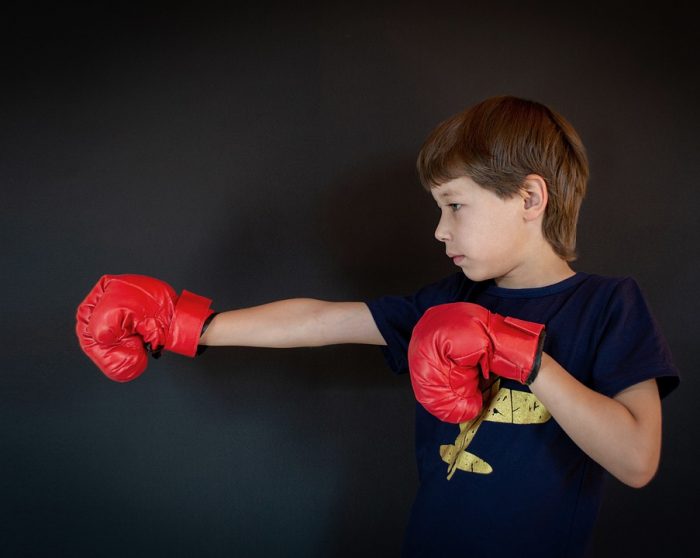 Mdikawe Punching Bag for Kids
This hanging punching bag is constructed with three layers of durable anti-burst material that promises to withstand your kid's punches and kicks, whether for training or exercise. It uses high-quality PU leather with a smooth surface.
It contains excellent elasticity along with another layer of soft sponge inside, allowing your kids to throw even their toughest punches and kicks safely and pain-free.
Mdikawe Punching Bag comes with four anti-fracture nylon straps wherein each strap has multiple line suture that enables you to hang it quickly and ensure that it doesn't break and snap off while using for a long time.
The punching bag measures 24.4'' x10.2'', suitable for kids of all ages. It has a top zip closure that allows you to change the filling conveniently and also comes with a strong hook for you to hang your punching bag.
You can fill the punch bag with sawdust, cloths, sponges, rags, or anything soft to provide weight and weak punches.
How to Choose Punching Bag for Kids
Material
The suitable material will take your kids' boxing experience to a whole new level.
Of course, too hard-punching bags are definitely a no as they might hurt them while playing or exercising, and in turn, they won't enjoy the experience, and they might turn their backs on boxing.
On the other hand, too soft punching bags will defeat the purpose of training and developing their strength.
You should also consider the outer material of the punching bag. Needless to say, leather is usually preferred, but it can also be too expensive, and keep in mind that kids will tend to outgrow their punching bags in no time, so it might not be too wise to invest in leather.
Fortunately, synthetic leather, PVC, and PU leather, among others, can mimic the durability you need from genuine leather at a cheaper price so it's definitely the best choice.
Type and Installation
Nowadays, the most popular and preferred punching bags for kids are freestanding bags that use air to inflate the punch bags.
The reason is that it is soft enough for kids to minimize the risk of injury and pain yet contains enough firmness to help them develop the strength of their punches and kicks.
If you have limited space in your house, this is the best option because you don't need a lot of room for your kids to use it and the hassle-free installation is definitely a plus.
However, the catch here is that you have to appropriately fill the base with water or sand to weigh it down because failing to do so will just cause the bag to fall over, and it might cause accidents for your kids.
Freestanding bags also tend to have a limit when it comes to height, so your kids might outgrow this type of bag quickly.
However, there are bags in the market that has an adjustment feature that allows you to modify the height of the bag as your kids grow, so make sure to look for this gem of a feature.
Likewise, hanging punching bags are also nice but usually require a little bit more space and work to install.
Please make sure the ceiling framework of the area you will set the bag up has a solid point to avoid it from falling and snapping off.
Hanging bags also have an excellent height, which is great so your kids can use them as they grow taller.
Hanging bags with correct fillers like clothes or anything soft are also an excellent option if your kids want a little more density yet still cushiony enough to avoid injury.
You should also pay close attention to the strap of the bag since all the tension and weight will go to it when hung in your ceiling to avoid it from snapping off while your kids are using it.
Age and Purpose
Usually, manufacturers indicate the age of kids suitable for their products. You must follow this suggestion and purchase punching bags that are for their age for safety reasons.
If they are too young and just need something to play with, go for soft and lightweight. Make sure that it is also made with non-toxic materials that are safe for kids.
If your kids are growing and want something to exercise or train with, then you can get away with choosing punching bags that has more weight and firmness.
Heavier and firmer punching bags require more effort when throwing punches and kicks, so they will be perfect for developing their strength and using it as training or exercise equipment.
Final Words
Punching bags are helpful equipment for kids to have a healthy and fun exercise and training experience.
As parents, you only want the best for them, so make sure to invest in some of the best products.
I hope the information above has given you a good idea of what your kids need and helped you decide on your next purchase.
Have any questions for us? Leave a comment below, and we will get back to you ASAP!