Muay Thai shorts are a must for training and competition. They allow for greater mobility and a more comprehensive range of motion, enabling you to execute high kicks efficiently.
It can be hard to find a good pair of shorts, especially with so many options on the market right now. 
Check out the list of the best Muay Thai shorts below to help you find the right pair for you.
Best Muay Thai Shorts in 2022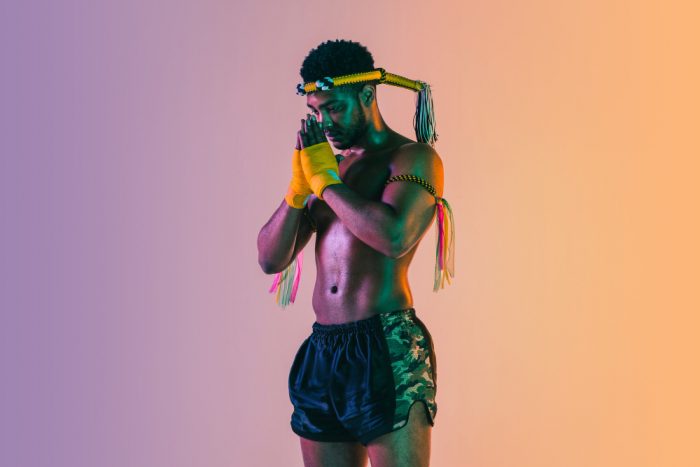 SOTF Muay Thai Shorts
The SOTF Muay Thai shorts are great not only for Muay Thai but also for other contact sports. They are made with polyester material for lightweight use, and these are made with firm stitching that makes these shorts more durable. 
The elastic waist and drawstring contribute to the fighters' comfort to adjust according to their desired fit.
The embroidery pattern and sequin design make these shorts look exquisite when worn, and colors don't fade out even after multiple washes.
Being unique in the court with these cool shorts can boost your confidence!
These come in various sizes, but the sizes are not that accurate as you expect. They are a lot smaller than the usual Muay Thai or kickboxing shorts sizes, so you have to consider sizing up to satisfy your comfort training for Muay Thai.
Tuff Muay Thai Shorts
If you want cool Muay Thai shorts to wear during your matches and training sessions, then Tuff's Muay Thai shorts must be for you!
These are not only suitable for Muay Thai, but you can also use them for kickboxing, MMA, grappling, and many more. The fabulous and fashion-worthy designs are great for men and women of different ages, and you can slay your training by looking good and feeling yourself with these sublimation printed, hand-made quality Muay Thai shorts.
The microfiber fabric made with these shorts is lightweight and quick-drying to keep them from getting damp after a sweaty session. These should be hand-washed to avoid fabric damage and drip-dried for maximum material longevity.
These Muay Thai shorts come in various colors and designs, giving you many options to choose from to become a Muay Thai fashion icon in the gym!
However, you have to be careful with the sizes because they might run small, and a big guy might not fit into these shorts.
Tuff Sports Retro Style Muay Thai Shorts
Another Muay Thai fight shorts from Tuff is the Sports Retro Style edition. 
These shorts are great for both men and women of all ages, and it is also made with excellent microfiber fabric with the incorporated sublimation printing technology. They are also lightweight and sweat-free, and the quality is as good as how you expect it to be.
However, these shorts are around two to three inches shorter than the other Tuff Muay Thai shorts. These also have a low waistband and leg slits for a maximized range of motion while moving, and you can feel unrestricted and more available for various extreme hits during practices to improve your game.
Just wear these shorts and your Muay Thai gloves for practice. If you practice with your partner, ask him to keep the pad at high so you can kick and see the free movement you get.
These come in different fashionable designs, and you might want to consider getting these if you wish to have short-cut Muay Thai shorts. You should also check the sizing because these are way small for the usual Muay Thai shorts sizes.
Venum Bangkok Inferno Muay Thai Shorts
The best Muay Thai shorts are traditional wide elastic for comfort and support during practices and matches. Well, Venum's Bangkok Inferno can deliver it to your Muay Thai needs, and these can rock you on stage.
These are made with 100% polyester for a lighter and looser feeling, and it has a durable elastic closure to ensure they won't fall off despite extreme movements during practices.
They are entirely handmade in Thailand, which is a plus factor for the quality of the shorts you are looking for, and the side vents that come with these shorts will help increase your mobility without anything hindering your movement.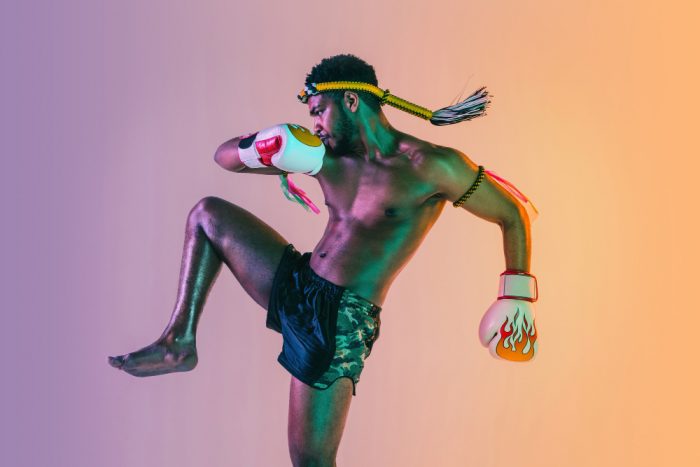 They might not have much design to look at, but these shorts come in different color options you can choose on before adding them to your sports wardrobe.
Just be mindful of the sizes because they are a lot smaller than you think.
Venum Giant Muay Thai Shorts
The Venum Giant shorts are made with 100% polyester, and it comes with a simplistic yet luxurious design that Muay Thai fighters would love to have in their sports apparel.
The polyester satin used to make these shorts is lightweight and elegant when worn, keeping everything in place during intense sessions.
These shorts are made with the traditional wide waistband for a supportive and comfortable fit. It has side mesh panels designed to increase ventilation and prevent odor from the sweat you may attain at the end of the day.
A wider leg opening is incorporated with these shorts to ensure an unrivaled range of motion during matches and practices.
When you're training, you can feel how comfortable they're when you try to kick the face of a punching dummy.
These are entirely made in Thailand to add up to your plus factors!
You should check for sizes before purchasing these because the sizes are small, which can restrict your movements.
SOTF Boxing Shorts
If you want unique shorts that can be a staple piece for 2022 sports sessions, then these from SOTF might be one of the best choices for you.
These are not your usual Muay Thai shorts. They are a lot longer than the traditional Muay Thai shorts, but they do the job to make it up for your Muay Thai and other contact sports needs.
They come with a Velcro and a drawstring that helps adjust your desired waistline fit, and it has a split design at the bottom of the shorts to make it easier for you to lift legs.
These reduce friction against your skin while grappling, moving around, many other motions, and the excellent printing technology makes the design clearer with no fading.
You have to choose sizes more significant than your usual size from the fashionable designs these shorts have because they are made smaller. The fabric might rip off if the shorts are fitting on your legs.
Hayabusa Falcon Muay Thai Shorts
Another traditional Muay Thai shorts are the Hayabusa Falcon shorts to add to your choices.
These are traditional mid-thigh Muay Thai shorts that fit just right when worn, giving you freedom for your entire range of motion while Muay Thai training. 
It comes with a wide elastic waistband and drawstring that will help fit the shorts more comfortably through all of your training sessions, and it does not restrict your breathing pattern even in intense sparring sessions and competitive matches.
These come with a wide leg opening for a more breathable use, plus it is made with a high-end embroidery finish for a more aggressive look.
These shorts can be the perfect addition to your Muay Thai equipment, plus you can even stand out from the crowd with the elegant and sporty design these shorts possess!
Both men and women can have these shorts because the quality won't disappoint your preference. However, these shorts' sizes run more significantly than the usual sizes.
Fairtex Muay Thai Boxing Shorts 
The Fairtex Muay Thai Shorts are made from satin and nylon materials, making them comfortable to wear and allowing you to move freely.
Since Muay Thai's art originated from Thailand, you would be highly encouraged to purchase these shorts because they are made from the same country where Muay Thai came from.
Muay Thai professionals also trust this brand because they genuinely deliver comfort to the users while on deck.
These feature the 8-strip elastic waistband that secures around your waist whenever you move and gives you maximum comfort for your session at the same time.
You wouldn't feel tight and choked around your stomach because the waistband's elasticity will only give a snug fit to move freely.
These shorts come in many authentic and unique designs that move around 30 different pieces. They also come in various sizes that depend on one's weight, with the length and waist information.
The high-quality build of these shorts won't make you regret its feature. However, you have to be careful in picking the right size for you! Check the size chart carefully according to the shorts' length, your waist measurement, and your weight.
Anthem Athletics Classic Muay Thai Shorts
The Anthem Athletics made a classic design for traditional Muay Thai training. It has an ultra high-grade microfiber that is tear-resistant and lightweight.
Although these are manufactured in the USA, Muay Thai fighters will feel the precise comfort, flexibility, and mobility that they should acquire from having these pairs of shorts to avoid distractions from their training sessions.
The elastic waistband is a traditional 4″ boxing style with an internal drawstring closure. Users can feel comfortable with its mobility because it has a four-way stretch in the crotch, allowing free movement without clasping each thigh together because of the fabric.
These shorts have an embroidered logo at the bottom left of the front portion and a three-star design at the sides, making them look powerful and elite at the same time.
These come in six different sizes and eight colors, providing users with an extensive range of pick choices.
They are optimized primarily for Muay Thai, but users can also use them in other martial arts training. 
Yes, everyone can purchase a pair of these shorts. Even kids have their size, but these shorts may come a bit shorter for those of an average height.
Anthem Classics Infinity Muay Thai Shorts
The Infinity shorts of Anthem Athletics has a unique shape that does not look similar to other shorts. They look edgy and robust and feature the high-grade performance microfiber that contributes to the users' execution at the same time.
Anthem Athletics launched these shorts in 2016 that made these famous. Since then, the shorts' quality was being improved to satisfy customers' standards through the product's fit, design, and functionality.
These shorts hold up well for boxing sessions with the stretch elastic waistband that holds firmly around the waist, including the drawstring closure that is locked internally.
These are also fully machine-washable, which means you don't need to spend a lot of time handwashing them.
These shorts are available in seven different sizes and come in seven unique designs that certainly meet the customer's standards.
These may not look like traditional shorts for Muay Thai, but you can wear them in other training.
FLUORY Muay Thai Shorts
The Fluory shorts are 100% polyester, a piece of lightweight fabric with an ultra-high-grade feature. No matter how intense your sessions are, these shorts can take them up to the maximum level because they are tear-resistant. 
Since the fabric is lightweight, breathability is promoted in these shorts, and the moisture-wicking technology moves moisture away from the body to avoid the fabric's saturation.
The elastic waistband delivers optimal fit for the users, making them comfortable even while wearing it for a long time.
Users can gain a superior movement range no matter how intense the fights are because these shorts have aggressive side slits to allow side movement to penetrate with their flexibility. When attempting submissions, the friction advantage you can deliver won't make you doubtful of your strikes.
These shorts come in different sizes and different designs. Every design is unique, and they have more than 15 designs made for you. Choosing which design or color to purchase can only leave you in a dilemma.
Although these are made with high-quality material, some people experience sizing problems with these shorts.
Anthem Athletics 50/50 Muay Thai Shorts
Anthem Athletics' 50/50 shorts for Muay Thai provide Muay Thai fighters an unrestricted movement opportunity.
These also possess an ultra-high grade and tear-resistant microfiber and are also fully machine washable and lightweight. Users won't feel like they are wearing anything at all because these are super light and tough at the same time.
The 50/50 feature of these shorts showcase a design that stands by the name itself. The color of this pair of shorts is divided horizontally, giving two different colors in one team with an even division. Dark colors are found at the top half, while lighter shades are for the bottom half to accentuate the logo.
The logo can be found at the bottom left front of the shorts, making it look classy and neat at the same time. The side slits also reach half the length of the shorts aggressively, giving users a chance for extreme mobility for Muay Thai fights.
These shorts' waistband also possesses an internal drawstring to make the closure not visible to the public. 
Although these shorts are made especially for Muay Thai, they were made modern for users to use for other martial arts training.
How to Wear Muay Thai Shorts
Make sure your shorts are not tight when worn. This way, you can assure that you can have a full range of motion for your movements, and you will not induce friction on your skin which may cause rashes, and the shorts might even rip if they are tight.
Wear them high enough where the waistband won't go up once you start kicking or running around.
One purpose for short Muay Thai shorts is to ensure that wearers have a full range of motion and can move around without any hindering restrictions.
Don't wear them low if you want to be comfortable and focused the whole training, sparring, or competitive matches session.
If you wear long shorts at a low position, they can be stuck in your shin guard.
If there is a drawstring, tie it tight enough to breathe properly and not restrict your stomach for a good Muay Thai session.
Things to Consider Before Buying Shorts for Muay Thai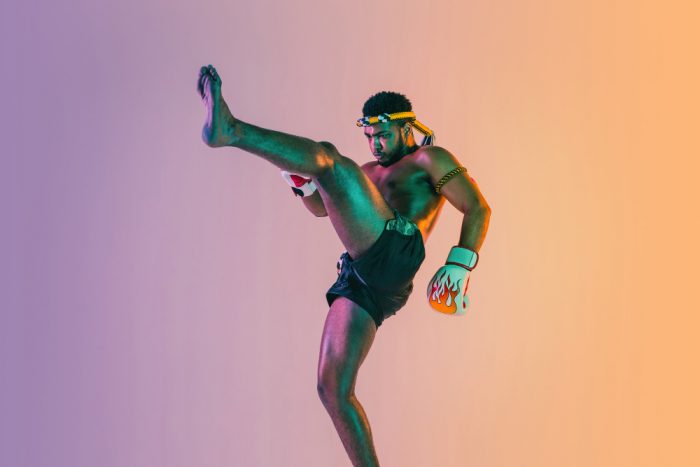 Material
Satin and nylon are the two most common types of material that these shorts can be made out of.
Satin makes the best Muay Thai shorts but is also more expensive than nylon.
However, they are also more durable than nylon, making them the perfect choice if you're looking to invest in good quality gear that will last through the years.
Satin is light which means you can kick without restriction and move unrestricted. Not only that, but Satin is also very comfortable to move in.
Many Muay Thai fighters prefer this material because they feel great against the skin and are cool to the touch. Plus, its slight sheen adds to the look and aesthetic of the shorts.
On the other hand, although nylon is cheaper and less durable, some Muay Thai fighters still prefer this material for several reasons.
Shorts made of nylon are usually thicker, which is excellent news if you're going to be doing heavy training sessions because it'll be much more difficult for them to get torn or damaged.
In addition, when nylon shorts get wet, they dry up much more quickly.
Fit
If you want to feel comfortable while doing Muay Thai, you should make sure your shorts fit well.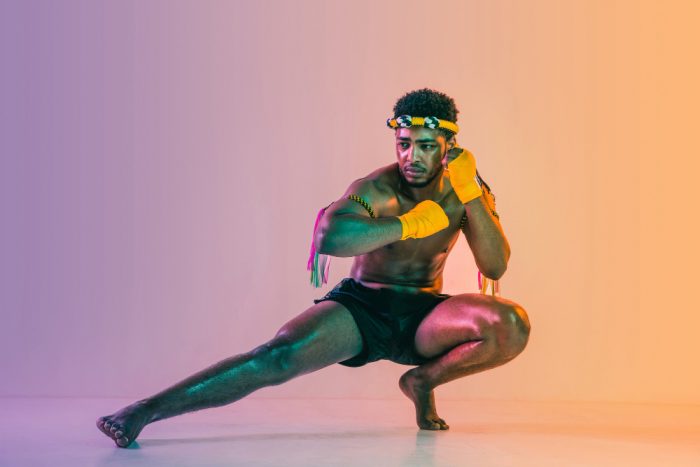 You don't want your kicks and knees to be restricted just because your shorts are too tight, nor do you want them to feel loose around your waist and slide down in every kick.
To ensure your new shorts will not inhibit you during training, first practice some kicks. This will help ensure a comfortable fit.
Don't be afraid to try on a few pairs before finding one that fits, and make sure to always check the manufacturer's sizing chart before purchasing.
Final Words
The choice of Muay Thai shorts to purchase boils down to your taste and style, but always note the material made to satisfy your preference.
Please don't depend on what you think others like; think about what you want so you won't be disappointed when wearing it.  
Show yourself through your gear, and your Muay Thai shorts are the way!
We hope we have supplied enough information to make up your mind for the most immeasurable Muay Thai shorts for you.