Boxing is a fun sport for many young boys and girls, as a game and training.
If your kids want to try boxing, the first thing you need to do is appropriately equip them with a good pair of boxing gloves. 
Having suitable boxing gloves for young players protect their hands from potential injuries and boosts their performance and confidence when throwing punches.
Here are some product recommendations if you are looking for the best kids' boxing gloves in 2022.
Best Boxing Gloves for for Kids & Youth in 2022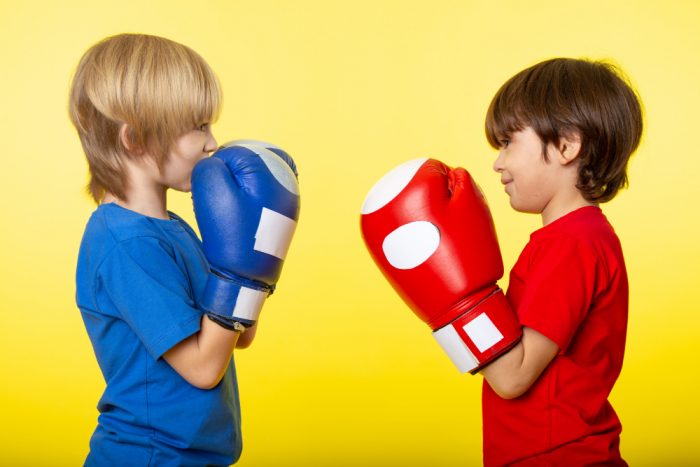 Everlast Pro Elite Style Training Gloves
The Everlast Training Gloves are boxing gloves that a teenager could use.
It is made of premium synthetic leather combined with an excellent structure that fits right on your hand, which can promote your focus during your boxing training since the covering is a synthetic overlay.
These gloves are made with an updated Evershield design to ensure advanced wrist protection with the hook-and-loop closure.
This way, a teenager could hit the opponent without worrying about the possible injuries that may occur. These gloves are for hand protection and a grip cord for extra gripping power.
With the advanced wrist protection and grip benefit, there's no way these gloves will twist and turn while the kids are throwing punches, so long as these gloves fit right on their hand size.
What's impressive in these boxing gloves is the full mesh palm. It ensures the boxer's comfort and breathable feeling while giving punches, avoiding the possible odor after the sweat one delivers.
These gloves come in four sizes: 8 oz, 12 oz, 14 oz, and 16 oz. 
No matter how good some specific materials they have for these gloves, we cannot deny their flaws. These may rip apart if used consecutively during intense training.
Venum Challenger 2.0 Boxing Gloves
Venum's Challenger Boxing gloves are one of the best options for kids' use.
These are made from 100% premium synthetic leather covering the gloves' outside, improving kids' punch resistance.
On the inside of these boxing gloves for kids is the multi-density foam for a better shock, which allows a smooth and effective punch controlled by young people.
Kids should train in their age group, and they require the most compelling boxing gloves since all they have to worry about is their actions.
These anatomically curved gloves that follow a hands' shape while punching will give the kids comfort and good punching power.
It also has an attached thumb, making the hands inside the gloves more relaxed, and an interior mesh to make it breathable.
A large Velcro enclosure with elastic is also associated with these gloves. It allows better adjustment for the kids' hands, avoiding the gloves from moving while boxing.
These gloves come in three different sizes: 4 oz, 6 oz, and 8 oz. Each size depends on whether toddlers or kids can use it or just based on their weight.
These gloves' quality is undoubtedly commendable, but the sizing may not fit some toddlers and kids.
Everlast Prospect Youth Training Gloves
These gloves made by Everlast are dedicated to the youth.
These are made of synthetic material that lasts long, and they are ideal for young boxers as they begin training. These gloves were made especially for them. 
These gloves come only in one size: 8 oz. Although it only has one size, it will fit the young kids, for these are made for their age, and these gloves have an enhanced wrist wrap support.
The hook-and-loop closure will protect their hands from twisting and ensure the gloves fit right without feeling uncomfortable while throwing a punch.
Of course, the youth are still young and innocent; they would not know about paying attention to their safety.
They can think about their training activities, which leads to them needing excellent protection for their hands.
To ensure the youth's safety, knuckles in these gloves are kept safe with the padding around them to keep their bones safe and avoid further injuries.
This is great for the youth, but they can only deal with this in one color and size. Overall, it is excellent and a must-have.
Hawk Sports Kids Boxing Gloves
The Hawk Boxing Gloves for kids are premium PU leather with an excellent glove construction to provide long-lasting functionality and durability. 
Now that we were in 2022, we can't let the kids live a sedentary lifestyle, and they should keep their bodies healthy, at least.
If you want to train them for boxing, they can build a healthy training hobby with these gloves: the extra-thick supremo-shock layer-based padding on knuckles will protect them, and the separate padding over wrist-joint their ultimate wrist safety.
No matter how hard they throw their punches, security is always ensured around their hand.
These boxing training gloves have a breathable pinhole palm, increasing hygiene efficiency. The breathable pinhole is anti-perspiration, which reduces offensive smells, bacteria, and moisture through children's hands.
They come in four different colors and two sizes to choose from depending on the kids' weight. Sizes are 4 oz and 6 oz.
These gloves are all-purpose: they are ideal for punching mitts, sparring, training, punching bags, and many more. It also has a 5-year replacement warranty which you can use if you are not satisfied with the product despite the utmost quality it has to offer.
Cheerwing Boxing Gloves
The Cheerwing Boxing Gloves are made especially for kids and toddlers. Since the kids will use these gloves, a cartoon design is stitched onto the boxing gloves.
These are made from high-quality PU leather and EVA foaming, making them easy to clean and use. 
These are one of the best choices for boxing starters. It minimizes the risk of getting accidental injuries and helps toddlers focus on their work.
Parents do not have to worry about possible hand injuries during training with the maximum support and comfort.
These gloves come in a hook-and-loop closure. The elastic wrist strap allows for a more customizable fit while providing superior wrist support and makes it easy for quick wear and take-off for kids and toddlers. 
These gloves come in four different colors but appear to have only one size. Nonetheless, with the unique design and structure that conform to kids' tiny fists, these can be their incredible choice to get them ready for boxing.
Liberlupus Kids Boxing Gloves
Yes, you read that right. The Liberlupus Kids Boxing Gloves is perfectly made for boys and girls from ages 3 to 15. It can be boxing gloves for toddlers and 12 years old up to 15.
These are designed for sparring, working with heavy bags, Muay Thai, MMA, boxing, and kickboxing. 
It comes in weight sizes 4oz, 6oz, and 8oz and can also be purchased in colors black, blue, red, and pink. The cute colorful combinations make it best suitable for kids.
These boxing gloves' exterior is 100% premium synthetic leather, making them resistant to water or sweat.
But, it ensures breathability through its mesh holes so your kid's hands won't get sweaty. Less effort, less distraction, less bad odor.
It also has three layers of sponge foam to give a comfortable feel while adding to the gloves' lightness.
Moreover, it gives maximum protection for kids, especially beginners, through its plump knuckle areas, cutting-edge one-piece design of wrist and back, and thumb padding. 
Materials used work together to offer durability, great ventilation, excellent design that will result in an outstanding performance in boxing. 
It also has a hook and loop in the wrist for a secure fit, but it doesn't make the gloves challenging to wear or take off.
Jayefo Kids Boxing Gloves
The Jayefo Kids Boxing Gloves can be used by juniors, both girls and boys, in many activities like speed bag workouts, Muay Thai, boxing, and kickboxing. It's a perfect gift for your sporty child!
These boxing gloves are available in weight sizes 4oz and 6oz, and you can choose among four color choices matched with adorable and fun cartoon designs. You can have it in black, red, pink, blue, and yellow colors. 
These boxing gloves have attributes that can significantly contribute to your child's boxing skills. The thumb-lock feature aims to prevent the thumb from having injuries due to hard punches on the punching bag.
Plus, these boxing gloves have two layers of padding that provide shock absorption, so throwing jabs would be less hurtful during training or sparring.
It gives not just protection but also comfortability and breathability through its air vent holes. 
Furthermore, the hook and loop straps on the wrist ensure that the gloves won't fall off even if your child does critical punches. 
Dtown Kids Boxing Gloves
The Dtown Kids Boxing Gloves are designed for girls and boys from 3 to 9 years old. They can use it in training in heavy bags, karate, Muay Thai, MMA, boxing, and kickboxing.
Its weight sizes are 4oz and 6oz, and you can choose from a variety of colors such as light pink, pink, black, blue, deep sky blue, and red.
This has skull designs and the word "boxing," and the brand Dtown is embedded on the wrist.
The exterior of these boxing gloves is made of high-grade PU leather and EVA foaming, so they can be easily cleaned and resist water or sweat. 
These high-quality boxing gloves offer breathability through the lining and holes on the palm part. This prevents your child's hands from sweaty since this can affect their boxing performance. 
Aside from comfortability, this also ensures that your child's hands are protected, so it is composed of shock-absorbent padding. This is for kids not to hesitate to execute impactful punches because it won't hurt. 
Lastly, it has a hook and loop to ensure a secure fit since you can adjust it without any hassle. 
Ringside Youth Striker Training Gloves
Ringside brings you these boxing gloves for teenagers or youth.
This can be functional in sparring, training, boxing, and kickboxing. You can get it in white, blue/white, black/white, pink/white, and red/white. 
Its outer shell is made of synthetic leather, making it water-resistant and easy to clean. This feature also contributes to the boxing gloves' durability. 
Plus, a layered foam padding system makes it comfortable to wear and shock absorbent, so it will protect your kid's hands even when they throw forceful punches. 
These boxing gloves for youth also have holes so air can freely pass through, and your kid's hands will be kept dry while boxing. This must always be considered because toddlers are usually impatient when uncomfortable.
Moreover, the wrap-around hook and loop closure ensures that the gloves perfectly fit you.
RDX Kids Boxing Gloves
The RDX Kids Boxing Gloves are specifically designed for your children who love Muay Thai, sparring, MMA, heavy bag workout, youth games, boxing, and kickboxing.
Its weight sizes are 4oz and 6oz and can be availed in one color combination. It is designed in white, black, and red.
These junior boxing gloves are Maya-Hide leather with a very compact high-density shell shock GEL. These materials make the gloves highly durable as these will resist impactful strikes.
It also comes with a QD-1 lining which enables water or sweat to evaporate in less time. So, even if your kid's hands become sweaty, these boxing gloves will dry up quickly. This feature also adds to the durability.
Additionally, it has holes that allow breathability. Hence, wearing these boxing gloves even for a long time won't make them uncomfortable or irritated.
It also has a Quick-EZ hook and loop so the gloves won't slip or detach when you strike. 
Sanabul Sticker Bomb Kids Boxing Kickboxing Training Gloves
If your kids want a fun and playful design for their gloves, this is perfect for them.
These ideal boxing gloves for toddlers come in different styles depending on the child's preference.
Its weight sizes are 4oz, 6oz, and 8oz, while the styles can be dino jungle, 70's, fury fist, manga nation, and roar rage. 
Despite having cute designs, these boxing gloves possess all the good qualities you're searching for perfect boxing gloves for kids. These can be ideal for boxing, kickboxing training, and even martial arts.
The vinyl outer material makes these boxing gloves durable and easily cleaned by wiping or using a sponge and soapy water. Then, it has foam to protect your kid's hands from further injuries.
Furthermore, your wrists will be supported by a hook and loop, aiming to wear and take off these boxing gloves effortlessly. 
Hayabusa S4 Kids Boxing Gloves for Boys and Girls
The Hayabusa S4 Kids Boxing Gloves can be bought in 6oz and 8oz. These come in nice-looking yet straightforward colors such as blue, black, charcoal, pink, and white. 
Most parents prefer to buy these punching gloves for kids because of their versatility. It can be boys' boxing gloves, girls' boxing gloves, or MMA youth gloves.
These boxing gloves for kids are incredibly durable as they can endure heavy and long training. This is because of the materials used, including PU leather, nylon lining, and mesh.
You also don't need to worry much about your kid's hands because they will be protected by the knuckle protection and splinted wrist support. The velcro strap can be adjusted so the wrist part won't be too loose or tight. 
Moreover, the alignment of every part was made to ensure that your kid's hands will have a comfortable feeling during training. 
2021 Pro Elite Boxing Gloves for Men Women & Kids
The Elite brand offers boxing gloves that many boxers can use. It has weight sizes ideal for adults and even kids. 
This can be used in various sports, including sparring, Muay Thai, MMA heavy punching bag works, boxing, and kickboxing. It comes in green, black, copper, oranger, and white.
These versatile boxing gloves are comfortable to wear because of their very lightweight. It also allows excellent ventilation through a 3D cooling mesh, so sweaty hands will no longer be a problem.
Using these boxing gloves, your performance will be a lot better as you won't have to worry much about sprains and injuries because of its provided protection.
Plus, it has a triple-density gel and foam to allow shock absorbance and so it will not be too painful when your kids throw impactful jabs. 
Most importantly, this is made of high-quality PU leather, so it's highly durable and comfortable to wear.
How to Choose Boxing Gloves
Kids carrying a punch in boxing requires possessing the proper gear, too. Having the best quality gloves for the youth will keep them protected and at ease.
Knowing how to choose suitable boxing gloves will make them closer to becoming the best boxer they want to be. Here are two of the most crucial factors in choosing the best gloves for kids.
Safety
Kids' knuckles are very soft since their bones have not yet come together. Most kids' gloves are filled with soft foam around the knuckles, and that's what you should avoid.
The padding should be thick and comfortable at the same time to prevent unexpected injuries that may occur. It should not be super rigid and soft, just the right tenderness.
As for the wrist, extreme safety precautions should be given. A snug fit for the fist is the best, with the right tightness around the wrist.
Never choose gloves that are too loose or too tight, but instead select gloves with an adjustable wrist strap that doesn't break easily.
Size
The gloves' size should be proper to weight. If it says 6 ounces, they should weigh 6 ounces. Some gloves have one size only, and some have various sizes.
This is to avoid further damage if the gloves a kid used are too heavy for him.
Avoid the way of thinking that you should buy a size bigger than what your child needs because it will only lead to training problems.
Besides, some gloves include a size chart based on your child's age or how heavy he is.
If he got the right size, it is easy for him to take on and off, and he can wear it securely and comfortably.
Final Words
Boxing gloves may sound too professional and expert, but that is what you're trying to achieve for the kids to reach, right?
There's nothing in a protective gear that intends to hurt the youth. Never settle for gloves that hinder their capacity in training – choose the best of all the best qualities, and your kid will love this sport with all his heart. 
Hopefully, you made up your mind and vision clearer in choosing the safest and most effective boxing gloves for the kids with the best benefits and features.
Never settle for less: aim for the best choice for your child's convenience!