Imagine how your life could change if you add a new spice to your training routine: is it an improvement or a hindrance?
What if we're talking about a unique type of punching bag that will improve your punches and kicks? Sounds interesting, right?
A water punching bag activates minor body stress, and you can hit harder for longer without bringing fatigue to your body.
A comprehensive guide is waiting for you: take a look!
Best Water Punching Bags in 2022
Everlast HydroStrike Water Bag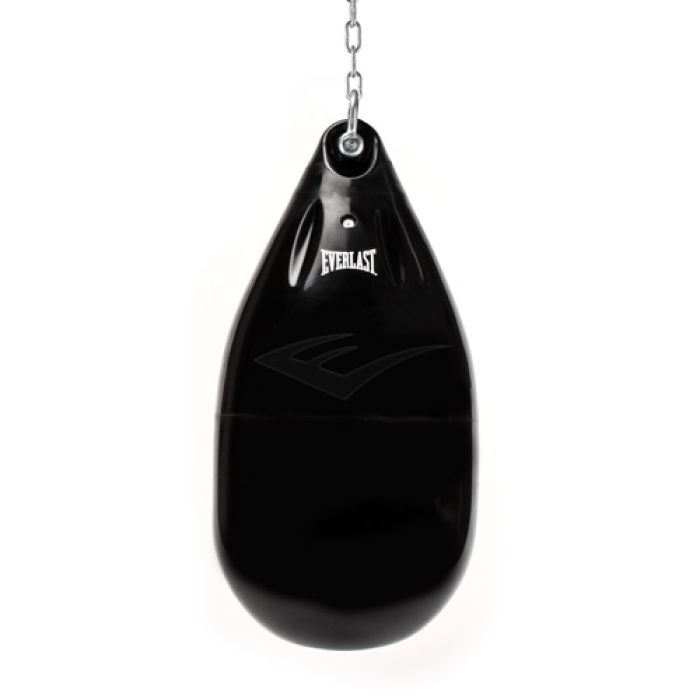 Everlast's Hydrostrike hydro bag is another capsule-shaped bag, but this has no ridges on its surface, making it ideal for boxing and fitness training.
It is made light and portable, which allows you to bring it and use it anywhere you want since it arrives unfilled. 
Its Hydrostike technology absorbs cruel strikes without ripping apart, providing a life-like feel with maximum protection.
If users decide to fill it correctly, it holds up to 12 gallons of water approximately.
Users also choose how much water to fill it up, so long as boxers train the maximum power potential for boxing without hurting themselves.
Its size and shape give a generous area for strikes all around, providing you the highest opportunity to strike at every angle you want. 
Once you purchase this water bag, it comes with a hanging bracket, sweeper nozzle, quick link, and chain. 
Although there are no other sizes available for this bag, its hugeness is enough for you to give your maximum boxing strike potential and feel like hitting a human body.
Hydroblast Water Heavy Bag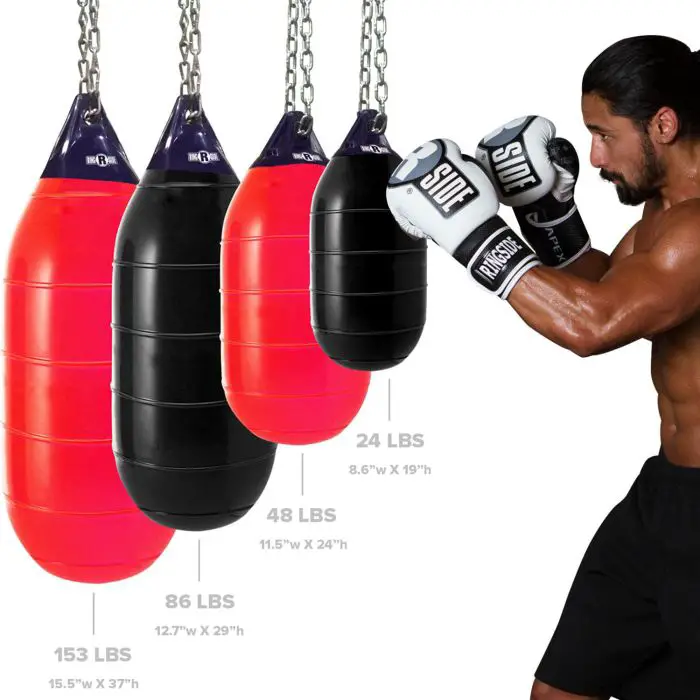 Ringside's Hydroblast water heavy bag is made of durable even-walled rubber and shaped like a capsule, and it intends to improve your punching power, agility, accuracy, and flexibility.
This punching bag comes unfilled, which means users can fill it up for their boxing sessions depending on how much they want to fill it with water.
But of course, it is recommended to fill it up to the top since this bag comes in different sizes.
Depending on which size you want to use, this bag will test your punching power depending on how heavy it is to try your boxing strikes.
There are light and heavy loads, and one that fits your skill level should be your best choice.
Punching this water-filled bag with bare hands will only make your boxing training painful.
Although this bag absorbs brutal impact from your hands without ripping apart, it may hurt you due to the multiple ridges that stand out from the surface.
Thus, use hand wraps or boxing gloves to avoid damaging your hands.
Ringside Tsunami Water Heavy Bag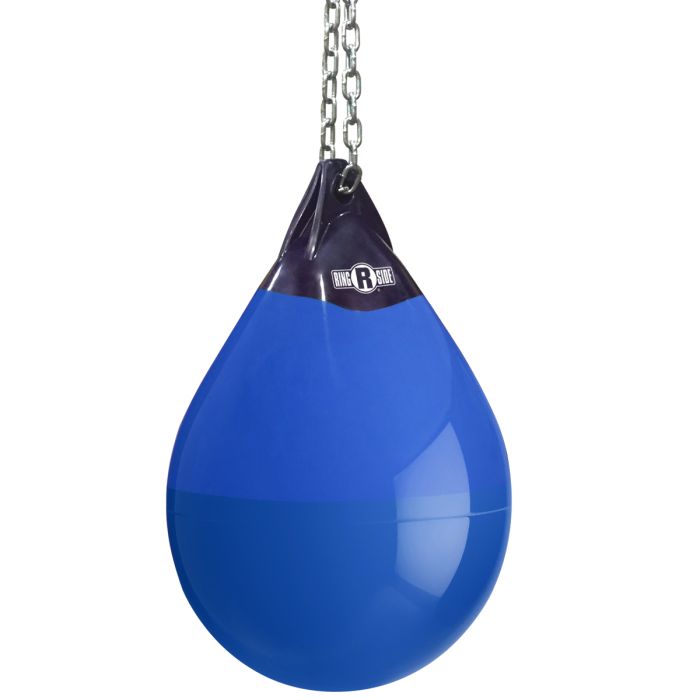 The Ringside Tsunami Heavy Bag is made of a durable even-walled rubber shell that lasts long for the users.
This punching bag filled with water helps improve your punching strength, agility, accuracy, and flexibility. 
You need not go with a sand-filled bag because this water bag is a lot easier on your joints and hands. With its ball-like shape, you can go 360 degrees with all your boxing punches and high kicks and feel like you are hitting a human body.
You can use this in your home or your commercial spaces because this bag arrives unfilled, which means you can fill it anywhere you want. 
Although this is a water bag, it looks and feels exactly like a buoy, which may disappoint you since you cannot drain the water you filled it up.
Nonetheless, it feels cumbersome when filled up, making it great for your boxing session. Please note that this bag cannot cater to low kicks, but it can absorb light and hard hits depending on how much effort you exert.
Aqua Bruiser Bag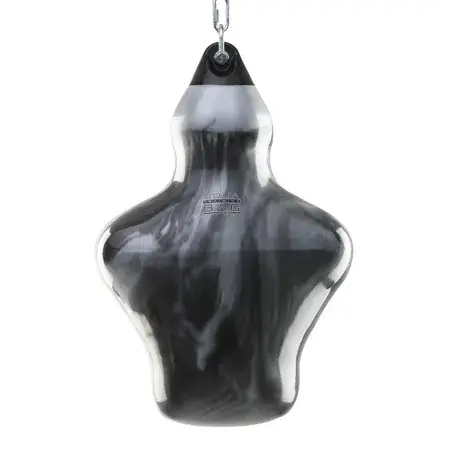 If you want to punch a water bag that feels like and resembles a human torso during your boxing session, the Aqua Bruiser Bag is the right pick for you.
The company created this aqua heavy bag to mimic a male upper torso with a 6'1″ height for those who want to practice all their combos to the head and body.
It has a thick-walled vinyl with injected-molded ends, making it heavy-duty and can take up abusive boxing hits. 
Unlike the traditional sand-filled bags, this hanging punching water bag will absorb all your kinetic energy and keep you from bruises.
Your joints will stay intact no matter how hard you punch them because it is easier for your body and feels like you're hitting a natural person in boxing.
This bag can be suspended from a ceiling mount or the ATB stand, but no matter which one you choose from the two for it to be used, it is not a match for low kicks.
Nonetheless, you will progressively train your high hits and combos with this human torso-shaped body.
Aqua Training Bag Pound Haymaker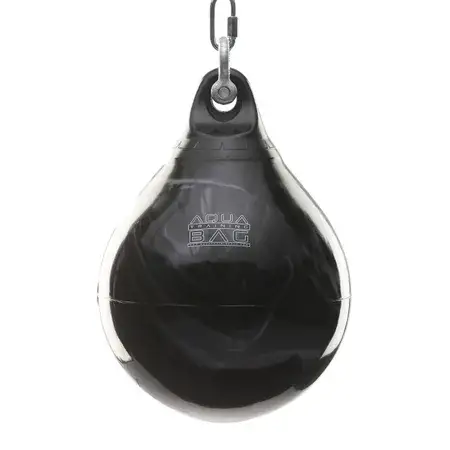 The Aqua Training Bag company's teardrop-shaped water-filled heavy bag allows you to perform dynamic boxing combinations like uppercuts, straight shots, kicks, and so much more upon the bag.
It absorbs each strike's impact, giving you an intense boxing workout and overall enhanced training session.
This heavy water bag is made with thick-walled vinyl and injected-molded ends, which means it has no sharp seams on its surface to handle even the most untamed strikes.
You would want your water punching bag to last despite the hotness or coldness of the surroundings it absorbs.
Too much heat and cold may damage the bag's surface, but this is made UV resistant and waterproof to prevent it from damage. It is built to last you a long.
It comes in various colors, with a unique design applied to each. Each bag is individually hand-swirled, which means no bags are ever exactly alike.
It is the best water punching bag for people with different skill levels: from beginners to champions, from zero to 10 years of experience, everyone can benefit from boxing with this bag.
But no matter how many high strikes and kicks you exert, low kicks are not compatible with this water-filled heavy bag.
How to Choose a Water Punching Bag
Punching bags filled with water are great for fitness training, but you can't train in boxing properly if you don't own the bag that fits you and your skill level right like your own protective gear.
You need to know what you should look for in a water bag, and here are some elements you need to consider in determining a punching water bag.
Material
If you poke a hole in a water-filled bag, it will surely make a mess for you and the surroundings.
One way to avoid easy damage is to purchase a bag with the highest-quality shell material.
Cheap material bags will easily be punctured on minor impacts, while those built with heavy-duty materials will manage to go on despite accidental pokes. 
No matter how excellent your material quality is, it is always best to think two steps ahead.
Ensure that there are no things around the bag that are not waterproof, and you should avoid hanging the bag in places where a lot of goods can be damaged.
The Smoothness of the Surface
Punching a real person does not cut or hurt your hands due to the ridges around its body because, in the first place, a human torso does not have any bumps.
And so, punching a water-filled bag should also feel smooth and mushy, just like hitting a human body.
Hard spots on the bag's surface can make your training uncomfortable and painful. Your joints and fingers will find it hard to train for a long time since the exterior is not balanced when you are hitting.
It would be safer to train your punches with a flawless surface since you won't be bothered by how it feels. However, if the bag you chose has ridges, don't hurt yourself and focus on the training.
The shape of the Bag
Some bags are circular, some are also capsule-like, and some mimic a human body.
Each size has a different generosity of area to be hit by the boxer. Some have a smaller space, and some give a more extensive range.
A circular bag is best for speed training, a capsule-shaped bag is best for a more refined range of strikes, while a torso-like bag is best to punch real-life strikes at different ways and angles, just like hitting an actual human body.
Although these three shapes are not suitable for low kicks, these bags will still train your boxing ability with all your strength and accuracy.
Weight of the Bag
Some bags come in various sizes for you to choose from; some only come in one size. Since water bags come unfilled, you have the option to fill the bag up to its maximum level, or you can fill it halfway only.
Bags will swing more if you do not decide to fill them up to their maximum capacity, but heavier bags should be for you to train your strength and power.
It will not rock and sway around if it is heavy due to gravity, which means you can focus more on developing your boxing strength.
Final Words
The chosen water-filled bags are all startling and worth the investment but selecting the best water bags for boxing that fits your standards must be challenging for you.
Remember that it cannot be used in cold weather, so place it in a warmer place just if you want to use it anytime. By weighing the strengths and weaknesses of each bag offered, you can make your best decision as to which one to purchase.
Don't rush and measure all features of each bag before getting the best aqua bag.
This guide should have eliminated your indecisiveness, and hopefully, you have made up your mind.
In the end, it's still your investment, so make it worth your time and money!