Boxing pads come in many different styles and sizes, which can make it difficult to know what pad you should choose. 
Focus mitts are the most common and popular kind of boxing pad that can really improve your skill and technique. Their main purpose is to help a fighter work on their defense, footwork, speed, and accuracy.
In this article, we will talk about the best focus mitts that you can use for your training this 2022.
Best Boxing Focus Mitts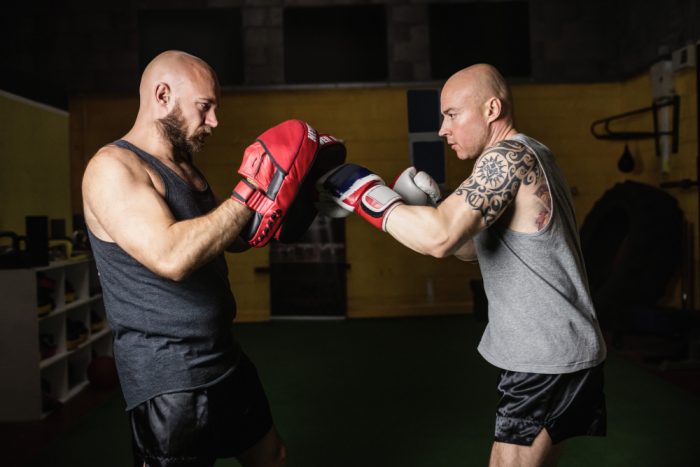 Sanabul Essential Curved Boxing MMA Punching Mitts
If you are looking for an inexpensive and durable pair of boxing punch mitts, then Sanabul's Essential Curved mitts are a fantastic choice for you.
Explicitly molded to fit the natural curve of your hands, these mitts offer a great fit and an exceptional grip without slipping away.
Made with robust performance engineered leather, they can absorb constant, fiery hits without going to pieces.
Further infused with the unique Santec Foam, they are incredibly light and comfortable, allowing the boxer to handle the most aggressive punches without feeling any sting.
These mitts come installed with a half-ball palm-grip, permitting them to be more in-sync with the person's arm rather than feeling like an external extension.
This, along with the Santec foam, makes them an incredible option for both the holder and the striker.
That's because it enables the gear to stay secure while allowing for more effective training sessions.
The mitt's curved padding further permits the boxer to engage in more versatile punching than the conventional crosses and jabs.
They also come embedded with adjustable wrist straps with a breathable mesh-backing that allows the wearer to keep his hands dry and relaxed even after a long training day.
Available in many different colors over a black finish, the Sanabul Essential Curved boxing mitt is a minimalist but an excellent choice for boxers looking for a quality piece of gear for training and workout sessions.
Valleycomfy Boxing Curved Focus Punching Mitts
The Valleycomfy Curved Focus mitts are distinctive multi-purpose boxing mitts that are comfortable, well-fitted, and highly responsive.
Featuring a functional design structure, these mitts are made of high-quality PU leather that is smooth, non-toxic, and easy to clean.
The mitt's hem comes embedded with strong nylon string, which prevents the padding from bulging out.
The high-quality, robust stitching further enhances the longevity and durability of the gear.
These mitts also come with wear-resistant focus pads made with thick but lightweight molding foam which provides extra flexibility, cushioning, and protection against painful stings after the workout.
This is what makes them such a great multi-purpose boxing gear- irrespective of whether you are looking for sparing mitts or kickboxing gear, Valleycomfy's Curved Focus has got you covered!
The curved design and the 'one-size fit' feature further add to the versatility of the mitts. They provide a breathable snug fit to the wearer despite their hand size.
This is possible due to the adjustable Velcro wrist strap installed in the back of the mitt, which allows the boxer to make adjustments and get a more personalized fit that is comfortable for an extended period.
It's available in two distinct colors and is an excellent alternative for boxing enthusiasts looking for a reliable and inexpensive pair of training mitts without sacrificing performance and execution.
Everlast Mantis Punch Mitts
Everlast is one of the most sought-after brands in the boxing world and has been well-known for its high-quality and functional gear for decades now.
True to this legacy, the Mantis Punch mitts are another fantastic addition to their line of durable boxing gear, which allows for high performance and comfort.
This robust Everlast mitt features a 100% vinyl construction with a triple-layer foam for additional protection, support, and longevity.
It comes embedded with their unique 'EverDri technology' featuring an anti-bacterial and anti-moisture pad-holder lining that keeps your hands dry and odorless for a prolonged period.
Another distinctive offering- the 'EverGel technology'- guarantees enhanced shock absorption for both the holder and the striker, thus reducing any negative feedback the person might receive.
They also come installed with richly padded wrist support, diminishing the impact of intense punches and protecting your wrist from unforeseeable injury or sprain.
These mitts are available in only one size and are highly adjustable thanks to the alterable Velcro wrist strap, which provides a more customized fit to its wearer.
All these features, coupled with the new 'Mantis' design, make it one of the best boxing mitts for both professionals and amateurs in training.
In a nutshell, if you are hunting for focus mitts that can not only improve the quality of your punching but can also hold-up equally well to fiery punches, then Everlast's Mantis Punch is definitely an option worth considering.
Venum Light Focus Mitts
One of the high-end focus mitts in the market, the Venum Light mitts, is suitable for both beginners and professionals because of their remarkable features and incredible execution.
These mitts are extremely lightweight and allow for excellent hand-elbow strikes with improved work on technique and velocity.
The mitts' curve design allows you to find your perfect sweet spot and helps you deliver your punches effortlessly.
The concave shape further offers you a perfect surface for landing your powerful punches without feeling bulky or weighed down.
This anatomically suitable design, along with the robust synthetic material construction, allows your hand to quickly slip in and out of the mitt with utmost comfort and ease.
These Focus mitts by Venum also feature a robust shock absorption multi-density foam, which adds to the overall strength of the mitt.
This compact foam also protects the hands of both- the striker and the holder- from the negative feedbacks of the power punches.
They are tough and rugged in a way that can sustain even the most aggressive training and forceful impacts for an extended period without cracking or tearing.
These boxing mitts are available in two classic colors and are a perfect combination of power, performance, and precision.
 They are ideal for boxers who want to improve their punching skills and take their training to a whole new level.
Elite Sports Boxing Mitts
The last one on our list, the Elite Sports Boxing mitts, is a great versatile option for boxers who undertake different and multiple boxing training for a long period.
Made with lightweight PU leather, these mitts are incredibly durable and easy to maintain. They further come installed with robust moisture-wicking mesh panels that add to the overall breathability of the mitts.
These strategically placed mesh panels not only promote regular airflow but also keep your hands cool, dry, and comfortable, especially during hot, humid weather.
These mitts also come embedded with a light foam padding, which is shock absorbent and keeps both the wearer and the striker adequately protected from high-density impacts.
They further come installed with adjustable Velcro straps that securely hold your hand in place without shifting when they use.
These Velcro enclosures are quite versatile and grant a reasonable level of adjustability along with good wrist support.
The Elite Sports Boxing Mitts has many unique traits to offer, irrespective of whether you are training for kickboxing, Muay Thai, sparring, or anything else.
Other fantastic features offered are curved hand design, incredible grip, secure fit, greater flexibility, etc., boosting these mitts' overall favorability.
Furthermore, they are also available in a varied range of eye-catching colors and are suitable for anyone between the ages of 18 to 55 years, making them an excellent alternative for prolonged use.
Hayabusa PTS 3 Focus Mitts
Undoubtedly, this brand sells out fast because of its proven durability from 3 layers of foam and engineered PU.
These main materials are guaranteed to reinforce training whether in the field of MMA, boxing, Muay Thai, or other similar sports.
Shaped like a teardrop, this pair helps you avoid unwanted wrist torque from potential miss-hits supported by its reinforced spine. Also comes with an adjustable strap for your modification options which is suitable for fighters of different sizes, ages, and fitness preferences.
The pair of focus mitts by Hayabusa is capable of withstanding powerful impacts while giving you a very breathable mesh. The price tag of this product is reasonable. 
The design is also suitable for any kind of gym environment with its traditional black sleek minimalist aesthetic. To add, the materials used are easy to clean and would require little effort to maintain.
Also, top-rated at other reviews, this pair might be the best boxing focus mitts that you're searching for. 
JAYEFO Glorious Punch Mitts
One of the most attractive features of this brand is its 10-year warranty offer. This is not only applicable to their Glorious Punch Mitts but also their other equipment and apparel. 
The next thing to love about this product is its adjustable wrist straps that come with hook and loop closure. Powered by the Velcro closure system, you'll be able to handle your wrist perfectly.
Airflow is not a problem with these mitts for they are made with a proper ventilation system. Manufactured with mesh material, the product ensures to not have bad odor around during heavy rounds of training. 
For punches to land with more accuracy, these focus pads are built in a curved shape. The curved grip is what makes these mitts suitable for all sorts of combat sports. And although made of lightweight materials, the product is heavy-duty and durable.
Liberlupus Boxing Punching Mitts
Made with PU leather, this product assures excellent durability and performance. Filling materials such as foam rubber and polyester contribute to effectively absorb the impact of punches. 
Other premium features of this brand offering a whole new level of comfort are found in its light and soft texture as a result of matte coating and excellent workmanship. It also matters that you can choose from four varieties of colors. 
Professionally designed to absorb sweat, these boxing hand pads have ventilation holes to dissipate heat.
In addition to its quality materials guaranteed to be wear-resistant, tear-resistant, and hydrolysis-resistant, these curved-punching focus pads are also versatile. Suitable for fighters of any gender, these might be your most essential gear this 2022 for your MMA, boxing, or Muay Thai training session.
XNature Essential
Constructed to fit the natural curvature of the hand, these pads are made more powerful with the help of Eva-solution Foam and Supremo-shock Foam. 
These lightweight foams provide excellent shock absorption while also securing the grip with its EZ-Grip technology at a very affordable price. 
Inner Maya Hide compartment construction is also a big plus as it enhances its overall durability. With all the premium materials used, the product is guaranteed to be easier to maintain.
Proper ventilation is also observed with the strategically placed perforations on the upper layer of the mitts. 
To achieve extreme comfortability and security, mesh backs with adjustable wrist straps are also provided.
RDX Boxing Pads Focus Mitts
Focus mitts by RDX are ideally designed for speed training and combo drills for boxing, Muay Thai or MMA.
The presence of EVA-LUTION foam along with Maya Hide leather material Supremo-Shock foam proves this by absorbing shocks in a highly efficient manner.
It contains aerated holes at its back to allow proper airflow. This prevents overheating to keep the mitts and hands dry to avoid slippage and later on, bad odor, when not maintained well.
Designed in a curved shape, it assists in absorbing the impact of even the heavy punches. To enhance the overall performance of the product, it is stitched with Nylon. 
For security and grip purposes, the mitts are equipped with Quick EZ Hook–and–Loop closure system so you can adjust according to your preference.
EMRAH Boxing Pads V 2.0
If you're looking for breathable boxing hand pads to improve a fighter's agility and counter-punching, Emrah is a fantastic pick.
This is also an excellent choice for trainers who coach intermediate/advanced strikers.
Comes in a pair that is manufactured with EVA foam ensuring product durability even for long-term use and heavy impacts from punches. 
This pair of pads also have a decent way of allowing airflow with its E-Cool Air Ventilated channels. This feature makes the product breathable. 
For comfort, security and stability, it contains a strap-X fit. The mitts are also accompanied by new easy-grip technology.
How to Use Focus Mitts
The art of 'Focus mitt's is not as easy as it looks. Many people have spent years perfecting the skills of rightly punching and holding them.
And while a good pair of focus mitts can surely help improve your boxing techniques, you need to grasp the basics and nuances of how to hold, strike, and use this training gear.
We can only achieve this by understanding how to appropriately employ these mitts for our benefit. So let's get into it:
If you are Holding the Focus Mitts:
Many people say that holding the focus mitts is as exhausting as hitting them.
The person who holds the mitts is in good control of the workout because he/she dictates the flow, intensity, and hitting technique of their partner.
Therefore it's crucial to hold the mitts correctly to optimize your partner's training.
These are some of the fundamental steps on how you can do that:
If you are wielding the mitts for the striker, you need to make sure that your positioning is correct in terms of both standing and holding them.
Ensure that your wrist and arms are firm throughout the training. You don't want your wrist to be loose and flimsy every time the person strikes the mitt.
Aim at developing natural movements within the striker. If you are nervous and awkward, the fighter will get nervous and awkward too.
Stand and move naturally; relax, and use your natural body mechanics so that the striker can do the same.
Don't hold the focus mitts with a tense arm. Keep your hands firmly but not so stiff that the punches get lost in the mitt.
React to the punches and strike back into your hitter's punch with the focus mitts.
This will allow you to effectively absorb the punches and also develop a good rhythm between you and your partner.
Don't just repeat the same drills over and over again. Learn new techniques and combinations so that your striker can recognize where he lacks and can simultaneously work on them.
Give and take a lot of feedback and keep it slow. Make suggestions and see what you can do differently. The goal is to ensure that your partner benefits from this training.
If you are Hitting the Focus Mitts:
The purpose of using the focus mitts is to enhance and improve the striker's performance.
You can own the finest mitts, have the best mitt holder working with you, but if, you don't hit the mitts correctly, then the whole motive behind the training is defeated.
And while the nuances of every striker depend upon individual preferences and techniques, below mentioned are some of the common factors you can remember the next time you work out with focus mitts:
Like the holder, you need to make sure that you are in complete sync with your strikes.
Keep a natural flow to your movements, and make sure that you are hitting with rhythm while maintaining your posture.
Don't strike the mitt while moving, and always focus on hitting the center of the pad with great power.
It's important that you aim for precision while having a complete control of your punches.
Don't just strike wildly and heedlessly on the mitts. Find your sweet spot on the focus mitts and ensure that your holder catches all your punches.
Accuracy in delivering your punches is essential, and therefore work on your technique to achieve that.
Your punches need to be robust, especially if you are training with focus mitts.
Throwing weak and aimless punches nullifies the entire purpose of this training gear.
Maximum power is what you want to achieve while boxing, and this can only be developed if you are delivering focused and high-powered punches in the mitts.
Although this is a given, it's important to remember that your boxing gear's quality can make a massive difference to your training.
When you are a striker training with focus mitts, you need to ensure that you are wearing the right boxing gloves, shoes, etc. so that your practice is not compromised over ill-fitting and improper gear.
Final Words
Whether you are a training coach, a professional, or an amateur boxing just for fitness, a good pair of focus mitts can change your entire experience and elevate your performance at the same time.
They are an excellent alternative for improving your boxing skills, building your reflexes, and improving the accuracy of your punches.
And although there are infinite options available out there, we've listed only the best of what the boxing world has to offer.
So I hope this article helps you find your ideal pair of focus mitts, which will enhance the quality of your current boxing training.
But in today's world of endless options and overflowing information, how do you choose the best focus mitt for yourself?
In this article, we have narrowed down the list of the best 2022 focus mitts so that you can prepare and practice without compromising on quality and performance.