Boxing pads are made to absorb high-impact blows while training with your partner. It is an efficient way to develop and master different boxing skills and techniques and protective gear for the wearer and boxer.
The proper boxing pads should draw out your strength during training sessions and provide a shield to protect you and your partner against accidental injuries.
The list below will help you determine what to look out for in a boxing pad so you can make a wise decision before purchasing. You'll also find a list of the best boxing pads currently available in the market.
Best Boxing Punching Pads & Mitts for 2022
Sanabul Essential Curved Boxing MMA Punching Mitts
Sanabul Essential boxing mitts are among the best punching mitts in the market. It is designed in a way that delivers both power and speed.
The mitts are infused with Santec Ultra-Light Foam allowing you to absorb rock-hard punches without holding extra weight so you can grasp the impact and disperse it throughout your hand and arms without the pain, plus giving you more speed and movement.
The combination of the outstanding shock absorption and lightweight feel of these mitts make them perfect to use for long and heavy training sessions.
The Essential mitts highlight its hand-molded feature that fits the natural curvature of your hands for a more comfortable fit.
It also utilizes half-ball palm grips to keep the mitts secured and in place, giving you a solid fit. If you have big or small hands, the hook and loop strap wrist adjuster is there to help you keep your hands snug and doesn't come off even in your most rigorous training.
These mitts are made with performance-engineered leather that can take thousands of hits without cracking, guaranteeing heavy beating, and last for a long time.
However, some users observed that the padding on the hitting pad that receives the most punches and strikes is a little harder and stiffer.
Everlast Mantis Punch Mitts
The Everlast Mantis is made with 100% vinyl and features moisture absorbing and anti-microbial lining, perfect if you tend to sweat a lot during training.
It helps fight bacterial growth and stinky odor to keep your hands fresh and comfortable while also keeping the boxing hand pad last for a long time. It also has Evercool mesh lining to keep your hands dry and relaxed on the inside while using.
The Mantis features Everlast's Evergel padding to give the wearer and the boxer excellent protection. It has good shock absorption to protect the wearer from high-impact punches while also providing a soft feel to the fighter to prevent injury and discomfort while training.
This focus mitt has a curved design and a smaller surface area that helps the boxer develop timing and accuracy. This design also enables the wearer to have better shock dispersion in an anatomically correct hand position.
The Velcro wrist strap gives you a tight fit to ensure it stays in place during training. The wrist also includes thick built-in padding to support the wrist and disperse the shock away from your wrist for better protection.
These boxing pads are perfect for beginners, kids, and women and light sparring sessions.
But when it comes to frequent and regular heavy training sessions, others notice that the stitching comes undone, and the padding gets beaten up quickly.
Valleycomfy Boxing Curved Focus Punching Mitts
If you want to improve your footwork, accuracy, and timing, this focus mitt is the way to go.
Valleycomfy Curved focus mitts have a teardrop shape utilizing its proprietary impact protection foam of the MMA pads to help reduce and distribute the impact throughout your hand and arms and efficiently take effect away from your wrist for better performance wrist support.
The hand pad has 1.5 inches of one-step molding dense foam for taking hard punches. This thick pad allows the boxer to strengthen power while protecting the wearer from the impacts.
It is also lightweight and has a cushiony feel to deliver comfort for both the wearer and the boxer while training.
The Valleycomfy Curved Focus mitts are made with high-quality PU leather with solid nylon string making these boxing mitts durable and last for a long time, even with long and frequent use.
These punching pads have an adjustable wrist strap with a Velcro strap on the back to fit most hands. It delivers a solid fit to keep the mitts in place. It also utilizes just the right amount of curvature to fit your hands nicely.
However, if you have sweaty hands, these boxing pads don't have much ventilation and moisture-wicking properties, so they can trigger your sweat and cause discomfort.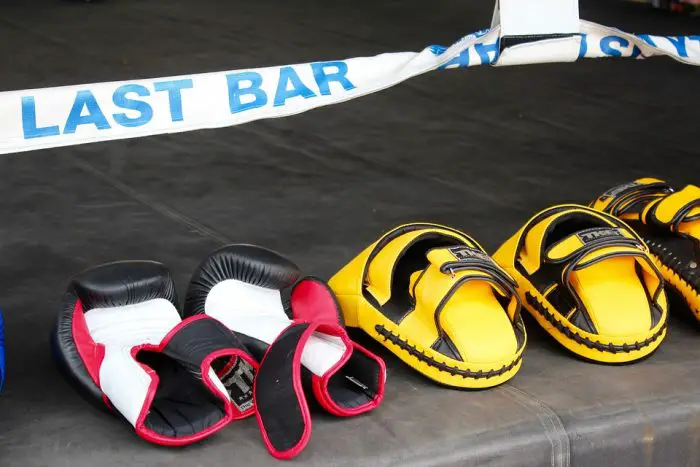 HUNTER Essential Boxing Mitts 
These boxing mitts feature multi-layer shock-dissipating foams to protect you from high-impact blows while training.
It efficiently absorbs and dissipates the impact to provide comfort and protection, especially during heavy padding sessions. It also has thick padding on the wrist to draw the shock away from your wrist for added protection.
The mitts are made with premium synthetic leather and hand-molded to fit your hands perfectly. It utilizes EVA-FOAM padding, efficient shock absorbent, and is lightweight to reduce strain, perfect for long boxing training.
However, others noticed that the inside of the boxing mitt could get a little hot since it doesn't have ventilation, so your hands can get sweaty.
Hawk Punching Mitts
Hawk promises to deliver the paramount quality punching mitts. These mitts are made up of premium synthetic leather to provide long-lasting durability.
It is designed to protect the wearer's hands during boxing training thanks to its target pads and correct positioning of the fist and knuckles to prevent injuries and provide maximum comfort.
These punching pads feature multi-layered foam padding and a curve-shaped design to efficiently absorb solid punches and strikes and disperse them evenly throughout the arm for better protection.
It also has breathable boxing pads with air-mesh panels to keep your hands dry and cool to prevent sweat build-up and stinky odor.
Inside the focus pads is a grip ball to give you a solid fit and keep the boxing mitts in place during rigorous training. It also has hooks and loops with Velcro closure on the wrist for added security and wrist support.
Others, however, noted that the wrist closure is a bit limited, so if you have smaller hands, it might be a problem since the boxing mitts will loosely secure onto your wrist.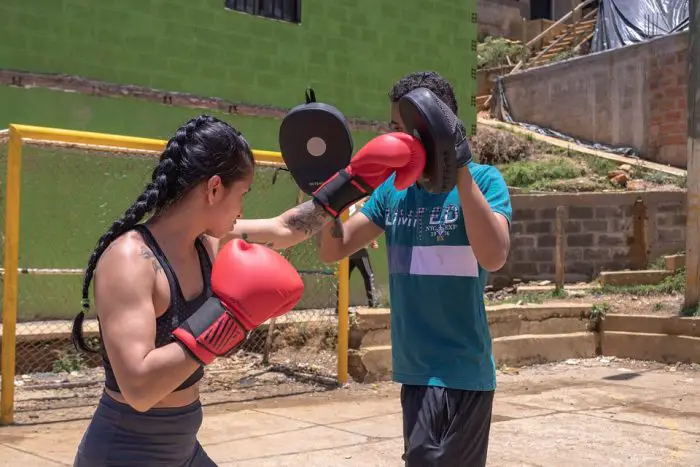 How to Choose Your Boxing Pads 
Material
The first thing you must consider is the padding of the boxing pads, which are usually made up of foam designed to absorb and disperse the shock while taking punches.
Poorly padded punching pads will put the wearer at risk as they will give you little to no shock absorbance, which will lead to injuries.
Not only do the pads should have rigid padding, but they also should deliver that soft, cushiony feel to give the boxer comfort while throwing punches and the wearer to not feel the pain.
Too tough and rigid padding will, in turn, put the boxer at risk of hand, palm, wrist, and finger injuries.
The outer material is also something to look out for. Leather is highly preferred as it is less prone to chipping and paring than other materials like vinyl.
It is also more resistant to stain and requires less effort to clean. If properly taken care of, leather boxing pads are generally highly durable and last longer than other materials.
Weight
Determine how and what your purpose is when using boxing pads. If you are going to use it to strengthen the power of your punches, you might want to use punch pads with a little more weight to them to give you more shock absorbance and protection.
But it also shouldn't be too heavy or oversized as it can cause discomfort and strain to the wearer after a while of usage, making it tiring to use for longer training sessions.
Too heavy and too large punching pads will also give the wearer restriction when it comes to movement.
On the other hand, if you plan to improve your speed and reflexes, you might want to choose boxing pads that are more on the lightweight side.
It will give the wearer more pace and movement to help you increase your speed while training.
It is also perfect if you train for more extended hours because it is more comfortable to wear and use.
Too lightweight boxing pads, however, can be dangerous to the wearer because they can compromise the padding, so make sure it has the right weight and size to give you the best performance.
Fit and Comfort
The last thing you want while training rigorously is for your boxing pads to snap off in the middle of your workout.
Make sure your boxing pads can give you a solid and secured fit on your hands. Look for pads with adjustable wrist closure that you can quickly tighten or loosen according to your fit and preferences, so it is neither too restricting nor loose.
Contoured and curvature-designed focus mitts have also emerged in the market, which significantly improves the fitting of the mitt inside, giving your hands a more snugged feel.
Having solid-fitting boxing pads will provide you with confidence and control while training.
Since you will use boxing pads for long hours of heavy and vigorous training, your hands are more likely prone to sweating.
Sweat build-up can further lead to foul odor, not to mention the discomfort from wet and clammy hands.
To combat this, look for hand mitts that can provide ventilation like mesh fabric lining to increase airflow or mitts with finger channels to decrease sweating.
You can also look for mitts with a moisture-wicking interior lining to absorb the sweat from the inside keeping your hands dry and comfortable.
Final Words
Failure to choose suitable boxing pads can be detrimental for training and sparring sessions as it can lead to injuries for both the wearer and boxer, so make sure to invest in some of the best ones.
The correct gear like your boxing shoes or even your focus mitts can make all the difference in your sessions.
And hopefully, this article has helped you choose suitable boxing pads to use in your subsequent training sessions.