Boxing is a sport that requires you to move around freely without any restrictions.
Now, imagine wearing a pair of uncomfortable shorts, slipping down, and obstructing your leg strikes.
Sounds like a nightmare, right?
This is why choosing the right boxing trunks for your sport is so crucial!
This one piece of clothing can hugely impact the boxer's overall execution and performance- irrespective of whether it's a just workout or a championship.
And while there are innumerable options out there, we have researched and collated a list of the best boxing shorts that money can buy.
Keep reading to know more.
Best Boxing Shorts in 2022
Ringside Pro-Style Shorts Boxing Trunks
An undisputed leader in the world of boxing, Ringside is a brand well-known for providing quality boxing gear for all its enthusiasts.
Ringside's Pro-style boxing trunks are no different when it comes to their reliable quality, comfort, and execution.
Made from superior quality thick satin, these shorts are incredibly durable and can withstand more wear and tear than their peers.
The satin material further gives the shorts a more comfortable feel and texture while maintaining the professional look for competitions and similar events.
These shorts don't have pockets, meaning that a minimum amount of material is used to keep them light and comfy without making any unnecessary additions.
With sharp and precise stitching, these boxing trunks have the right length, which offers good dependability without fraying or tearing.
This product also comes fitted with a drawstring to ensure that your shorts stay in place while you are in the ring.
This drawstring is actively embedded on the inside of the short's waistband, preventing it from getting in the middle of your way during a fight.
Available in various colors, these trunks give a classic aesthetic look while providing an excellent fit for a wide variety of sports like MMA, Muay Thai, martial arts, etc.
In essence, the brand's goodwill, coupled with the features offered, makes this boxing apparel an obvious pick among others in the market.
Rocky Balboa American Flag Shorts
How can we talk about boxing and not mention those classic 'Rocky' movies which have inspired hundreds of boxing enthusiasts for decades together!
But, do you remember those iconic American flag boxing shorts Sylvester Stallone wore in those historic battles within the movie?
Yup, those are the ones we are talking about here!
Made with 100% polyester, these trunks are incredibly lightweight, allowing you the highest freedom for enhanced footwork without any difficulty.
The waistband in the shorts allows for additional customization in terms of size, where it adds 2-3 extra inches when stretched.
Also, the waistband is comparatively thinner than other similar shorts in the market, which adds to the overall lightness of the trunks.
However, many people have complained that the fabric is way too thin, because of which the shorts are not as durable as they claim to be.
Irrespective of this one shortcoming, these shorts are incredibly famous because of their overall design, stylish appearance, and of course, the print of the American flag!
Also, they are available in four different sizes so that you don't have to compromise on functionality over fashion.
To add to its attractiveness, these shorts have Balboa's name printed right on the waistband to leave a lasting impression for an extended time.
So if you are looking for a pair of trunks that have not only motivated boxers but are also lightweight and practical, then Rocky Balboa American flag shorts are the ones for you.
Anthem Athletics Classic Boxing Trunks Shorts
Anthem is a brand known for its athletic apparel and high-performance gear, and these boxing shorts are no different.
Made with high-grade microfiber material, these trunks offer the best of both worlds!
They provide excellent functionality to the boxers and keep the trunks light and airy, allowing the wearer to move around quickly and effortlessly.
The classic look combined with comfort and convenience is what makes them such a hit among its users.
Additionally, the 4-inch elastic waistband coupled with the drawstring allows for a more customized fit without getting in the boxer's way.
The traditional cut design further adds to the short's classic appeal, which is also 100% machine washable, tear-resistant, and exceptionally comfortable for an extended period.
Other fantastic features offered include side slits for additional mobility, full-embroidered durable logos, knee-length coverage for optimal comfort, etc.
Moreover, these boxing trunks are available in tons of unique colors and sizes to meet every wearer's different needs without compromising execution.
They also offer a '30-day money-back guarantee' where if you are not satisfied with their product, you can return it within a month and get your money back immediately.
 A company whose motto is – 'Never Sacrifice Performance,' these boxing trunks stand true to the brand's promises and are right in line with their other well designed, famous shorts like Anthem Athletics Infinity and Anthem Athletics Resilience.
Cleto Reyes Satin Boxing Trunks
Cleto Reyes Satin trunks are a classic pair of boxing shorts that are durable, comfortable, and brilliantly crafted for both amateurs as well as professional boxing enthusiasts.
First off, these trunks are specifically handmade in Mexico with 100% satin polyester material.
This gives the shorts a beautiful smooth finish along with enough room to move around, especially during a fight.
Adding to the trunk's mobility is the extended cut with the side slits, providing more freedom of movement to the boxer in the ring.
This versatility of the trunks makes it a great multipurpose option, allowing for easy transitioning without compromising on movement and comfort.
They come embedded with a 4-inch thick waistband, which provides a more secure fit and prevents it from slipping down or shifting positions.
Furthermore, this thick elastic waistband is also highly comfortable with enough room to offer, especially when you are wearing a groin protector.
They are loose, lightweight, incredibly roomy, and can withstand long hours of use without tearing or fraying.
Also, the satin material allows for enough breathability with adequate air circulation and quick moisture-wicking properties.
All these features offered by Cleto Reyes make these boxing shorts ideal for various occasions like an official competition or even sparring training session with heavy bags and weight lifting etc.
Moreover, they are available in a variety of colors and different sizes for the benefit of every individual and their particular needs.
Title American Flag Boxing Trunks
A brand solely focused on providing the best boxing gear to its users, Title has a lot to offer in terms of design, quality, and durability.
Similarly, these American flag boxing trunks are one of the best examples of what the brand promises and delivers when it comes to superior boxing apparel and equipment.
Made with 100% satin nylon, these shorts are as comfortable as they look.
The high-quality material offers a silky finish look and is extremely easy to maintain, adding to the trunks' overall durability and aesthetic look.
Moreover, the satin texture permits easy airflow circulation, thus preventing sweating or overheating even during intense combat situations.
These trunks also feature a robust 4-inch international style waistband with a well-fitted elastic lining.
This waistband and elastic lining keep the shorts snug and secured around your waist, preventing them from slipping or causing a hindrance.
Followed by high-quality stitching, these shorts won't tear even if you train your hardest or undertake strenuous, demanding techniques.
They are also exceptionally roomy because of the extra-long leg slits, which can accommodate even a groin protector without any difficulty.
Those long slide slits permit you to raise your legs comparatively higher when you want to undertake more demanding or complicating kicks.
And if you are a true patriot, then the American flag print, style, and color on the shorts will only add to the overall appeal of the apparel.
Title Professional Boxing Trunks
Moving on to the final product in our list of best boxing trunks for 2022, these particular professional shorts are also manufactured and sold by Title.
Like many others, these trunks are made of 100% polyester, which is high-quality, durable, and lightweight and can be hand washed without any difficulty.
Just like the last one, they also feature a robust 4-inch waistband with a secure elastic lining.
Additionally, the inner drawstring, which is well-hidden in the shorts, allows for a more customized and snug fit with extra adjustability.
The long leg slits accompanied with a roomier crotch area permit more mobility and enough space to adequately accommodate a groin protector without any hassle.
Even with knee-length coverage, these shorts do not restrict your movements or hinder your performance in any way.
However, there have been some complaints about the shorts being less airy and breathable as compared to the others in the market.
Nonetheless, they are quite a popular pick among boxers who want a pair of shorts that offer their money's worth for an extended time.
These trunks are also available in different color combinations and sizes for the wearer's more generous fit and feel.
Overall, these are a solid, reliable pair of trunks that will not limit your movements in the ring and offer you a little extra coverage to keep you protected and comfortable.
How to Choose Boxing Shorts
Even though this sounds like a no-brainer, choosing the right pair of boxing shorts requires a certain level of research and insights.
With so many options available, one should know how to evaluate the alternatives without feeling overwhelmed.
And while the final choice eventually depends on your personal preferences, below are some of the most critical factors you need to consider before heading to that cash counter and making the purchase:
Material Used:
The fabric used for your boxing trunks matters a lot when it comes to both comfort and durability offered.
The two most common materials used for boxing shorts are satin and polyester; this is because they are incredibly comfortable, lightweight, and offer enough room for unrestricted movements.
However, you need to ensure that whichever material boxing shorts you choose, you are highly comfortable in them for an extended period.
The material shouldn't itch you or cause any discomfort, which could hinder your performance in the long run.
Also, make sure that the material is durable and can withstand long hours of strenuous rounds in the ring without tearing or fraying.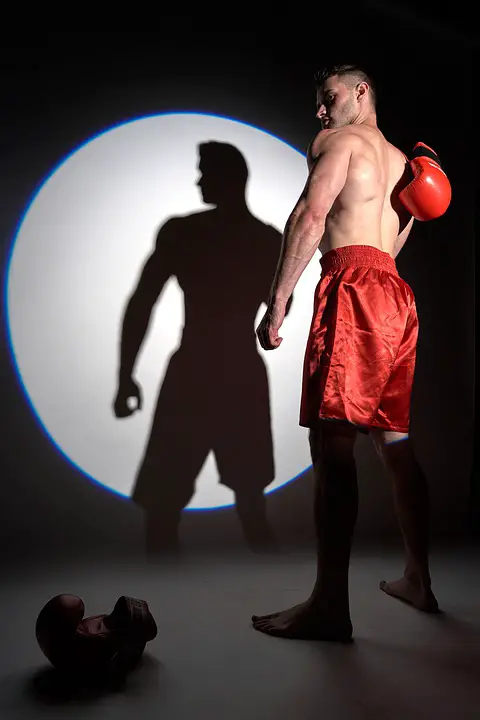 Adjustability Offered:
There are many ways in which the company manufacturing these apparel can ensure that you can customize the overall fit of your boxing shorts.
An elastic waistband and a drawstring are the two most standard options of adjustability that are heavily relied upon by boxers out there.
An elastic waistband offers you plenty of flexibility and helps you get a secure fit without being too loose or tight.
Suppose the elastic waistband is further accompanied by a drawstring.
In that case, it's even better because it will permit you to make even minor adjustments without compromising on the fit and execution.
Even if your chosen pair of shorts are the exact right size, it is still recommended to look for something that offers you the choice to adjust the fit as per your needs.
Size and Fit:
As mentioned above, your boxing trunks must fit you the best possible way without causing any discomfort.
Now different brands have different size charts, and the fit offered by them further varies depending on the gender of the boxer.
For example, even if the shorts are unisex, the available size chart by the manufacturer could be for a male's body measurements, meaning that the fit will definitely vary for a woman.
All these points are essential to remember, and it's imperative that you correctly measure your body and then match it with the size chart available before making the final purchase.
Additional Features Offered:
Apart from the standard attributes, many brands offer various additional features within the same budget range to add to the favorability of the apparel.
Some of these added features include warranties, free shipment, more pockets, etc.
Make sure that you spend your money on only the best of what the boxing apparel world has to offer.
These shorts are an investment for your sport, and it doesn't hurt if you get some additional benefits for the same price.
Final Words:
Who would have thought that choosing a boxing short would require so much consideration?
But that's why we are here!
Our job is to keep you updated about the latest trends and the best alternative available out there so that you can make a sound and well-informed decision.
In the end, your boxing shorts should be comfortable, durable, and give you enough space to move around without getting in the way.
So which boxing shorts have you finally decided to purchase? Do let us know in the comments below!