Boxing is a physical sport and an extreme workout. One way to get the best out of your training and work out is to wear the right type of boxing shoes.
Whether you are doing heavy bag work, sparring, or just jogging, a good pair of boxing shoes will provide enough support and comfort so that your feet can perform at their peak level.
In this article, let's walk through the best boxing shoes for training and workout that you can purchase this 2022.
Best Boxing Shoes in 2022
Venum Elite Boxing Shoes
Well-known for their attractive design and craftsmanship, the Venum Elite shoes for boxing are perfect for skilled boxers looking to elevate their training and, ultimately, their performance in the ring.
The three-material construction design (mesh honeycomb, synthetic leather, and PU flex) of the shoes provide a perfect blend of quality and durability without compromising on the performance of the gear.
While the mesh panels allow the feet to breathe, the synthetic leather and PU flex provide excellent longevity and dynamic sturdiness.
Moreover, these shoes have a fantastic outsole, which provides impressive grip and traction, allowing you to move around quickly.
Made with durable rubber, the outsoles are shock absorbent and well-structured, thus improving your footwork and coordination in the game.
Furthermore, the Venum Elite boxing shoes come with a unique incurved design in the front of the outsole.
This design allows the boxers to move forward more easily while enhancing their fighting stance without wasting energy. They also provide adequate arch support without weighing too much.
The anatomically curated midsole, along with a bonded insole, additionally makes these shoes exceptionally robust. It permits them to withstand even the harshest training sessions for the longest time.
Developed and created after thorough research of two years, the Venum Elite boxing shoes for women and men are perfect for grueling training sessions and aggressive rounds in the ring.
Everlast PIVT Low Top Boxing Shoes
The first Low Tops in our list of the 'best boxing shoes for 2022', the Everlast PIVT is a fantastic hybrid option that performs seamlessly on a range of various surfaces with great versatility.
This makes them a remarkable option for boxers undertaking different training and exercises to perfect and hone their skills.
Featuring their superior Michelin Technical rubber sole, these shoes provide exceptional flexibility and support. It also offers maximum traction and optimal performance.
This Technical sole- which is a significant highlight of the Everlast PIVT boxing shoes- enables you to engage in vigorous training sessions without damaging your feet and knees.
Furthermore, the embedded memory foam insole provides a more secure fit, along with improved footwork.
They also provide good arch support by being shock-absorbent and extremely comfortable even through lengthy training and sparring sessions.
These boxing shoes also come with an open weave mesh. It further makes them more breathable and lightweight for an extended duration.
Moreover, they come accompanied by a unique tread design. This enhances side-to-side movement while reducing the risk of slipping.
The extra padding and the Low Top design further add to the boxing shoes' versatility and longevity.
The lightweight and comfortable feel of these shoes make them the best choice if you're looking for boxing shoes for girls.
This also makes them an excellent alternative for both men and women looking for a durable pair of boxing shoes to handle their daily boxing requirements whether in the ring or gym.
Ringside Diablo Wrestling Boxing Shoes
Specially designed for enhanced performance, the Ringside Diablo boxing shoes are your multi-purpose contemporary shoes for boxing that will leave you impressed and asking for more.
Made with their patented leather vinyl finish material, these shoes are durable and extremely easy to maintain.
Additionally, they come tactically embedded with nylon mesh panels. It also has strong rubber non-slip outsoles and adequate padding in the ankles.
These placements within the shoes firmly secure the boxer's feet. They also shield them from sudden shocks or injuries that he/she might incur during their training or workout.
Furthermore, the breathability offered by these shoes is truly remarkable; the regular airflow through the boot keeps your feet cool. It also keeps your shoes well ventilated even during sweaty, long boxing sessions.
All these features provide additional comfort and stability to the boxer while boosting their lower-body movement.
The shoes' low-top ankle design further provides extra mobility and ample ankle support. This allows you to move around quickly and freely.
Additionally, the Ringside Diablo is exceptionally airy and light in weight. This is possible due to its ergonomic design along with its high-quality material construction.
This enables the boxers to train for a longer period without tiring out their legs.
In a nutshell, these boxing shoes provide excellent maneuverability and support with fantastic execution. They make boxing more fun and rewarding for the person undertaking it.
Hayabusa Pro Boxing Shoe for Men & Women
The Hayabusa Pro Boxing shoes for both men and women are another fantastic shoes that allow you to box like a pro and have complete control in the ring.
Made with a combination of microfiber leather and mesh, these shoes for boxing provide fantastic comfort and stability to the boxer.
The microfiber leather makes the shoes durable while keeping them lightweight. The mesh panels maximize the ventilation through continuous airflow, thus keeping the feet dry and comfortable.
Additionally, these boxing shoes feature flexible rubber soles with robust angled grooves that provide fantastic traction to the wearer.
They allow for maximum power transfer with exceptional mobility and precise footwork for great lower body movement.
The cushioned insole and the ergonomically designed midsole further support your ankles. It keeps them well-rested even if you are on your feet for an extended period.
The Hayabusa Pro Boxing shoes have a mid-height build and long dependable laces. These give you a secure and snug fit to the wearer.
This allows the boxer to have greater control over his movements through responsive feedbacks and unencumbered maneuvering.
All these features- the high traction rubber soles, ultra-lightweight construction, mesh panel ventilation, etc. make them such a huge hit among both men and women looking to upgrade their boxing skills with absolute comfort.
They are also available in different eye-catching colors, ensuring that you don't compromise on style for the sake of performance.
Adidas Men's Combat Speed 5
The next one on our list is a brand that needs no introduction at all.
Adidas is for shoes what Apple is for phones! They can never go wrong with their signature products, and that's why Adidas Men's Combat Speed.5 is such an obvious addition to our list.
One of the most wildly popular shoes- the 'Combat Speed Wrestling Shoe' line, has been in existence since the 80s to benefit the up and coming boxers.
With constant up-gradation and remodeling of these classic boxing shoes, we now have access to the best and improved Combat Speed model (5). This model has enhanced features and outstanding execution.
The single-layer mesh body construction, coupled with TPU stripe support and integrated robust side panels, provides fantastic breathability. It also delivers improved support and durability.
The die-cut EVA midsole, accompanied by the split-sued leather outsole, provides that extra cushioning to your feet. They protect them from unforeseeable injuries or ankle sprains, etc.
It also provides an outstanding grip with a sock-like fit. This enables you to move around quickly without any baggage to slow you down in the ring.
The minimalistic outsole features rubber traction under the heel, allowing you to switch seamlessly between your attacking techniques.
The reinforced combination of synthetic leather and suede material construction, along with the high-level lace-up design, makes these shoes an impressive option for boxers looking for extraordinary stability and durability in the ring.
Adidas Unisex-Adult Speedex 18 Boxing Shoe
Another high-quality Adidas addition to our list- the Adidas Adult Speedex 18 boxing shoes is an outcome of continuous innovation and expertise by the market leaders in sports and boxing.
Featuring reinforced upper-mesh material with their ergonomic lightweight design, these shoes provide the boxers with fantastic stability and speed without sparing the performance.
The single-layer robust mesh construction further ensures adequate ventilation. It allows the feet to stay dry and cool without sweat built-up, especially on long, vigorous training days.
The ultra-light outsole, which comes embedded with their unique and patented 'AdiWear' material, securely holds your feet and connects them to the ground.
Adidas's 'AdiWear' technology offers an optimal balance of flexibility, abrasion resistance, and traction. These allow you to move around openly without holding you down.
Basically, you can wear these boxing shoes for hours at a stretch without feeling bulky or tired at the end of the day.
Other peculiar features include multi-directional grip, lace closures, ankle straps, high-boot design, firm ankle support, etc.
In a nutshell, the Adidas Adult Speedex 18 are classic Adidas 21st century shoes. They are slick and modern and are a fantastic choice for all kinds of boxers, both men and women.
So irrespective of whether you are an expert looking to elevate your game or a novice just learning the tricks of the trade, these boxing shoes have something to offer to anyone looking for outstanding performance and execution.
Everlast New Elite High Top Boxing Shoes
The Everlast New Elites are High Top boxing shoes specifically engineered to provide ultimate footwork advantage and synchronization to their wearers.
Built with their high-quality, trademarked Michelin technical sole, these shoes provide you maximum traction and support along with incredible durability.
The hybrid design combined with fantastic material construction (synthetic leather, mesh panels, suede, and microfiber) further makes these shoes a world-class choice for all types of boxers irrespective of whether you're a man or a woman.
The open weave mesh keeps the shoes comfortable and lightweight. While the embedded innovative tread design enhances performance with optimal side-to-side movement.
The High Top design of these shoes provides extraordinary ankle support to the wearer. It keeps their feet well-protected by absorbing shocks and other negative impacts during extensive training and workouts.
The shoes also feature additional sturdy ankle straps made of synthetic leather. This securely holds the foot for maximum support and comfort.
Other unique features offered by these shoes include double toe stitches, Velcro at the ankle straps, strategically embedded thick foam pieces, etc.
Furthermore, they are exceptionally breathable. They allow your feet to stay fresh and dry even after a long, rigorous day in the ring.
In essence, the New Elites by Everlast are a solid choice for all boxing enthusiasts looking for a versatile pair of comfortable and supportive boots that improve their techniques and boost their performance in the ring.
Adidas Box Hog II Boxing Shoes
The Adidas Box Hog II Boxing Shoes are high-top boxing shoes in color black with three stripes on each side together with the Adidas logo.
Its size ranges from 5.5 to 11.5 which means it can fit boxers of different feet sizes.
This is a highly durable boxing shoe that can also provide comfortability as these are made of 100% synthetic fabric, containing breathable mesh upper and a low-profile cushioned midsole. With this, you can prevent your feet from sweating, which oftentimes causes a boxer to lose focus on the match.
Moreover, the gum rubber outsoles make these boxing shoes slip and are oil resistant during the fight. Hence, it can greatly perform quick and critical moves without slipping.
The Ringside Undefeated Boxing Shoes
The Ringside Undefeated Boxing Shoes offer you both style and good quality. It is available in many sizes from 2 to 12 and can be used by both men and women.
Boxers usually prefer high tops like these since it has great support for their ankle. So, it is highly functional in boxing training, boxing classes, boxing workouts, and even wrestling.
Whether you execute quick moves or not, there is less chance of slipping because of its rubber sole that gives both non-slip performance and comfortability. Moreover, the nylon mesh pattern allows air to pass through so your feet won't feel uncomfortable or sweaty.
Lastly, its exterior has a patent vinyl finish which makes these boxing shoes easy to clean even just by wiping.
Title Boxing's Total Balance Boxing Shoes
As its name says, this boxing shoe enables you to balance well with the help of its lightness and reliability. So, this is perfect to use boxing training shoes even if you're just a beginner.
These sneakers' rubber wave sole makes it cling to the boxing ring ground in spite of slip and oil. Its provided balance and stability can be helpful when the opponent throws a jab. Thus, providing good performance as well as breathability through its mesh.
Furthermore, this is a high-top boxing shoe that is available in many different colors and combinations such as black, black/neon, gray/green, blue/black, black/red, red/back, white/black, and white red. Hence, you have many color options to choose from.
Matched with colorful embroideries, this makes stylish and good-looking boxing shoes.
ASICS Men's JB Elite
This is a wrestling shoe that can also be a good option if you're searching for high-quality boxing shoes, which can be used in boxing training and workout.
These can be worn by boxers having shoe sizes of 9.5 to 14. It also comes in two color combinations namely True Red/Olympic Gold/White and Teal/Flash Yellow/Pink.
This is a low-top boxing shoe that boxers usually prefer because having a low top means it's more lightweight, easier to lace, and quicker to wear and take off.
These shoes ensure comfortability and breathability with their 100% synthetic material, seamless TPU overlays which are lined with a one-layer mesh. It also has a split sole design that enables better traction and flexibility.
Plus, it features a thin tongue and speed lace system that has a joined lace garage so your lace won't get untied easily in case your opponent steps on to it.
Otomix Men's Stingray Escape
These versatile and lightweight low-top boxing shoes can be extremely functional in different sports and activities such as bodybuilding, MMA, weightlifting, taekwondo, jujitsu, and even boxing.
You can get these shoes in sizes 7 to 15 and can be in different colors including black, white, red, yellow, blue, pink, and gray.
Its soles are made of rubber and are excellently sewn to avoid detachment. Hence, this is a perfect choice if you want boxing shoes that can provide stability and support when you execute hard moves in the boxing ring.
Plus, its exterior which is made of suede and synthetic materials makes these shoes durable and comfortable to wear.
Moreover, these boxing gloves possess great traction so you won't have to worry about sudden slips when you're making an attack or defense.
Ringside Apex Elite Boxing Shoes
The main aim of these Ringside Apex Elite Boxing Shoes is to provide you with speed, support, and control.
This is a high-top boxing shoe so it gives excellent support to the ankle. You can avail of these shoes in sizes 2 to 13 with different colors such as red, black, blue, and lavender.
It is composed of a micro-mesh material that allows proper ventilation which is a must-have in every boxing shoe. This feature greatly helps in ensuring comfortability during the match.
As to its performance, it has a hook and loop in the toe part that ensures stability and security. It also has an outsole made of rubber to provide better traction and grip in order for you to execute hard moves without slipping or falling.
FAQ About Boxing Shoes
Do you Wear Socks with Boxing Shoes?
Although dependent on the fighter's preference, most boxers prefer wearing socks with their boxing shoes, and here's why you should too.
Boxing socks reduce the friction between your feet and shoes to prevent painful blisters. They also absorb excessive sweat to keep your feet fresh and dry.
Preferably, wear socks that are low cut and go just below your ankle. Make sure your socks are also nice and thin to promote air circulation.
How Should Boxing Shoes Fit?
Boxing shoes should generally fit like your regular athletic shoes. It is important to remember that as they are higher, boxing shoes provide support for both your ankle and lower leg.
As always, the general rule is that boxing shoes should not be too loose as this can lead to injury during training but not too tight that it causes discomfort to the boxer.
Are Low-top Boxing Shoes Good for Training?
Boxers choose between wearing high-top and low-top boxing shoes when training. However, some prefer low-tops to high-tops. This is because low-tops are easier to get used to and provide a much lighter option perfect when training.
Although low-top shoes provide the least ankle support, they give you a wider range of movements and agility, so they are very good for speed and agility training.
Can you Wear Wrestling Shoes for Boxing?
Wrestling shoes are made primarily for wrestling, but you can also use them for boxing. Wrestling shoes and boxing shoes have a lot of things in common. However, keep in mind that some types of wrestling shoes are better for boxing than others.
Make sure that your wrestling shoes have a similar design, style, and features as regular boxing shoes for you to comfortably and efficiently use them in a boxing ring.
How to Choose Boxing Shoes
Like any other sports gear, boxing shoes also have a lot to offer to their different wearers.
Regardless of whether you are a skilled boxer looking to upgrade his game or just an amateur looking for some dependable shoes for his boxing class- you need to know the basics of how to select the right ones for yourself.
And although there are numerous elements you can consider before choosing an appropriate pair, today we will discuss the notably essential factors.
These can make or break your 'boxing shoe' game, thus influencing your performance and your overall experience.
Sole Construction
Sole construction in boxing shoes plays a critical role for both professionals as well as beginners.
The sole of your shoes can single-handedly affect the execution of your boxing techniques. It also affects your comfortability, balance, and transfer of power.
A good-quality sole will keep your feet well-rested and allow you to balance yourself more freely without tiring out.
For boxing shoes, rubber soles are usually considered to be the best option. These soles are durable and flexible, allowing you to move around unobstructed.
Some boxers prefer thinner soles to stay connected with the ground. On the other hand, some prefer thicker soles with ample cushioning to keep their feet protected.
While everyone has different preferences, you need to figure out what type of sole suits you the best and then choose accordingly.
Ankle Support
In an aggressive sport like boxing, the boxer is continually moving in the ring, changing angles, pivoting, shifting weight from one foot to another, etc.
Therefore any injury to your ankle and your performance gets hampered.
Hence ankle support is a feature that cannot be overlooked.
There are three significant types of boxing shoes that a person can choose from:
High Tops
Mid Tops
Low Tops
Amongst these three, High Tops are the ones that provide maximum ankle support and protection to the wearer. So if you are susceptible to ankle injuries or sprains, High Tops are the one for you.
However, if you have strong ankles and need shoes that offer more mobility, you can go for Low Tops.
No matter what shoes you choose, make sure that you get good ankle support. This will ensure that you do not injure yourself in the future and improve your overall footwork in the ring.
Breathable Material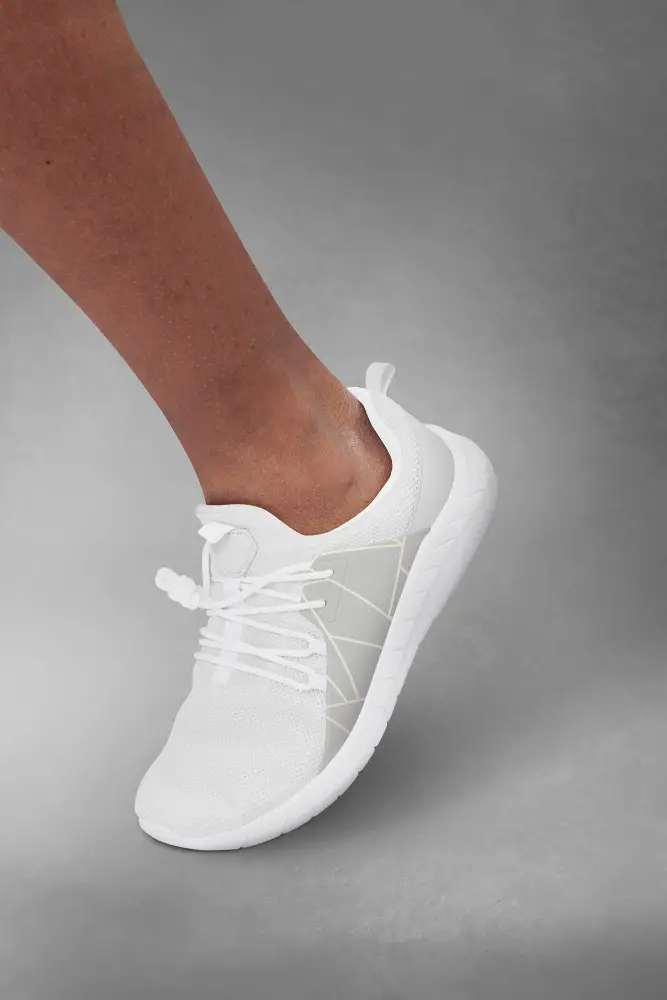 Imagine your typical boxing day where you are on your feet for hours at a stretch, and your feet are all sweaty and hot inside the shoes. It feels uncomfortable, right?
A good pair of boxing shoes needs to be airy and breathable so that your feet can stay dry and fresh.
While different shoes are made of different materials, you need to make sure that your boxing shoes are thoroughly and sufficiently ventilated.
Look for boots with ventilation holes or mesh panels that will continually air out your shoes and keep your feet dry and relaxed throughout the day.
Lightweight Construction
It's no secret that anything light in weight is more convenient to control and maneuver. The same is true with boxing shoes.
Heavier boots tend to slow down the boxers and cause them to fatigue more quickly.
In order to smoothly execute the various high-level boxing techniques and tactics, you need to be light on your feet and more agile.
Mobility is an integral part of boxing, and fighters are required to control the pace of their movement in the ring.
So make certain that your boxing shoes are lightweight without being flimsy. Ensure that they do not weigh you down or affect your speed and tempo on the mat.
Comfort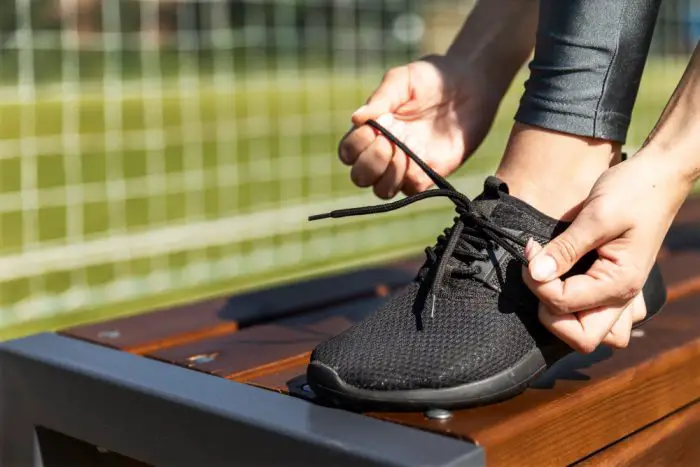 You will be spending a lot of time training in your chosen boxing shoes, so make sure that you are 100% comfortable in them.
It makes no sense to spend all the time, energy, and money on buying a fantastic pair of boxing shoes and then end up feeling uneasy in them.
An uncomfortable pair of boxing shoes will cause a distraction and ultimately affect your performance in the ring or while training.
So stay away from stiff material or anything that pinches or hurts your feet. Make sure that you can spend extended hours in your boxing shoes without feeling discomfited.
Ensure that your choice of shoes provides ample comfort, along with stability and overall support.
Final Words
The right kind of boxing shoes can completely transform your game in the ring by improving your footwork and overall efficiency.
However, choosing the appropriate pair of shoes can get a little overwhelming, especially if you are a beginner.
And while we can't make the final decision for you, we hope this article has nudged you in the right direction and helped in your search for a suitable pair of boxing shoes.
In the end, remember that the best boxing shoes are the ones that fit like a glove, are lightweight, durable, airy, and allow you to move around freely.