A heavy bag is an ultimate tool to perfect your techniques. It is where you kick, throw in a punch, or make a rigorous hit. Simply put, you could say that it is a fighter's best friend.
However, with such heavy strikes, a heavy bag needs to be secured in a good quality ceiling or wall mount. This is to make sure that it doesn't sway or move as you navigate your skills through it.
Today, I will guide you in buying the best wall mounted heavy bag heavy bag mount. In this way, you can kick through the bag without any worries at all!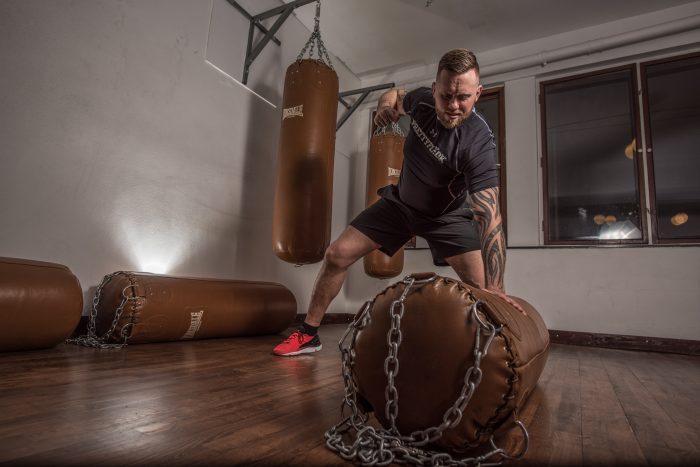 Installation Must-Do
First and foremost, you need to plan your installation scheme carefully. For one, you need a wood beam or concrete which you can fasten your heavy bag.
If you opt to attach an anchor to drywall, then it is important to remember to put on some wood on top of the drywall before anything else.
This is to make sure that the bag's grip on the wall or ceiling is sturdy enough to withhold force. All in all, wood is necessary for extra stability.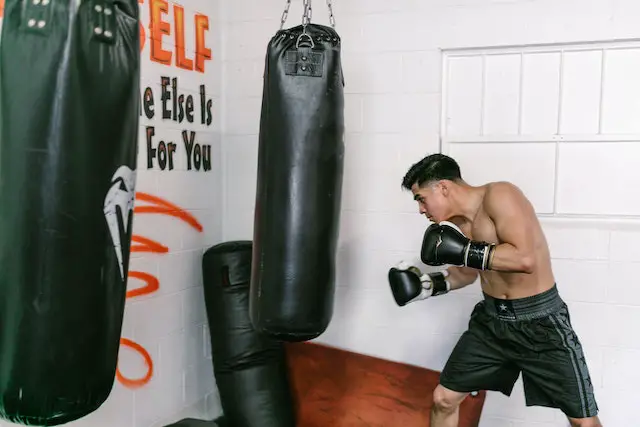 Tools Required for Mounting a Punching Bag
Black and Decker
It is a handy and powerful kit for tools used in hardware, home improvement, and fastening systems. If a stud finder is hard to find in your area, then getting this one to drill holes will definitely help you a lot.
Stud finder
If you opt to install the bag directly into the wood, a stud finder will pretty much be your best friend. Basically, it is a handheld device used with wooden surfaces to find framing studs behind the final walling surface, usually drywall.
Nowadays, magnetic stud finders can help you find nails or screws that have been driven into studs.
Leveler
If you are a perfectionist, then perhaps this tool is for you.  Hanging your heavy bag evenly can become a challenge. But with the help of this tool, you can do it for sure.
Technically, it is an instrument designed to indicate whether a surface is horizontal (level) or vertical (plumb).
As for the time, it'll depend on two things: 1.) the type of mount or hanger you used and 2.) your installation skills and techniques.  
Best Mounts for Heavy Bags in 2022
Firstlaw Fitness Spider Mount 200
The first on the list is an unbelievably multifaceted and flexible product. Whether you want to mount it to drywall, ceiling, or an open floor joist – it's totally up to you!
Moreover, it also works just as fine with an extensive range of heavy bags. It can carry a weight of 120 pounds to 200 pounds.
If that isn't amazing enough, then let me tell you that it is also easy to install, reduces noise, and moderates damage to your household. What's more, it comes with a 360-degree spherical motion feature. Wow, right?
 Yes4all Mount Heavy Bag Hanger
If your priority is a product's sturdy quality and anti-rust design, then this product is for your consumption.
Firstly, it is an excellent option for saving space without compromising quality. In fact, the manufacturers did not cheap out on the materials used for this one. Hence, this product's longevity is a guarantee.
It is also the perfect option for you if noise cancellation and shock absorption are of your concern. And even with all those, it only requires a hassle-free installation as in one, two, three, or four steps to go and it's done!
Pro Mountings IB 1100 Punching Bag Mount
Another one on the list is this ever-impenetrable and fantastically crafted mounting product. If you have longevity trust issues, then this is the right product for you. With its powder-coated steel exterior that can't possibly be an issue for you. 
Additionally, it can carry heavy bags up to 150 pounds without damaging your ceiling and its surroundings.  It can be an effective product when it comes to noise and shock reduction.
However, slight inconveniences may occur during the installation process as the ceiling beams vary from one household to another.
But still, it does its job pretty well as opposed to how cheap its price is.
Aoneky Wall Mount Heavy Hanger
The next one is this ceiling mount for punching bag with a quality and killer steel frame. Now, brace yourself, as I reveal that this mount can actually support a weight of up to 1000 pounds. Unbelievable, right? 
With that, it can be the most ideal product for handling the heaviest bag there is. It features a stable steel frame, so just hang the heaviest bag that you can find without worrying at all!
On the downside, it does not hold any versatility at all as it is exclusively designed for concrete and brick walls. But with its reasonable price, then surely, it is a pretty good deal all ready for you.
What's more, the installation process isn't much of a hassle. So, what are you waiting for? Buy it now and start your punching and kicking regime without worrying that the heavy bag mount for garage may bend after a few strikes.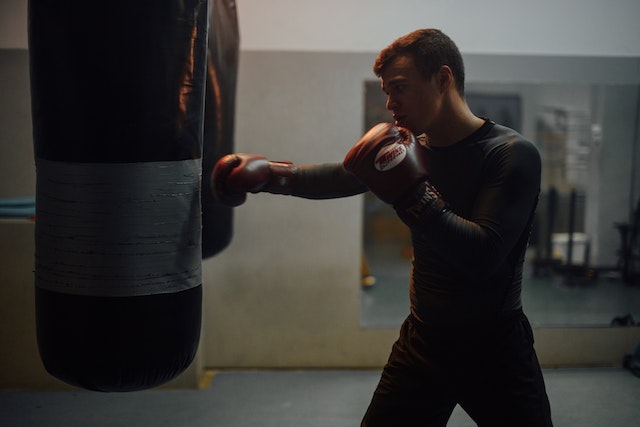 Meister 250lb Heavy Bag Ceiling Hanger 
Another friendly-budget product is this one. As the name suggests, it can carry as much as 250 pounds of weight. Pretty decent, right?
It also has a 360-degree integrated swivel to allow the bag to move around effortlessly with every punch. With its strong and sturdy quality, every penny of yours is worth it.
Unfortunately, this is only applicable to ceilings with wooden beams. That being so, it may come as an inconvenience in one way or another.
However, it includes a mechanism of removable spacers that prevents the bag from shifting out of place. Plus, finding a good quality ceiling mount at a cheap price is rare. So, what's there not to love?
Eapele Heavy Bag Hangers Brackets
This is off from the rest of the list. But you may consider this alternative product for mount for boxing bag just in case.
It is universally designed with the capacity to support an extremely and abundantly heavy weight of a bag. It comes with good-quality stainless steel with feature of corrosion resistance. So as to say, you may use this product for as long as you want!
With its unique mechanism, the bag will move swiftly and quietly with its built-in swivel system. I'm putting that out here just in case you hate the noise. 
For now, it is only compatible with wood beams. However, with its sturdy structure, reasonable price, and straightforward installation process, then it's definitely worth buying for!
RDX Heavy Iron Boxing Punch Bag Wall Mount
On to the next product, here we got this fantastic alternative for a sturdy wall mount in concrete walls. With its price, it's amazing how it can support a weight of up to 300 pounds.
It has a reinforced and sturdy design that can be used outdoors. Now, doesn't that convince you still?
It even has this retractable arm bracket as one of its selling points. Simply put, it prevents your heavy bag from getting in the way. 
So, the next time you find yourself looking for a cheap and reliable wall mount for punching bag, then do not hesitate to try this one. To add, the installation process can be pretty straightforward too. 
Valor Fitness Wall Mount
Second, to last is this fantastic mount design suitable for a home gym. Plus, it does not take as much space as you'd expect it to. So, fret no more.
As for its mechanism, it has a heavy-duty construction with 1.5" x 1.5" 12-Gauge Steel for strength and durability. Aside from that, it also has the following features: a solid steel j-hook, a support bar, and an additional frame for its functionality.
For its disadvantages, it can only support a maximum weight of 120 pounds. But it can work perfectly if you want to use a lightweight bag for your home gym space. In addition, it can be compatible with all wall materials.
Qualward Heavy Bag Hanger
Finally, this space-saving and high-quality design of a bag hanger are definitely last but not least. It can bear a weight of up to 350 pounds.
The installation process is also convenient as all hardware tools are included. It can also be used with wooden floor or ceiling beams.
It may not have a 360-degree swivel but with its cheap price, it is not so bad in terms of its quality and functionality. If you are a minimalist, then this product may work perfectly for you!
Final Words
Finding the best heavy bag mount may come off as a challenging task, but with this well-made list of such, the task can be so much easier for you.
Hopefully, this list of heavy bag mounts will help you in your future endeavors. Whether you are vying for a wall mount, hanger, stander, or drywall mount: this list that we've made will help you all the way. Now, off you go shopping!