Every sport requires appropriate equipment and clothing such as gi for Brazilian Jiu-Jitsu.
BJJ Gi serves as their uniform which gives the assurance that they will be able to make a peak performance due to its high quality, comfortability, and durability.
Moreover, it can give you an impressive style and look- irrespective of whether you are a male or a female BJJ player.
If you're looking for the best gi for BJJ at a reasonable price, this article has 10 recommendations perfect for you. Here is the current year's best BJJ Gis.
Best BJJ Gi of 2022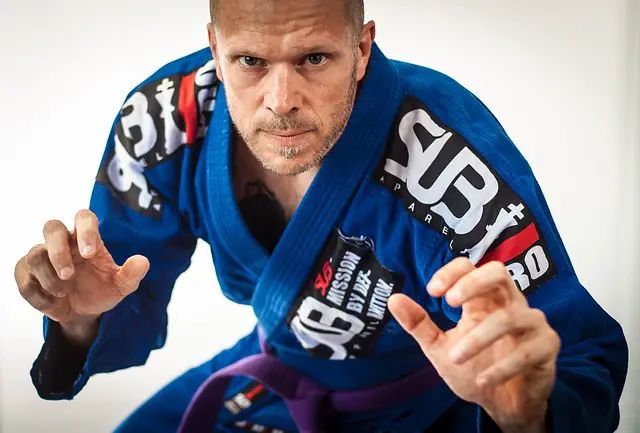 Hayabusa Warrior Gold Weave Jiu Jitsu Gi 
The Hayabusa Warrior Gold Weave Jiu Jitsu Gi is available in colors blue, and white, as well as sizes A0, A1, A2, A3, A4, and A5. This can be worn by beginner to advanced BJJ players.
This is known for its gentleness as it is made of cotton fabric materials that make the Jiu-Jitsu gi comfortable to wear. Despite critical moves, it will not be easily torn and will give a very soft and perfectly fit feeling to the player.
Aside from the comfortable feeling it gives, this Jiu-Jitsu gi's design is proven to be functional in heavyweight competitions.
The 550-GSM gold-weave cotton jacket, 12oz twill cotton pants, reinforced lapels, knees, and stress areas contribute to the Jiu-Jitsu gi's overall comfortability and durability.
Plus, it has a stretchable drawstring to allow the player to adjust the pants.
Moreover, this BJJ gi's intricate designs on different parts make it unique and attractive to many players. 
These features will help the player execute a wide range of moves without worrying that his gi will be wrecked.
Venum Contender 2.0 BJJ Gi 
The Venum Contender 2.0 BJJ Gi is one of the coolest BJJ Gi that comes in colors white and gray and sizes A1, A2, and A3.
This BJJ gi has a 350 gsm pearl weave cotton jacket that gives the player the comfort he needs. It contains rounded and reinforced slots. Also, its collar gives a soft feeling and extra protection as it is made of EVA.
Furthermore, this BJJ gi's pants is 230 gsm and is made of pure cotton with stitching inside the leg and ankle cuffs that contribute to the strength. Thus, it provides an excellent stretch and soft feeling even despite rolls.
Materials used made both the jacket and pants extremely durable despite intensive training and fights, as well as many washes. It does shrink a little, which is normal for all best BJJ gi brands.
Many players have proven that this second version of Venum Contender BJJ Gi is more stylish, more comfortable to wear, and a lot more durable.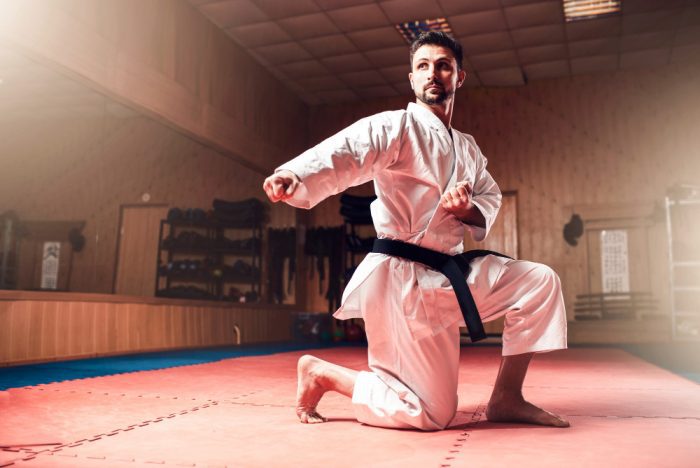 Fuji BJJ Uniform 
Fuji BJJ Uniform is a kimono-style BJJ gi that is known to be one of the most trusted BJJ gi because of its impressive look and high quality. It is available in the colors white, black, blue, and pink.
Its sizes are A1 to A6 and W1 to W6. Being available in a wide range of sizes makes it suitable for different body sizes. Hence, many people choose this over other gi for Jiu Jitsu.
The mid-weight jacket and pants are made of cotton and come with a thick collar and multi-layered reinforcement across all stress points. These are specifically designed to ensure that the player is comfortable and protected.
Plus, the pants come with a cotton drawstring in order to make sure it is neither too loose nor too tight.
These high-quality compositions result in excellent performance even during intense training and fights. With this, the player will be able to move freely and intensely without the worry of tearing.
Elite Sports BJJ GI for Men- IBJJF Kimono BJJ Jiujitsu GIS  
This BJJ Gi is known as a full-package BJJ uniform, the reason why it is preferred by many players of all ages and genders. This is in premium white, blue, grey, pink, and black, as well as sizes 0, 1, 2, 3, 4, and 5.
Unlike other BJJ gis, this does not shrink as it is made from preshrunk material. A 60% cotton and 40% polyester material composes this BJJ Gi. These two provide the softness, comfortability, and durability of the uniform. 
Moreover, these lightweight materials allow the sweat to diffuse faster. With this, the BJJ gi will dry up faster and will prevent unpleasant odors. This is critical in ensuring that the player won't feel uncomfortable and distracted during the match.
It also comes with a white belt which is also made of cotton. Plus, the belt includes a stripe bar where your level can be easily determined.
Additionally, this has the approval of IBJJF GI and thus can be worn in IBJJF's tournaments and competitions.
Hayabusa Lightweight Jiu Jitsu Gi
The Hayabusa Lightweight Jiu Jitsu Gi can be purchased in various colors including black, grey, navy, and white. Its size ranges from A0 to A5.
This Jiu-Jitsu Gi jacket is a 420-gsm pearl-weave cotton jacket. Many players prefer this level of thickness without making it too heavy to wear. This is a lightweight and secure feeling that a player extremely needs during an intense fight.
Also, the 8oz ripstop cotton-polyester blend pants include a drawstring in case there is a need for adjustment to fit the player's waist. 
Materials used along with the reinforcements give this BJJ Gi superior strength, durability, and high quality. Therefore, it won't easily tear despite the critical moves and rolls of the player. 
Moreover, there are patches and embroidery on the shoulders, chest, back, lapel, and legs.
Venum Power 2.0 BJJ Gi
The Venum Power 2.0 BJJ Gi comes in three colors namely black, white, and royal blue. It has sizes A0, A1, A1.5, A2, A2.5, A3, A3.5, A4, and A5. It can be worn from intermediate to semi-pro level.
This contains a 450gsm Cotton Pearl-Weave Jacket and 280gsm ripstop pants matched with solid reinforcements to provide extreme durability. Plus, an EVA-made collar is specifically designed for excellent grips and counter-attacks from the opponent.
All the materials used work together to make this BJJ withstand hardcore moves during the match. But, it still ensures that the player is comfortable with a soft, mid-weight, and perfectly fit BJJ Gi.
Moreover, this Gi is IBJJF approved so it can be used in heavyweight competitions and tournaments held by IBJJF.
Even after many uses and washing, this will maintain its high quality.
Elite Sports Ultra-Light Women's BJJ GI
Elite Sports brings you this ultra-lightweight BJJ GI specially made for girls and women. This is available in sizes 1 to 4 and colors that are perfect for girls such as white, black, blue, purple, and pink.
Other unisex gi's don't perfectly fit women, especially skinny girls. Most shoulders are too wide for them. Worry no more as this BJJ Gi's overall feature is well-made to be best suitable for a girl's body.
Moreover, it has the approval of IBJJF, meaning it is trusted to be functional in heavyweight competitions and tournaments.
Comfortability does not just come from the perfect fit but also the lightweight feeling it gives. 
Aside from the comfort it gives, this BJJ gi is highly durable as it is composed of reinforcements, especially on high-tension points. Hence, it can withstand heavy-weight training and fights. 
Plus, this uniform includes a white belt.
Gold BJJ Jiu Jitsu Gi – Ultra Lightweight Men's Aeroweave
This BJJ Gi can be best suitable for men with its sizes A0, A0H, A1, A1L, A2, A2H, A2L, A3, A3H, A3L, A4, and A5. Its colors are grey, navy, black, and white.
The white and black colors have the IBJJF's approval so they can be worn in competitions and tournaments conducted by IBJJF.
This uniform is a 275gsm aero weave gi thus giving the player a very lightweight feeling even during intensive training. Aeoweave BJJ gi's are proven to be 40% lighter than other standard pearl-weave gi. 
Plus, EVA material composes the lapels.
Despite being lightweight, it still ensures the player is protected with its extreme durability due to reinforced stitchings. 
Moreover, the 100oz ripstop pants will not fail to give the player light and breathable feeling. 
Brazilian Jiu Jitsu Gi BJJ Gi for Men & Women
Brazilian Jiu-Jitsu Gi brings you a kimono-style BJJ Gi that can fit both men and women. It is available in sizes A1, A3, 2, A4, and A5, as well as colors blue, black, white, grey, and military green.
 This BJJ Gi is proven to have ultimate strength which makes it ideal to wear in hardcore training, competitions, and tournaments.
It is made of 350 preshrunk pearl weave fabric so it is very lightweight. With this, discomfort or overheating may be prevented.
The designs differ depending on gender. For men, it has a Y-Vent design to ensure a perfect tailored cut fit, while a Triple stitched one with reinforcements in high tension parts.
Furthermore, the 10oz ripstop pants come with a rope drawstring thus making them adjustable to perfectly suit the player's waist. Plus, the pants have reinforced stitching from the shin to the ankle. This feature contributes to the overall durability of the uniform. 
Additionally, a free white belt with a black rank bar is included.
Sanabul Essentials V.2 Ultra Light Preshrunk BJJ Jiu Jitsu Gi 
The second version of Sanabul Essentials BJJ gi comes in sizes A0, A1, 2, A3, and A4, as well as colors white, black, blue, navy, grey, and green.
This BJJ Gi is made of 100% Cotton, and pure cotton fabric makes the uniform highly breathable and durable. Moreover, it has stiff, rubberized collars, tapered sleeves, and a dense single-weave design that adds to the gi's functionality.
Materials used work together to give supreme strength which makes this BJJ gi ideal to wear even in heavyweight fights.
Plus, it gives a very light feeling to the player so it is comfortable to wear even for a whole day in training or competitions.
It is also a preshrunk gi so you longer need to worry about shrinkage. Also, it gives an impressive clean look.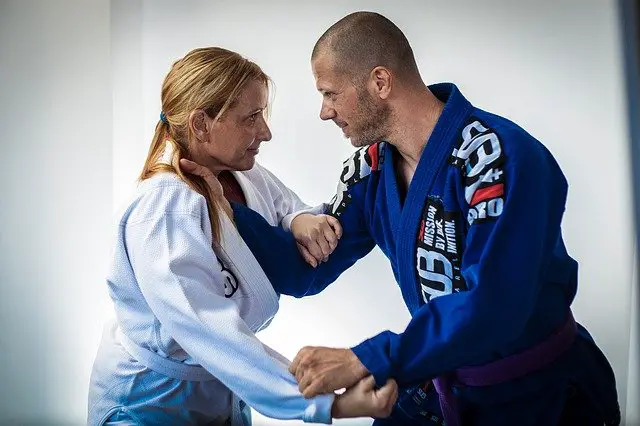 How to Choose a BJJ Gi
Perhaps you're here because you are a beginner in BJJ. Hence, you don't have an idea what is a good buy among all the coolest Jiu Jitsu gis you see in the market. Since you were given 10 recommendations and learned their pros and cons, the question now is, "How to Choose a BJJ Gi?" Below are the things you need to consider.
Materials
An excellent-quality BJJ gi is composed of excellent-quality materials. These also provide the rest of the things you need. To give both comfortability and durability, some gi's are made of pure cotton, and some are combined with polyester.
Weight
BJJ gi's differ in weight depending on the materials used to produce them. Remember that the lighter, the better. Many players prefer lightweight or midweight gis so they can freely move during the match. A heavy uniform may give the player an uncomfortable feeling which may distract them and negatively affect their performance.
Gi Weaves
BJJ gis weight depends on the type of weave used. A single weave gi is less expensive, and lighter, but can be less durable. On the other hand, double weave gi is more expensive, heavier, and more durable. 
Furthermore, there is also a gold weave, pearl weave, and ripstop weave. All of these 
Size
Like other clothing, a perfect fit is what we are all looking for. Too loose or too tight clothes will make the player feel uncomfortable during training.
Moreover, letters in the gi sizes have corresponding meanings. For instance, A stands for adult, L stands for long, S is for short, and H means heavy. With these, you'll know which is suitable for you.
Remember that not all brands have the same sizes. An A1 of one brand may not be similar to the A1 of other brands. Therefore, it is important to always refer to their sizing chart. 
Colors
Usually, colors don't matter, but not in BJJ. A certain gi may be available in various colors so you can choose whichever you prefer.
However, black, white, and blue are approved by the International Brazilian Jiu-Jitsu Federation (IBJJF). Those can be worn in competitions and tournaments held by IBJJF.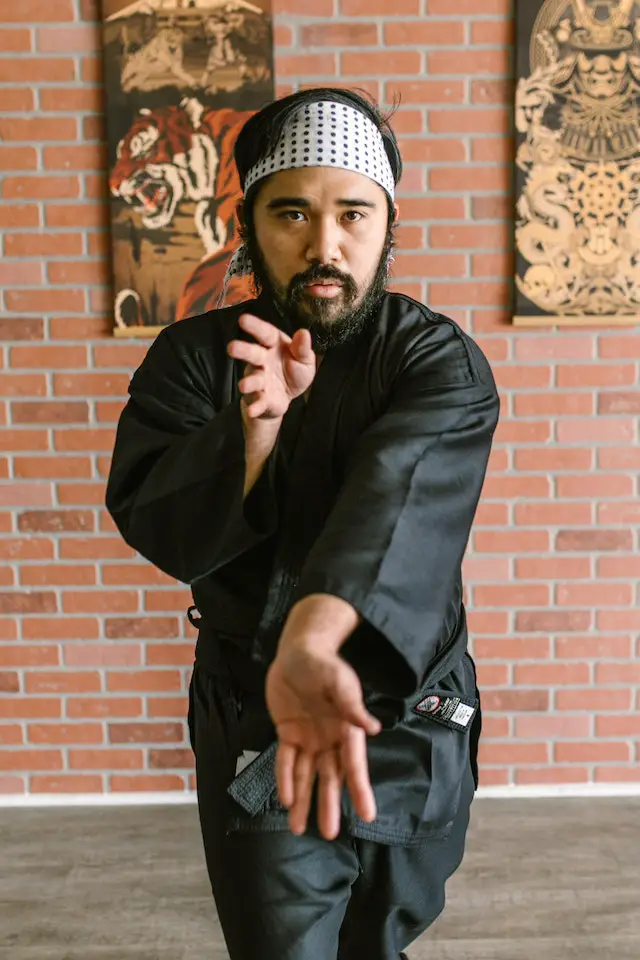 Collar
Some people think that a collar is not a big deal in BJJ gi. But, an excellent collar construction gives extra protection since the opponent will find it hard to grip and control your upper body. EVA is the material that is usually used for good-quality collars.
Reinforcements
A good quality BJJ Gi has reinforcements, especially on high-tension points. The reinforced stitchings contribute to the gi's durability and make it quick-drying.
Conclusion
In order to make a great performance in BJJ, you need dependable and comfortable clothing.
After going through the above-mentioned product recommendations with the guide on how to choose the best among them, you now can decide which BJJ Gi is worthy to buy.
However, please don't forget that it eventually depends on your personal choice. Whichever you feel the most comfortable in, go with that.
For a sport like BJJ, comfort should never be compromised! So always choose the one which fits you perfectly and you will be good to go!