Boxing is a sport that requires the use of protective equipment. It's essential to have reliable boxing body protectors every time you step into the ring.
Body protectors are an essential piece of boxing equipment you can't compromise on. They offer a high level of protection combined with comfort and breathability that you can't and should not trade.
You can avoid unnecessary injuries while you train boxing with the proper protective equipment.
Check out some of the best body protectors for boxing this 2022 below to get the protection you need while training.
Best Boxing Body Protectors in 2022
Contender Fight Sports Boxing Body Protector
Create a great training experience with the Contender Heavy Hitter Boxing Body Protector. 
It provides a realistic body punching bag that allows the coach to seamlessly incorporate body punches into mitt and bag routines.
This lightweight and robust body protector is made of synthetic leather. It allows a full range of movement and provides increased protection on the chest.
The synthetic leather exterior is abrasion and water-resistant, making it easy to clean. At the same time, the heavy nylon straps with quick-release buckles allow for easy on-and-off.
This boxing body protector has dense shock-absorbing foam protection built to uphold against even the hardest hits and kicks.
Its rugged exterior protects against intense wear and tear. On the other hand, the thick padding is strong enough to shield your chest and rib.
The Fight Contender Sports Heavy Hitter Boxing Body Protector is a great product, especially for beginners. But several users have complained about the quality of the stitching.
Twister Reversible Chest Guard Protector
The Twister Reversible Chest Guard from Twins is made for toughness and durability. This holster trainer is suitable for Taekwondo, Boxing, MMA, and all sports that require chest protection.
It also complies with the standards of Karate and can therefore be used during competitions. This means that you will also enjoy a high level of protection from the Twister after an attack.
This chest guard is made of synthetic leather's highest quality materials and is stitched to perfection.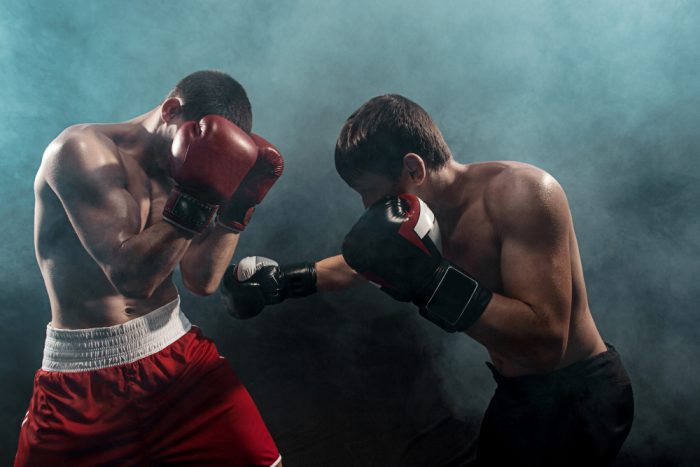 With this piece, you will increase your protection of the chest and ribs to prevent injuries while training.
It features adjustable elastic straps to keep the unit secure while training. It also has a Velcro closure strap for easy securing and removal.
Additionally, it is reversible, allowing you to customize your guard's appearance in red or blue color.
While the padding is a bit thin for extreme combat, this chest guard still offers good protection for beginners.
RDX Chest Guard Body Protector
The RDX Chest Guard Body Protector is one of the best body shields available in the market right now.
This is due to their innovative design and ingenious features that guarantee an ideal fit and excellent protection.
Made with their patented genuine Maya Hide leather, this protector is exceptionally durable. It can hold up against rough usage for a long time.
The triple nylon stitching and PU piping add to its durability. It ensures that it will last for an extended period without breaking down.
Further embedded with a thick 24mm shock-absorbent padding, this boxing body pad offers a barrage of shields to the wearer. This keeps him well-protected and comfortable while training.
This chest guard is also accompanied by a durable elastic nylon strap. It merges into a hook-and-loop design, ensuring that you get a more secure and efficient fit.
All these features, along with its distinctive structure, allow the trainer to move more freely without feeling restricted.
This video shows how great this chest guard is. Look at how it absorbs all impacts.
It's lightweight, well-padded, protects your whole torso, and provides a snug fit, all within a reasonable budgeted price.
Moreover, this protector comes with a peculiar reversible design in red and blue color to encourage the wearer's interest.
The level of care and energy poured into this body shield is clearly reflected in the gear's fantastic quality, convenience, and aesthetically integrated design, making it one of our top recommendations for 2022.
Title Boxing Classic Command Body Protector 2.0
This technologically advanced body protector by Title is another fantastic option that is quite popular in boxing circles.
Made with durable synthetic leather, this boxing body pad is form-fitting and pre-curved, making it anatomically suitable for all different trainers.
The multi-layer foam padding adds to the robustness of the protector. This makes it impact-resistant and tough enough to withstand even powerful knee strikes and punches.
This is because the above-mentioned foam padding is highly shock-absorbent. Likewise, it does a fantastic job shielding the trainer through its thick cushioning.
Another terrific offering by Title is the moisture-wicking liner installed inside the protector. It keeps the wearer dry and cool through long, rigorous training sessions.
This moisture-absorbent material soaks up the sweat inside. This prevents the gear from smelling bad and keeps the trainer fresh for an extended period.
The video below talks about the post-experience thoughts of the title boxing bodyguard.
Additionally, the protector comes with highly adjustable padded shoulder straps with nylon back straps for more stability and a custom fit.
It also features flexible, robust PVC plastic clips on the backstrap. This further makes it more secure and helps the boxing body pad stay in place.
Although it mainly covers only the lower part of the body, the Title Classic Command Body Protector is an excellent choice for trainers looking for some well-executed body armor for martial arts within a price range.
Ringside Gel Shock Super Boxing Body Protector
The Ringside Gel body protector is an excellent alternative for boxing trainers and athletes seeking a well-designed body shield that grants plenty of protection to the wearer.
Featuring robust synthetic leather construction, this gear can withstand vigorous training sessions without fraying or breaking down.
Their unique shock-absorbent gel padding further allows the trainer to engage in long workouts without tiring them.
The padding comes embedded with 'Gel Shock Technology.' This provides additional protection to the wearer and dissipates any negative impact before it reaches them.
Weighing a little under 4 pounds, this upgraded body shield further comes installed with DAT (Dome air technology).
It places an empty spot right behind each target to ensure that the negative feedback completely disappears.
Ringside has ensured that their boxing body pad adequately covers both sides of the abdomen while providing fantastic upper body coverage.
This, when coupled with focus mitts routines, allows the trainer to practice for various free strikes coming from different angles and height-level.
Further expanding on its unique design, this protector features three red dots at the bottom of the sparring body armor. These serve as a target point for the trainees.
This is especially suitable for beginners looking to improve their accuracy and learn to land their punches without missing out.
In essence, the Ringside Gel Super Body Protector is genuinely one of the best body shields for trainers looking to achieve the right balance between performance, price, and protection.
This shows the performance of the Ringside bodyguard in a real-game experience.
Title Boxing Aerovent Elite Pro Body Protector
Another fantastic Title body protector- the Aerovent Elite Pro, is a sleek, lightweight gear that provides you ample protection without restricting your movement.
This body shield comes integrated with their newly compiled impact-resistant density foam. It is also accompanied by a bottom layer of shock-absorbing sponge foam to dissipate any negative feedback.
Furthermore, it comes embedded with their highly advanced Aerovent triple-weave nylon lining. It has a sturdy and dependable construction allowing the trainer to indulge in various versatile combination drills with absolute ease.
Adding to its fantastic features, these body boxing pads are also equipped with reinforced breathable mesh and a moisture-wicking liner for longer workouts.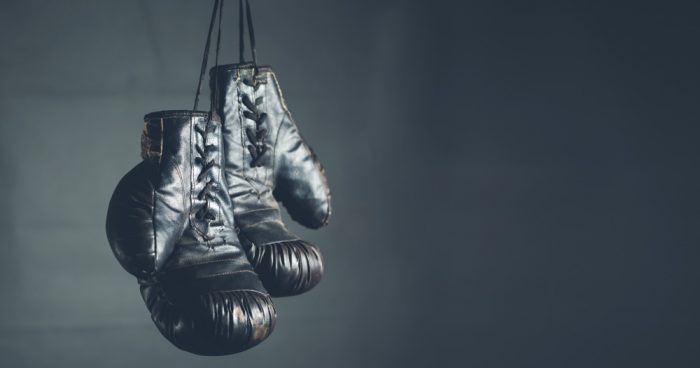 This allows the trainer to indulge in more arduous training for an extended period. The enhanced liner and the interwoven mesh absorb the sweat and allow unrestricted airflow to keep the wearer cool, dry, and fresh.
This boxing body protector also comes strategically tailored with synthetic protruded targets for soft and hard padding, thus providing the trainer with maximum protection and excellent striking aims.
The robust PVC plastic security clips allow for quick and easy wearability and a 'one size fits most' design which only adds to the overall desirability of the gear.
All these marvelous features, combined with a reasonable price range and a strong brand presence, make this protector a must-have in our list of best boxing protectors for 2022. It can easily handle the impact of boxing gloves.
Adidas Martial Arts Body Protector
A brand that needs no introduction- Adidas leaves no stone unturned when it comes to its numerous products' excellence and innovations.
Along similar lines, Adidas' Marital Art Body Protector is another piece of gear that offers excellent protection with a snug fit and long-lasting durability to boxers and martial art enthusiasts.
Made with high-quality vinyl, this protector is highly durable and extremely easy to clean and maintain.
This feature is handy after a long, sweaty day in training, where all you have to do later is just use regular soap and water to clean your gear for the next day's use.
This equipment is further embedded with shock-absorbing foam rubber and provides adequate protection without hindering your movements.
The gear's adjustability level is enhanced by its highly flexible shoulder straps. This gives a customized fit and fantastic comfort throughout the course.
The closure system of this body shield further adds to the gear's ease of usage and longevity.
Made with long durable nylon straps, the back lacing system of the body armor for training makes it exceptionally easy for the trainer to wear and take it off quickly without any hassle.
Another noticeable feature offered by Adidas is the additional groin protection provided for extra safety. If you use this protector along with focus mitts, you'll do great.
To sum it up, Adidas is a brand we can trust with our eyes closed, and this Martial Arts Body Protector is no different in terms of what the brand offers with its superior standards and execution.
How to Choose Body Armor for Training
Now that we have covered the top 2022 boxing body protectors currently available in the market, we will now discuss how to choose the right one for yourself.
Keep in mind that along with the best body protectors, you also need to equip yourself with the right protective gear for boxing, especially if you're a beginner.
Nonetheless, no two people's bodies are the same; therefore, it's safe to assume that their training and workout sessions are also different.
This means that every person's requirement for appropriate boxing gear will vary accordingly.
That's why this section is so vital for amateurs looking to buy a suitable punching vest for themselves because they need to know how to choose the right one.
And while there are many features to look out for, we have listed the top 5 factors that will make or break your choice for the suitable body protector for training.
Overall Padding Quality
A body protector's padding is the most crucial feature of that equipment; therefore, you need to pay extra attention to this while purchasing one.
The thickness and quality of your padding will determine how good the body shield is.
Many body protectors' nowadays install multi-layers of density foam, which are highly shock-absorbent and nullify the negative impact with ease.
Before choosing a protector, check the quality and the density of the padding and ensure that it matches your training requirements.
Size & Weight
Boxing is a sport that demands quick and agile movements. You cannot let anything slow you down, especially your protective gear.
Therefore, a body protector needs to provide you with adequate padding without being too bulky or heavy.
You need to find the right balance between the bulkiness and the padding of your body shield.
At the same time, ensure that the gear fits you properly without being too loose or tight.
Today, most of the protectors come in a 'one size fits all design, which can be customized as per the trainer's body.
Nonetheless, it would be ideal if you try the body pad for boxing before buying to guarantee that you are spending your money on a gear that's perfect for you.
Durability
A body protector's whole purpose is to shield you and absorb the powerful punches coming their way.
This won't be possible if your vest is flimsy or frail and can't withstand a rough training session for an extended period.
Your boxing body shield needs to be highly durable, rugged, and tough enough to take a beating.
You must double-check your vest's stitching along with the shoulder and back strap quality to ensure that it doesn't break down in the middle of your workout.
The most durable punching vest material is genuine leather; however, it is also the most expensive one.
Synthetic leather is also a good alternative that provides adequate durability and protection for a long time.
Adjustability
Another essential factor you need to remember while choosing a body protector is that it needs to be highly adjustable.
This is particularly important if you plan to buy it online or share it with other trainers.
The Availableness of size adjustability with back and shoulder straps can make a massive difference in the overall fit of the vest.
This, in turn, can transform and augment your training sessions for an extended period.
That's because an ill-fitting or uncomfortable body protector will not only deteriorate the quality of your workouts but will also compromise the protection offered.
Price Range
Although this is an obvious point, it's still essential that you first decide the price range for your vest before you start looking for one.
With all the options available in the market, finding an ideal gear that meets all your requirements can often get overwhelming.
In the end, choose a durable body protector that provides adequate protection and lies well within your budget.
Final Words
When it comes to boxing, the safety of a person cannot be ignored.
That's why boxing body protectors are such an essential part of a trainer's routine.
That being said, choosing the right vest for your workouts is imperative since the gear you select can hugely impact the protection it offers.
And although we can't choose for you, we hope this article helps you narrow down your alternatives and assists you in selecting a suitable body protector for yourself.