Muay Thai pads provide the ideal way to deliver strikes during training without damaging or causing injuries to the holder. 
They are used to absorb the impact of any punches, kicks, or knees you throw at your sparring partner so you can train at full power and potential.
If you're planning on purchasing one but don't know where to start, below is a list of the best Muay Thai pads in 2022 to get you started.
Comparison of Best Muay Thai Pads
[table id=12 /]
Best Muay Thai Pads
Overmont Taekwondo Kick Pads
The Overmont Taekwondo Kick Pads are not only used in taekwondo: people can use them in Muay Thai training too.
It is made of ergonomically designed high-quality PU leather filled with a thick sponge that withstands solid kicks and powerful punches and an adjustable elastic armband that both children and adults can easily use.
If you are a beginner in Muay Thai, you would want a kick pad that will securely cover your arm for safety when you are the one putting it on and protection for your partner too.
This pad is safe for beginners, and it has dimensions of roughly 16″ x 8″ for the front striking area, already big enough to avail the protection you want to attain.
Kick pads training should make you feel powerful: even the environment can influence your ability to train in Muay Thai and other martial arts.
This pad is made from the two classic colors, red and black, to ensure you get a total experience and feel powerful and robust, reflecting your ability in Muay Thai training.
The character on the pad's front holds strength, power, and bravery. 
Although the kick pad's size may be enough for beginners, it can feel more minor to those experienced in Muay Thai training.
This video shows the Overmont kick pads when it is in use.
Everlast Thai Pad
Everlast's Muay Thai pad features an authentic Muay Thai fighting design.
It is made of premium, durably built synthetic leather that proclaims its provision for long-lasting functionality and durability.
Its dense foam padding is multi-layered and impacts absorbing, making it thick and more manageable while performing a punch.
Blocking kicks, elbows, knees, and punches in a Muay Thai training session requires a lot of security to avoid injuries.
This pad ensures optimal safety to make you worry a lot less about getting injured to make you more comfortable and focused on your movement.
Wearing a kick pad should be a weight that doesn't fatigue your arms. This pad is lightweight, ideal for kicks, knees, and striking combinations.
An adjustable hook-and-loop strap is included in this kick pad for an additional secure fit and quick wear on and off.
This pad's sturdiness will work well upon adults and children, so long as you wear the pad appropriately and you know how to use it along with your partner.
It is durable and functional and will last for a long time. However, this pad's size is not as big as you expect. It is an average-sized kick pad that can still be manageable to use.
Fairtex Curved Muay Thai Pads
From the name itself, Fairtex features its "curved pads" design that creates a tighter fit and better receive of leg strikes, making it an essential tool for all disciplines and styles at home or the gym.
Their kick pads come in pairs, and they have forearm support straps and a reinforced fixed handle to ensure balance and stability during your Muay Thai training session.
Safety is always essential during training. If you train with protective gear made from cheap materials, getting injured and paying more for the hospital bill is the worst-case scenario. But with these kick pads, your performance is your only worry.
These kick pads are lightweight and durable leather, giving you the chance to train your leg and knee strikes safely and with ease, making you more focused and prepared.
You need not worry about how big they can be to use them; not only do they come in pairs, but there are also different options to choose from. They come in three sizes: standard, extra-long, and extra thick.
In the video below, you'll know about the features that the Fairtex muay Thai pads have to offer.
Starting your 2022 with Muay Thai training with the best gear can motivate your progression.
These pads can be stable and lost-lasting; however, breaking them in is challenging. They are firm at first, making them more difficult for beginners to train.
Sanabul Battle Forged Muay Thai Kick Pads
Sanabul's Battle Forged Kick Pads are low-weight pads with subtle embossed designs that throwbacks to the traditional Thai style, making tradition meet technology.
They are made with engineered leather and a new Velcro loop closure system, making you feel modern pads with classic style on your Muay Thai training.
When you are determined about your training, you are determined about your gear too. The front striking areas of the Thai pads are generous enough to keep everyone safe during imprecise blows.
The pads' name itself is battle-tested, which fits those athletes who demand tougher material.
They have a cast-iron style finish that showcases their durability, and the pros have tested them. Since it held up for them, it should hold up for you too.
Each order comes in pairs, and these pads are ultra-lightweight. Even the lightest pads can become heavy when you're taking the number of punches, kicks, and elbows.
These pads have San-Air Ultra-light foam to set a new measure for trainers. No matter how light these pads are, they can absorb big hits.
This pad can fit both adults and children. However, they only come in one size, and the handles are smaller than expected.
TLBTEK Muay Thai Pads
 TLBTEK's Muay Thai Pad adapts a curved surface that is generous enough to accept attack power, making it conducive to receiving hits and force from your partner.
The front striking area is generous and large enough to cover your arm and ensure everyone's safety securely.
The kick pad is made of PU leather, which contributes to long-lasting functionality, durability, and explosion-proof whenever your partner makes hard attacks.
The inside part of this pad is filled with a thick sponge that helps protect the wrist from frontal impacts. It also has an adjustable armband and elastic wrist band which fits different arm sizes. Both right and left-handed people can use this kick shield.
Sweat during your Muay Thai training can make one feel uncomfortable.
This pad has a versatile breathable design that reduces sweat flow during training and increases air acquisition. Its closure is made up of thick lines for the edges, which produces an excellent cushioning effect, making it more beneficial to limit bursting.
While this pad can withstand strong Muay Thai kicks and punches, it is also lightweight, making you hold the pad for a long time without feeling any numbness after blocking your partner's hits.
However, it only comes in one size and is not sturdy to accept powerful blows.
Hayabusa PTS 3
Typically, Thai brands are considered the best kick pads for Muay Thai equipment and other kickboxing essentials.
But, this product from a western company proves that they are also set to produce a good record of equipment for combat sports.
The Thai pads created by Hayabusa are of excellent quality and durable materials. Moreover, their pre-curved design and ultra-thick construction enhance intense training while protecting the kicker and the holder. 
Most trainers consider this product a premium purchase because it provides solid comfort and protection.
Furthermore, the PU shell is as durable, pliable, soft, and flexible as leather. Its non-absorbent feature is also a plus for it allows users to wipe away moisture to prevent odor. 
Weighing about 40 ounces each, a set of these pads can also help you get the exact precision of kicks without tiring out. 
Overall, this purchase has proven versatile and requires easy maintenance while improving performance.
MaxxMMA Thai Pad
The MaxxMMA MMA Thai training pad is constructed of standard materials.
Its exterior is made of synthetic leather, fairly durable but cheaper than genuine leather. 
Additional details include two large hook and loop style closures secured with velcro, high-density foam as the pad's interior, and a nylon lace sewing the pad together.
The pad is of good quality for more extended use with all these materials present. Also, it is considered to be professionally sized. 
Overall, this product offers a good level of protection for the person using it and the fighter during the MMA series of training. 
This purchase is notably one of the best kick pads out in the market for this purchase is accompanied by a great level of adjustability and comfort because of its lightweight feature and strap options. 
However, according to users, one of its significant drawbacks is that this brand is only sold as a single pad, whereas most others are sold in pairs.
Contender Fight
Before you purchase this brand, one of the early signals is this is not the pad of the best quality, but this is probably one of the most affordable choices available. 
These features make Contender Fight the best kick pads for entry-level fighters who are just beginning with training in kickboxing, Muay Thai, and other types of MMA sports.
Even though this is an economical option for beginners, this may not hold up for a longer time than other products with higher value, but it offers a good experience while it lasts. 
However, this purchase is also recognized for its pungent smell, big and thick size, and smaller straps. 
Just a note that although they prevent injury for light to moderate strike force, they can leave bruises for heavy kickers. 
Overall, this is an excellent place to start if you're hesitant to invest in a premium pair yet. At a very affordable price, you can have a reliable option that will hold up to frequent hits and protect the person from impacts of solid blows.
Farabi Sports Thai Pad
Considered one of the best kick pads in 2022, this brand continues to uphold premium quality at a very reasonable price.
One of the main advantages of this product is its lightweight quality, even though it also has ultra thickness.
The EC-Gel-C-Shock technology of this brand evenly distributes the force of a blow and absorbs it before it can reach the surface of the other side, therefore protecting the holder from feeling the strike. Such quality is ideal and practical for heavy hitters. 
Furthermore, the primary material present in this pad is synthetic leather which is also recognized for durability. 
Other details include a helpful pre-curved shape and handle secured by a machine with steel rivets. In contrast to all these premium features, this pad is only sold as a single piece. 
In summary, although you can only buy a Farabi pad as a single piece, buying them in pairs is still economical given its price. 
Most trainers and fighters believe that this is probably the most budget-friendly, quality best Thai pads you'll find.
Elite Sports Muay Thai Kickboxing Pads
This pad can fit both adults and children. However, they only come in one size.
Primary features of this brand hold on to the fact that these pads are versatile as training kicking shields for fighters because these can be used by all genders participating in sports such as kickboxing, MMA, and Muay Thai. 
Such quality is also supported by a quad-layered curved superior striking surface made for heavy hitters.
In addition, maximum comfort is also offered with its adjustable two hook and loop straps for grip and fit. 
Effective shock absorption while holding pads in place is also guaranteed with its multi-layered gel integrated foam padding interior designed for massive blows. 
Although this product is made with ultra-lightweight materials, the presence of Nylex leather keeps the entire product durable. 
Overall, these pads are a good buy when you're looking for something that will last long, for great use, and is easy to maintain.
RDX Thai Pads for Kickboxing Muay Thai
This pad can fit both adults and children. However, they only come in one size and the handles.
With its triple stitched design, this Thai pad can withstand the impact of heavy and frequent blows and kicks. 
Although according to some MMA fighters, the padding does an excellent job at absorbing and redistributing the shock of impact, a few say that heavy blows leave a sting. 
The brand's ultimate goal is to enhance training while protecting the holder and the kicker. This is proven firstly with designed extra padding on straps to secure and cushion wrists. 
Another quality feature is its riveted handle accompanied by shredded textile material for effective grip. 
Also, because of its cheap price, this pad is manufactured with synthetic leather as the top material but still promises to give a reliable and pliable product. 
Although this product comes at a very affordable price, buyers believe its most significant drawback is that this pad is only sold per piece and not in pairs. 
However, it has been produced excellently to deliver well for athletes of any skill level.
How to Choose Muay Thai Pads for 2022
Do not just buy kick pads because you heard about the brands' names or look good. Buyers should always set standards, and this part will let you know what pads to pick and how to pick one.
The video below is a guide on choosing the right muay Thai pads for you to get.
Shape
Most Thai pads of different brands have the same shape, but they vary from their curvature in reality.
There are straight and curved pads and thinner and thicker pads. Curved pads are more accessible to break in than straight pads that are very stiff and firm at first use.
If you are a beginner, curved pads are your best choice. Breaking them in will be much easier and won't give you difficulty focusing during training.
If you are a veteran, you can choose whatever shape you want so long as you are comfortable with its functionality during your workout.
Quality
A Thai pad that lasts long can be an excellent investment, but how can you know if that pad possesses a long life span? Well, it's all about quality.
Pads made from Thailand are better than any manufacturer outside that country. Cheap pads won't only tear apart easily, but they can affect your safety too.
Remember that training should make you comfortable and safe with your partner. 
Not only will you be motivated to progress from your skills, but your pads will last long even when you hold them in your hand for a longer time than you expect.
Size
Some pads are available in different sizes, but some come only in one size. Any sizes are fine; it all depends on what suits your preference.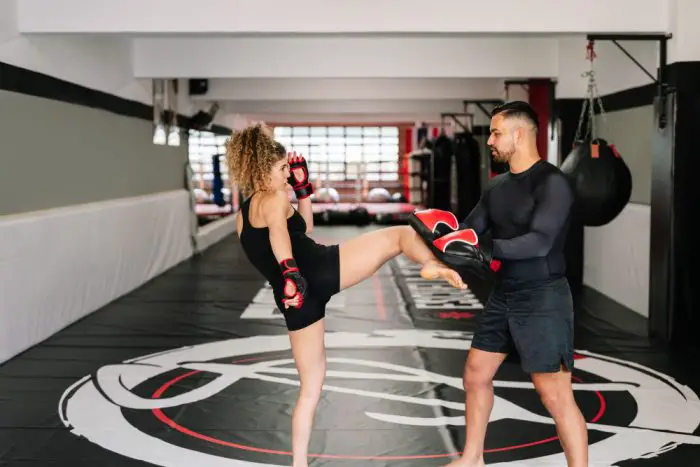 In choosing a size, make sure that when you wear it, the straps or bands fit your arm perfectly to avoid injuries, and the striking area should be generous enough for your partner to attack.
The size should protect you sufficiently to prevent further damage and one that can make your partner feel safe when he hits the pads.
Final Words
You may be tempted to buy cheap kick pads, but you should avoid buying one.
The best and suitable quality pad will last you longer and make you more focused on training with your partner: it will provide you excellent protection so that everyone won't suffer damage.
This article should have helped you decide the kick pads that fit your standards and preference and made up your mind for your chosen one.
So, what do you think? Let us know in the comments below.