Want to make a successful boxing career? Or want to try boxing or gyming for the first time? 
In both scenarios, if you don't have a sizeable space, hitting off the gym is the only option you are left with!
However, if that is not the case, you can make a home gym with all the important gym equipment, including dumbbells, weights, and a punching bag. Further, if you are low on budget, getting a punching bag is a good option for upgrading your boxing skills and basic training. 
There are different punching bags, and even though all of them are punching bags, they are used for different punching angles, and you should get one according to your need. 
Therefore, read further, and you will get to know the top 15 punching bags you should know about. 
Types Of Heavy Bags For Power
Different types of boxing bags are there for different purposes. The heavy bags are used to gain strength, muscle toning, and develop power punches, whereas the lightweight punching bags are useful for light exercises. 
All types are mainly categorized into two classes – hanging bags and standing bags. The hanging style bags are likely to be the best punching bags for home, whereas the standing style is preferable for martial arts.  
Each type has a few sub-categories based on standing or hanging style, training efficiency level, etc. Have a close look at each type to determine which one will be the best enduring option. 
Free Standing Punching Bag
From the name, you may have understood that it's a stand-up model; suitable for kicking workouts. The freestanding punching bags have a round base; that can be placed anywhere or moved by dragging it on the floor.
The center of gravity of this type of bag keeps it steady; even a strong kick couldn't affect its position. Most freestanding bags come with adjustable height.
Such bags are generally ideal for kickboxing or other martial arts, like MMA, Muy Thai, etc. though it will be a good choice of a punching bag for beginners. 
Standard Hanging Heavy Bag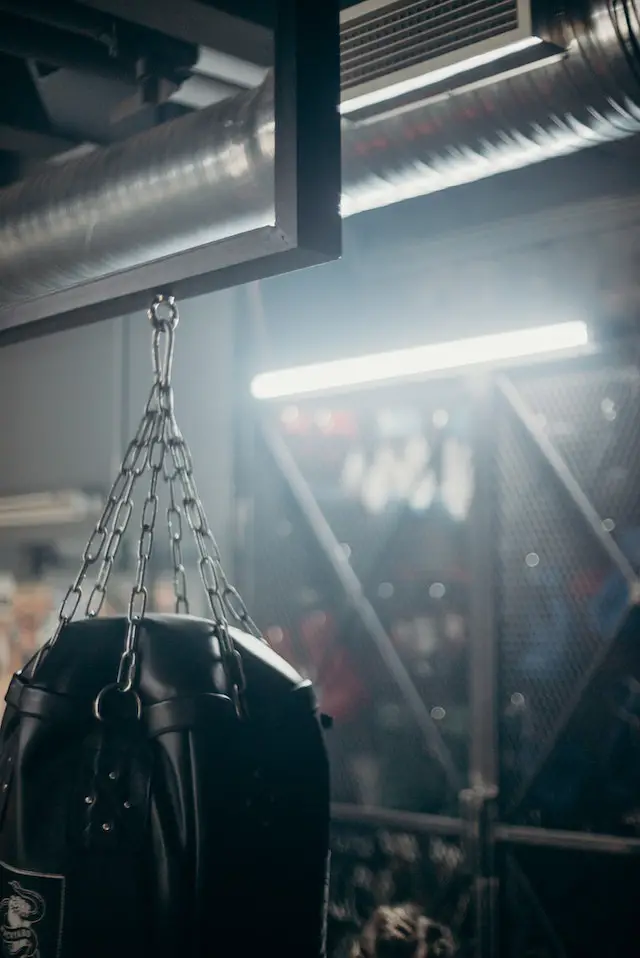 If your workout room is small enough, you can save floor space by hanging a standard punching bag. The standard hanging punching bags give you the freedom of placement and suspension as it allows you to mount them on walls or hang from ceilings.  
Such standard heavy-weight punching bags are suitable for punching workouts, especially for some straight punches, like – jabs, crosses, and hooks. If the length of the bag is extended up to at least 6 feet, it could be used for kicking practice or MMA training. 
Angled Heavy Bag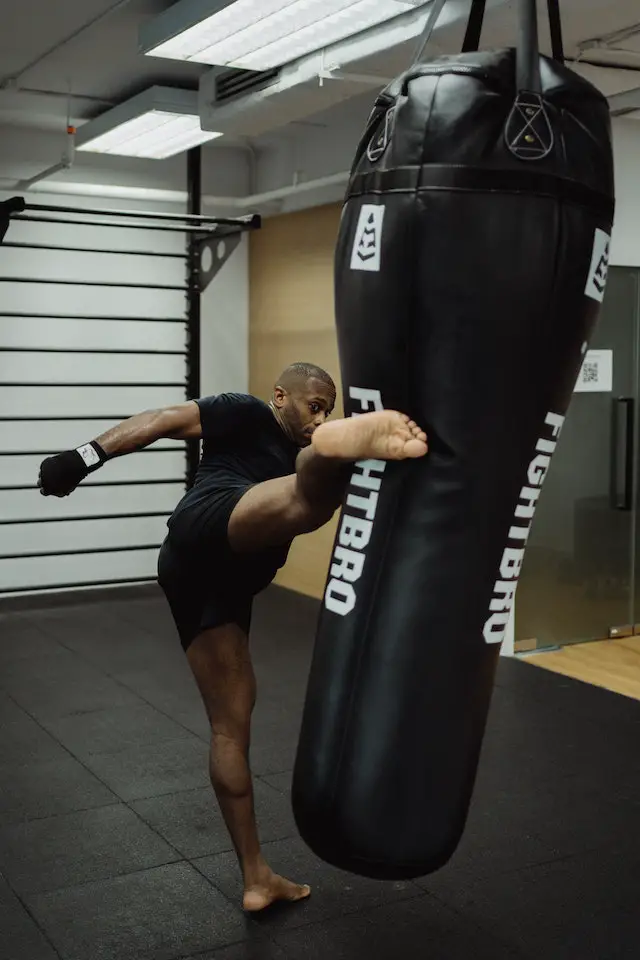 The angled heavy bags are almost the same as the previous hanging bags, but it has a curved surface. So the top of the bag is a bit wider than the bottom. 
Some noticeable features are this type of punching bag hits back and helps the fighter efficiently practice uppercuts, kicks, and other hits. 
The top is used for hooks, straight punches, and uppercuts; the bottom is best suited for kicks and body hooks. So boxers can train more than just basic punches with these punching bags. 
Wrecking Ball Heavy Bag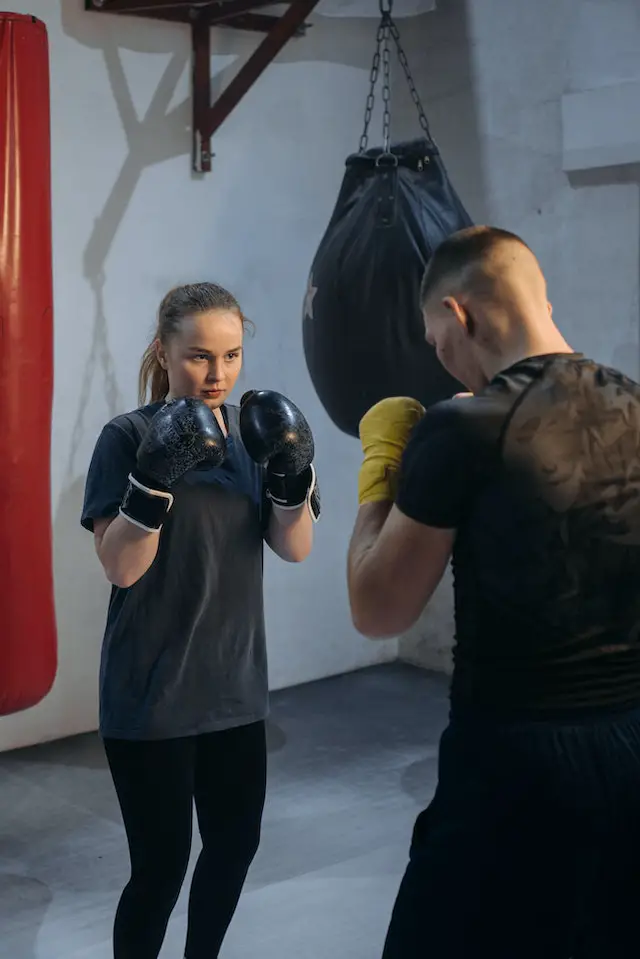 The boxers mostly use big and bulky wrecking ball bags to improve the power of uppercuts. The round punching bags provide better hitting exterior plus timing, accuracy, and footwork as they slightly swing. You can use this punching bag for ducking, slipping, and bobbing. 
Banana Heavy Bag
Banana heavy bags look similar to a banana and hence the name. They have long thin bodies compared to the usual heavy bag. This type is often hung to the bottom or simply fixed on the floor. 
It is used for practicing level-changing combinations and is best known for landing low kicks. However, this bag doesn't swing like regular heavy bags. 
Pole Bag
The Pole punching bag is similar to the banana bag except for its thickness. This type of bag is so heavy that it can be hanged and must be mounted on a vertical pole. 
This one is also best suited to practice level-changing combinations with some power. 
Grappling Dummy
The grappling dummy is another floor-standing bag; that looks like a dummy of the human body. When practicing with these, you get the real fighting feel. 
Also, the dummies can easily be mounted on the floor and help practice throws or takedowns, wrestling, judo, and MMA training. 
Body Opponent Bag (BOB)
The bob bags are floor-standing bags, but they are fixed to the floor. This sort of rebounding punch bag has excellent benefits for boxing training, especially kicks, punches, and martial arts. 
The BOOB bags look the same as a men's upper body. So, when it hits back, you'll feel like fighting with a real opponent.  
Uppercut Bags
The uppercut punching bags are just the mini-version of a heavy bag. It helps the athlete practice striking from the beginning at waist level towards the chin. Such bags need considerable space to mount horizontally and are hard to move.
Wall Bag
The boxers, who have limited space in their workout room, generally use wall-mounted practice equipment. The wall bags don't rebound and are helpful to train uppercuts, as it has a thick upper section. 
The construction of this bag is much more focused on developing uppercut punching power than other boxing techniques; swinging heavy bags helps to train.
Water Training Bags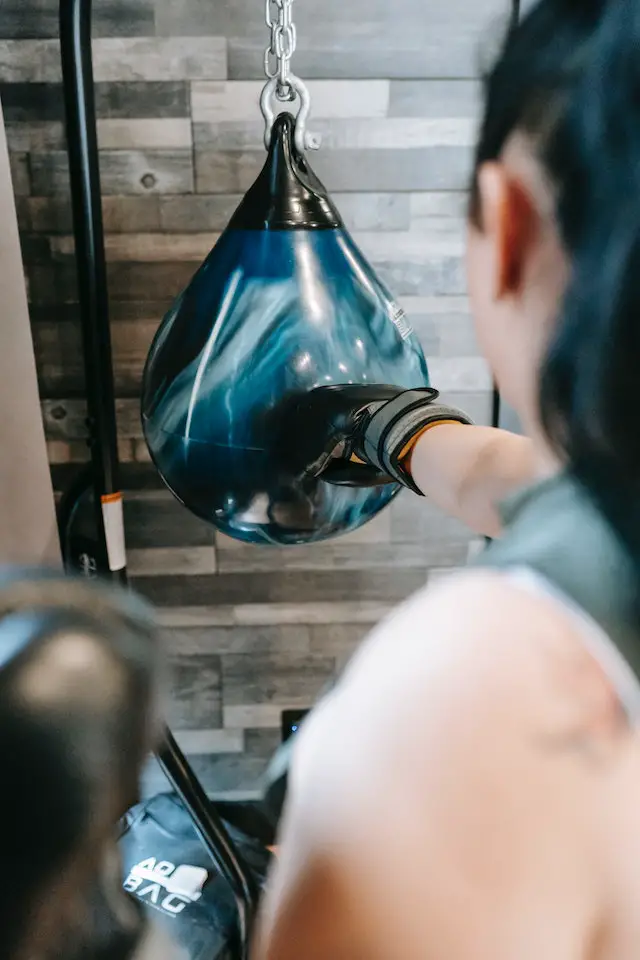 The water-filled bags also give the same feeling as we're hitting a real human body. These bags are available in different shapes and sizes, such as teardrop bags, standard punching bags, or human bodies. 
30lb to 200lb weighted bags are available; you need to choose according to your training need. 
Most people generally avoid using such water-filled bags being afraid of leakage, though the quality bags are durable, safe to use, and easy to fill, even requiring less maintenance.  
Skill-Oriented Types Of Punching Bags 
Speed Bags
The above-mentioned heavy bags are generally used to enhance strength, whereas the speedball bags help the boxer develop timing skills. Such reflex bags are lightweight, as they are filled with air. 
It gets mounted on the ceilings or walls with a short spring. So the bags typically come bouncing back with speed and train for fast punching and other quick workout techniques. 
The speed bags let the athletes focus on eye and hand coordination by concentrating on their speed and rhythm.  
Reflex Ball Bag
The reflex ball bags are typical speed bag, but it is floor-standing punching equipment. It provides the essential training function of quick rhythmic punches and hand-eye coordination. It helps you develop the skill of lightning-fast punches by countering each movement.
Traditional Or Mexican Double End Bag 
This type is another example of such punching bags that hit back. It is similar to the previous reflexive one; that also lets you feel like the opponent is hitting back.  
It looks like a small basketball and gets mounted permanently. The Mexican-style double-end bags improve the speed of hand and timing, but the focus of the practices should be on volume punching.
The double-end punching bags fairly have a wide punching area. Moreover, it allows hitting it from different angles and bounces back slowly compared to the speed back. So it's beneficial for beginners. 
Large Maize bag
Apart from developing the hooks and uppercut punches, give the large maize bag a try if you want to improve head movement. It swings well but is not ideal for practicing body punches.
Teardrop Heavy Punching Bag
The teardrop heavy punching bags are another good option for practicing close punches like hooks and uppercuts and head movements for defense. It is lightweight and much more swinging than others; it develops speed, timing, and accuracy.  
Slip Bag
It's not all about throwing punches one by one at the opponents. Sometimes, good boxers avoid the opponent's punches by moving their heads to the left or right. Such a defense technique is much more beneficial for winning a boxing match. 
A slip bag is the only bag that is not for punches. It is shadow boxing equipment; that improves head movement. 
What Type Of Punching Bag Should I Get?
Your type of bag depends on your training needs and preference.  
The heavy freestanding bags don't rebound; they are suitable for weight loss, muscle toning, and cardio training. So such heavy-weight bags are suitable for developing punching power. 
You should choose any of the heavy punching bags according to your weight. We generally suggest using a heavy punching bag, which is half of the user's weight. 
On the other hand, lightweight bags are meant to improve various skills and techniques. The speed bags, and double-end bags are suitable for developing hand-speed, hand-eye coordination, and other overall coordination.  
What Are Punching Bags Made Of?
Since you read till last (or just scrolled till the end), here's a brownie piece of information for your curious brains, "what are punching bags made of?"
Most of the bags come with leather, synthetic leather, or canvas material construction. The leather bags are the best among all, but a bit pricey and require more maintenance than others. 
The synthetic-built bags are the most popular, as the exterior material is long-lasting, cheaper, and doesn't require much care.
The heavy bags generally get filled with water, sand, or clothes for weight, whereas the speedy bouncing bags are filled with foam or air, making them lightweight and bouncy.   
Conclusion
You will find punching bags in various sizes, shapes, and styles, even filled with various hard materials. 
Some are designed to strengthen power and endurance; others work to develop punching techniques and a sense of speed and timing or polishing skills and accuracy.
Before choosing anyone, we suggest consulting with your trainer regarding your tolerance level, training purpose, and needs to make it a worthwhile investment.