Whether boxing is your favorite sport or you do it for workouts, the benefits are the same!  There are multiple ways to train yourself for boxing, but you need to incorporate different exercises and methods using different tools to get into the best shape. One such tool is punching bags! More precisely, aqua training bags!
But I got you. You are quite bored practicing boxing using the traditional boxing bags and looking to try something new and stumbled upon aqua training bags. 
Now you are curious to learn exactly what an aqua training bag is and how it can benefit you.
There are multiple benefits of practicing boxing using an aqua training bag. To learn both pros and cons of aqua training bags, continue reading this blog.
What are Aqua Training Bags?
Aqua punching bags or water punching bags contrast traditional heavy bags in two ways: the fillings used inside and the boxing experience. 
As the name implies, Aqua punching bags store a lot of water inside their rubber exterior. With its homogenous resistance, you get a real human-hitting experience totally different from other boxing bag workouts. 
Once you load the punching bag with water, it is ready to use, and the best part is, that it can keep its shape forever. 
Benefits Of Training With Aqua Training Bags
Aqua training bags offers multiple benefits; read ahead to know.
Increases HGH Hormone Production
Boxing sport helps maximize the VO2 levels between 75% to 90%(volume of oxygen your body uses while exercising rigorously), which increases the HGH hormone production that has life-extending properties. 
You can achieve high VO2 levels only when you hit the bag for a longer period. But the problem is the traditional heavy bags fail to absorb much shock and put stress on your body resulting in less-than-optimal training. 
But when you practice with aqua bags, the high kinetic shock absorption combined with low impact qualities allows you to practice for a longer training session with lesser stress on your body. 
Easy To Fill
To get the homogenous hitting surface, you may need to get the right mix of filling inside the traditional bags. But not anymore. 
Aqua training bags need to be filled with water and, if needed, can be drained within minutes. And the advantage here is that once it is loaded with water, it will keep its shape forever. 
Better Shock Absorption
As already mentioned, unlike traditional heavy bags, aqua bags are flexible, absorb shock quickly, and cut down hard spots. While training for a longer time, they reduce the probability of injury and protect joints and bones. 
So beginners and professionals will find the aqua boxing bags an easy tool to practice with.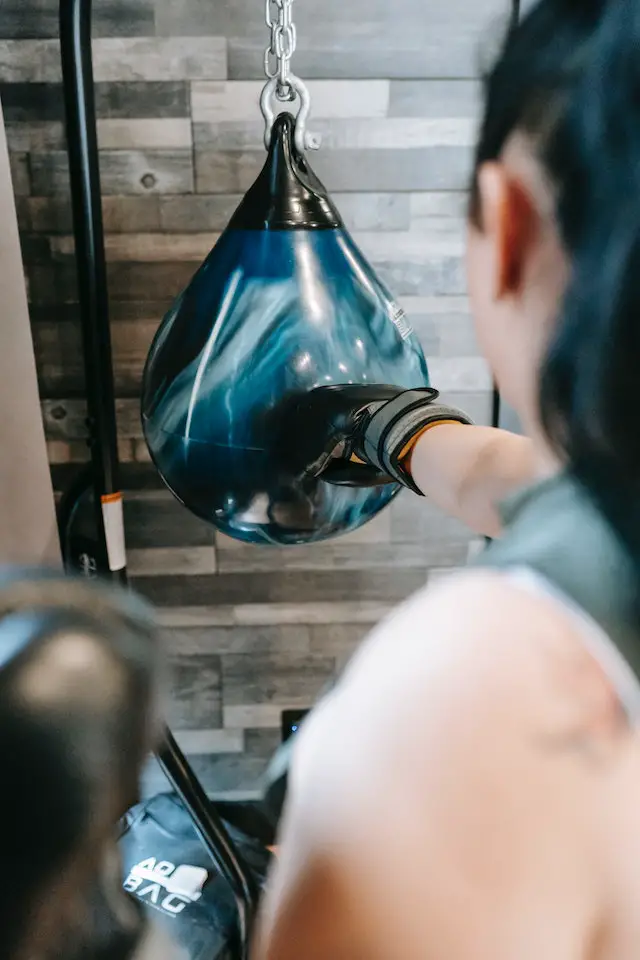 Easy To Store When Not In Use
Since aqua training bags uses water as the filling, you can easily drain it when the bag is not in use. So these bags offer quick and easy storage. Additionally, these bags are also travel-friendly. You can fold it and carry it anywhere. 
Builds Upper-Body Strength
If you are a boxer building your upper body strength and speed, then aqua punching bags are the ideal one. Especially, the teardrop shape guides the boxers on how to throw hooks, and uppercuts in extended combinations, thereby enhancing their boxing skills. 
Note: If your main goal is to improve the uppercuts, you must hang the aqua bag higher to hit its bottom and lower it to practice body shots. 
Good Resistance And Feedback
The aqua training bags absorb shocks and give you good resistance and feedback when you strike the bag. These bags are softer than heavy bags and give you a nice feel at the point of contact. In most cases, the water bags move around a bit, but they will not move like regular mid-sized bags. 
Ideal For Outdoor Training
Practicing outdoors is the best way to exercise, at least for me. Though these rubber bags can be used either indoors or outdoors, with waterproof and UV-resistant features, it highly suits the outdoors. However, if you live in areas with freezing temperatures, your water punching bag may freeze. So be careful.  
Cons Of Aqua Punching Bags
The aqua punching bags can leak and rip off. If it starts to leak, there is no way to fix it.
Not Ideal For Body Punches
It is pretty hard to train your body shots with most aqua bags, and chances are there for hitting your head if you practice body punches with this type of bag. 
Regular Refilling
If you are hanging the aqua bag outdoors, then the water might evaporate often, and you must keep tapping it up. 
Conclusion
Now that you have read the complete article, you must decide if the aqua bags would suit your need or not. 
Aqua bags responds more like a human body which is the biggest advantage of using them. However, it has some downsides. It might not suit professional boxers as they hinder them from mastering their boxing skills. 
I hope this blog explained well about the benefits of aqua bags. Thanks for reading through!