UFC Ring girl, Brittney Palmer has often been debated as the most attractive ring girl to have ever blessed the UFC cage side. With her stunning looks and beautiful curves, Brittney has been the most successful ring girl in the UFC. Brittney Palmer's looks have attracted large PPV numbers during the COVID-19 pandemic when arenas were empty and boring, Brittney Palmer was eye candy to many of the fans who were missing out on the regular hype and crowd reactions of live attendees. Born 0n 25 June 1987, Palmer originally resides in California and is also a freestyle painting artist after a vicious road accident.
Brittney Palmer's Multi-Talented Career As a Model, Ring Girl, And An Artist
Brittney Palmer has been an active model since 2005 and worked as a professional dancer in theatres like Bally's Las Vegas, and Flamingo in Las Vegas. After a car accident, Palmer was bed-ridden and discovered her passion for freestyle painting. Brittney's art pieces have featured in several different art galleries and institutions in Los Angeles, Miami, New York, and Milan.
In 2012, Brittney featured in the March edition of the Playboy magazine becoming the third ring girl ever to feature in the magazine. Since then, the ringside beauty has won Ringcard Girl of the Year award in four different occasions including 2012, 2013, 2019, and 2022. In 2013, Palmer also featured in a sports documentary and Indie movie, Snake and Mongoose.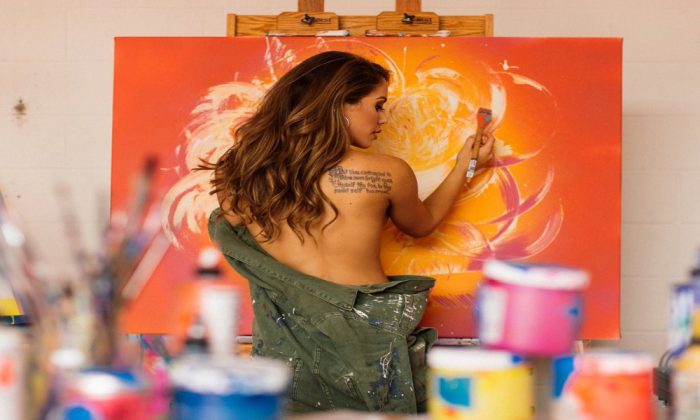 Brittney Palmer is currently signed to the Ultimate Fighting Championship (UFC) and has been their top modeling ring girl for almost 10 years now. The model turned artist has the most valuable contract with the UFC among all other ring girls in the promotion. This is also due to her stunning looks and accomplishments as a model, artist and ring girl. Palmer was once rumored to have been offered more money than former UFC heavyweight champion, Francis Ngannou to retain her contractual obligations.
Palmer's Philanthropic Endeavor
The Ringside queen has previously raised over $100,000 dollars with her art pieces, merchandise, original prints, and art exhibits for charitable purposes. Brittney has also been an ambassador with UNICEF, Generation Cure, and Lady Gaga's Born This Way Foundation.