Many boxers are skeptical about the idea of setting up their boxing gym at home, and that is because they think it is a challenging process!
But trust me, it isn't. 
Setting up your boxing gym at your home has many benefits. You can work out at your own pace, and it's economical too.
Are you looking for an easy guide that can help you in setting up your boxing gym at home? Then this guide is for you. I have given 3 simple steps. When followed correctly, you can set up your gym. Now let's get started. 
Steps To Set Up Boxing Gym At Home:
Step 1: Plan the space where you want to set up the boxing gym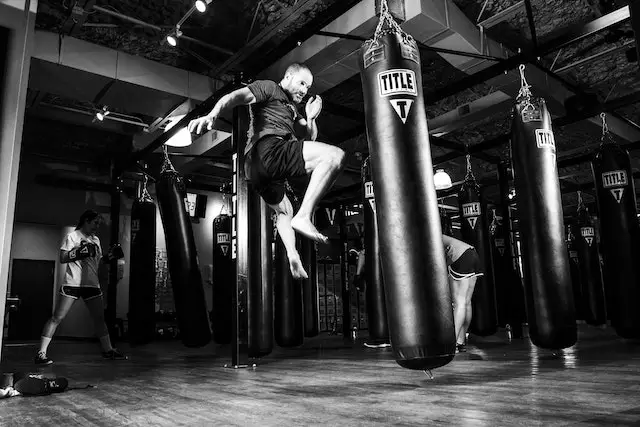 If you want to set up your boxing gym at home, first decide where you want to set it up. Is it your garage, that unused room, or just your backyard?
You need to answer this question and then proceed with setting up a boxing gym. 
If you won't utilize much space or have only minimal space left out, you can set up a small boxing gym. Minimal space is enough to practice shadow boxing or a heart-pumping cardio workout. 
However, if you want a more authentic gym experience, it demands a large space. 
In this case, setting up your boxing gym in your garage or backyard is much recommended because high-end boxing training with equipment makes noise. So your unused bedroom or any space inside your house will not be suitable. 
Did you know that your height and arm length also needs to be considered while choosing the space?
Yes, you read it right. This is because you need a comfortable space to move around while punching the bag without bumping into any type of equipment. 
Also, you need some extra space to do exercises like planks, jumping jacks, or burpees. 
Step 2: Start with the basic setup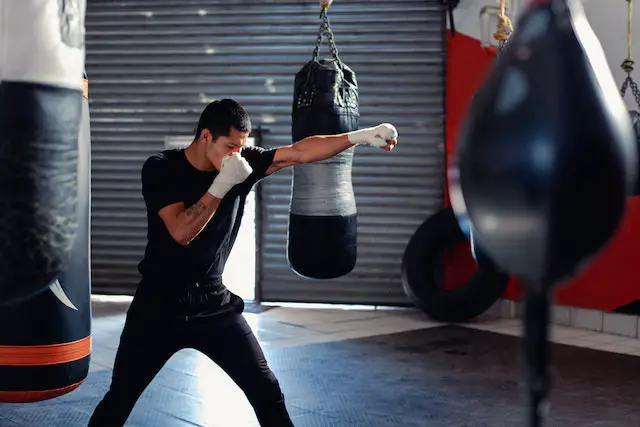 Once you have decided where you have planned to set up your home boxing gym, you can move to the next step – Setting up the boxing gym.
Start with the floor:
If you have a concrete floor (be it a garage or backyard), you will have a tough time because they are unforgiving on your joints. So if you would practice footwork drills or skip, then lay down mats on the floor. 
If you are looking for a quick and budget solution, get foam jigsaw mats. If you practice inside, use an area rug or carpet to lower the fall impact. 
Set up your punching bag:
Punching bags are the lifelines for most boxers. Set it up properly, whether you prefer a free-standing bag or a wall or ceiling-mounted hanging bag. 
You need to drill the wall or ceiling to hang a fixing bracket and chains using chains or fixing brackets.
Also, ensure you get the best quality hand gloves to protect your hands while punching. 
Step 3: Invest in other important boxing equipment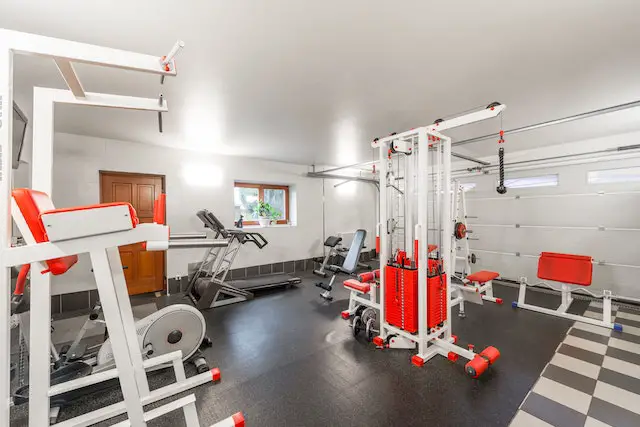 Once the floor and the punching bag are set, it is time to add other necessary boxing equipment to the home gym.
Apart from punching bags, you might want to set up other boxing bags. So if you have the space, invest in the double-end bag, hook and uppercut bags, and speed bag. 
In addition to your boxing gloves, you can also invest in boxing wraps or bag mitts. 
What about dumbbells, barbells, or kettlebells and weight plates? If you want to incorporate strength training, then consider adding these to your home gym. 
Get a storage locker. Though this isn't mandatory, you can get a storage locker or a dresser to keep things organized and store your boxing gear like wraps, gloves, etc. 
And voila, it's done. 
By following these three simple steps, you can get boxing set up at home. 
What Is The Benefit Of Setting Up A Boxing Gym At Home?
The biggest advantage of having a boxing gym setup at home is working out at your own pace, and it gives you more confidence.
Especially if you are a beginner who likes to start small, then in-home boxing can help you get started. A minimal setup like the one mentioned above and zero experience will work. You don't need any prior boxing training to get started with it. 
Also, a home gym setup is one of the best and most effective ways to stay in shape.  
You can save the money you would spend going to a boxing gym. 
Conclusion
You can add a personal touch to your home boxing gym by adding some aesthetics to set up the mood for your training space. In addition, consider decorating your boxing gym with medals or trophies(if you have any). This can be a good addition to your home boxing gym. 
Now that you have read this quick blog, you must have understood that setting up a home boxing gym isn't a big deal. I hope this blog was sufficient. Thanks for reading.