If you live in a small apartment, you probably have space constraints, and finding a dedicated space for your sports equipment is challenging. 
If you are a boxer, the difficulty level is higher. Because you have people dwelling beside you, and they may get annoyed with the punching bag noise, or your landlord might not entertain drilling holes in the ceiling to hang bags, and lastly, the space constraints problem. So boxing in an apartment is not that easy. 
To avoid these problems, you can invest in the best punching bags for small spaces & apartments in 2022.
To help you out, we have done extensive research and made a list below. Let's get started. 
Best Punching Bags for Apartments
 Ringside Boxing Double-End Bag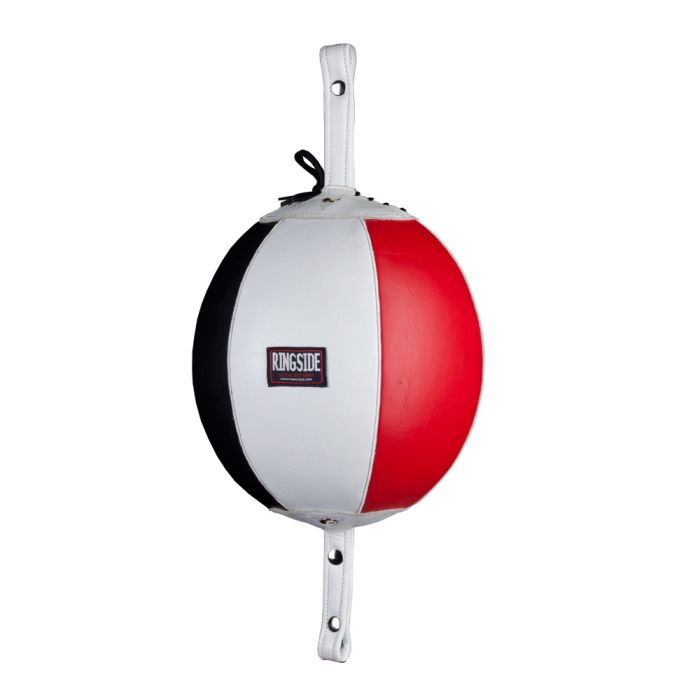 You can't underestimate a brand that stood tall for the past thirty years selling boxing equipment. So in our list of Best Punching Bags for Small Spaces & Apartments, we picked Ringside's boxing to double-end bag, and we can't recommend this one enough. 
This double-end bag from Ringbox has a top-quality leather construction which means it's durable and can take several punches, and comes a long life. Its longer and triple-reinforced top and bottom loops help hold the double-end bag firmly. You also get double-end bag cables included along with the pack. 
Be it a beginner or a professional boxer; this one has a knack for developing your skills. However, smaller-sized bags can be recommended for developing your quickness and eye/hand coordination. This double-end boxing bag doesn't occupy much space and can fit in your small apartments. 
Everlast Everhide Speed Bag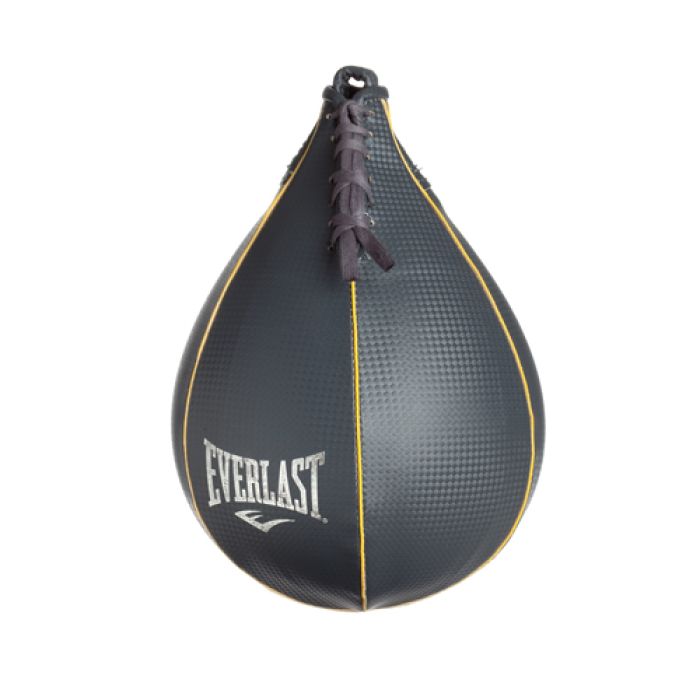 Everlast brand is an internationally acknowledged brand for selling boxing equipment for more than 90 years. The Everlast EverHide speed bag will help you level up your boxing game. 
Made of premium synthetic leather, a high-quality material, this punching bag is best known for its long-lasting and unmatched durability that allows you to balance perfectly. It also helps accurate rebounds every time you train for boxing. 
This speed bag for apartments is designed with Everhide technology that ensures extra strength and can easily handle hard punches. This is ideal for any speed bag workouts and reflex training and can easily fit in your bedroom or living room without taking up much space. 
Title Boxing Double-End Bag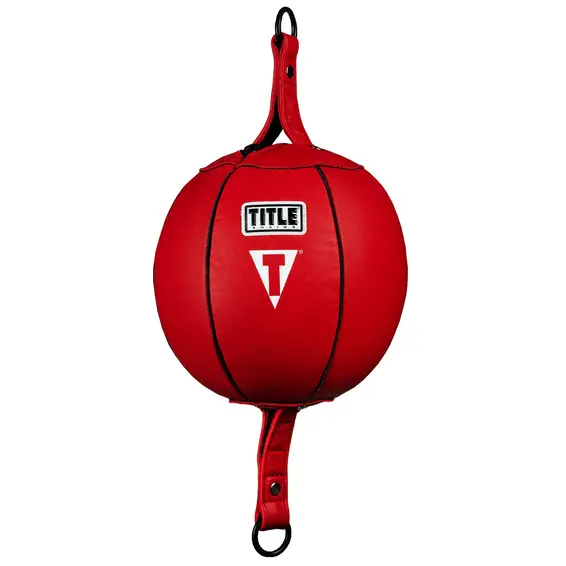 Are you looking for a double-end bag that can double your action and targets and speed up your training? Then you must take a look at the Title Boxing Double End Bag. This double-end bag is made of long-lasting engineered leather that is super durable. 
What makes it long last is it is covered with leather welted seams, triple nylon stitching, security loops, and finally, some top and bottom rivets for long-lasting results. You can hang it easily using its double-end bag cables with S-hooks. 
Don't miss out on this durable double-end bag for small apartments available at a competitive price.
Power Core Bag

Another exciting punching bag from Everlast is Power Core Bag, but this time, it is a freestanding heavy bag that is best recommended for your fight sports fitness routine. 
Heavy bag workouts have enormous benefits. It gives you cardiovascular strength and agility by working out with it, and you can reap these benefits in the comfort of your own home with this bag. 
Its air foam chamber provides you with a realistic feed. Thanks to its rounded design, you get to increase cardio, leg conditioning, and hand-eye coordination. 
You may get this doubt whether it would stand still and take in hard punches, but rest assured the Powercore power ring present here absorbs impact and also reduces base movement and sliding. 
You can fill the high-density base with sand or water. It is also height adjustable from 54 inches to 65 inches. With all these amazing features, we recommend this best heavy bag for small spaces that can fit any bedroom or balcony, or living room. 
Everlast 70-Pound MMA Poly Canvas Heavy Bag

Everlast 70-Pound MMA Poly Canvas Heavy Bag is the best answer if you are looking to hit the gym like the pros at your small apartment. 
This punching bag is connected to heavy-duty nylon straps that provide safety and security and can be easily hung. It also includes an adjustable height chain using which you can adjust the boxing bag according to your height and comfort. 
What makes it more durable is its premium synthetic poly canvas and superior punching bag construction. It has an amazing shock-absorbing capacity, thanks to its filler mix of sanitized synthetic and natural fibers. 
It is available only in one size, and if you are looking for a compact yet durable and strong punching bag for your apartments, we highly recommend Everlast 70-pound canvas heavy bad. Grab this punching bag for small spaces before it goes out of stock. 
Protocol Punching Bag with Stand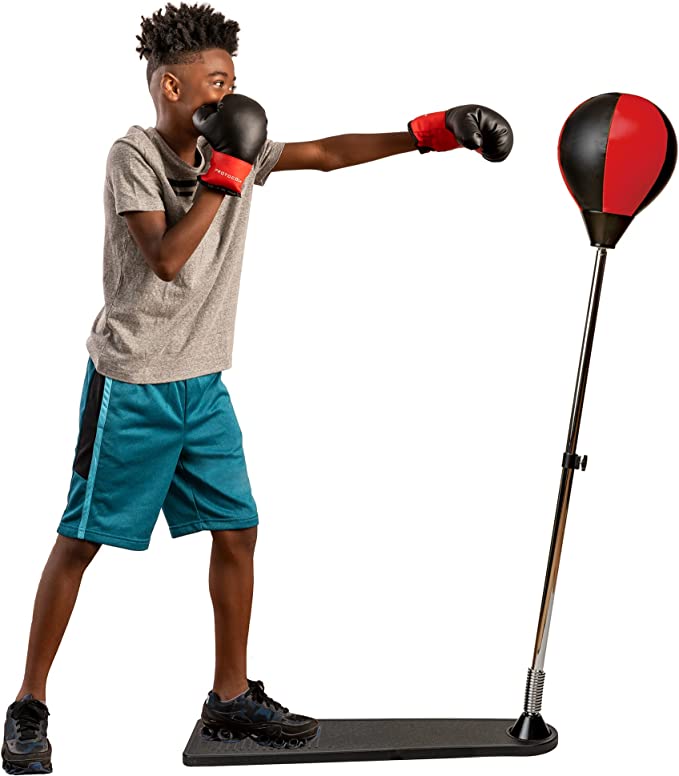 Next is a best-selling punching bag from Protocol brand that can easily fit your small apartment or indoors. 
If you are on the hunt for an all-in-one punching bag with a stand for kids between 8 to 12 ages, then look no further. This punching bag set includes an inflatable punching bag, base, adjustable pedestal stand from 35inches to 50inches high, and an inflatable pump. 
The punching bag is quick to inflate and easy to set up. Your kids can throw wild punches with the help of padded boxing gloves. The Flexi-stand rebounds easily and makes it easy to get into the practice routine. 
Whether you buy this kit for boxing or to help them get good exercise, this punching bag will be a perfect choice.
FITVEN Freestanding Punching Bag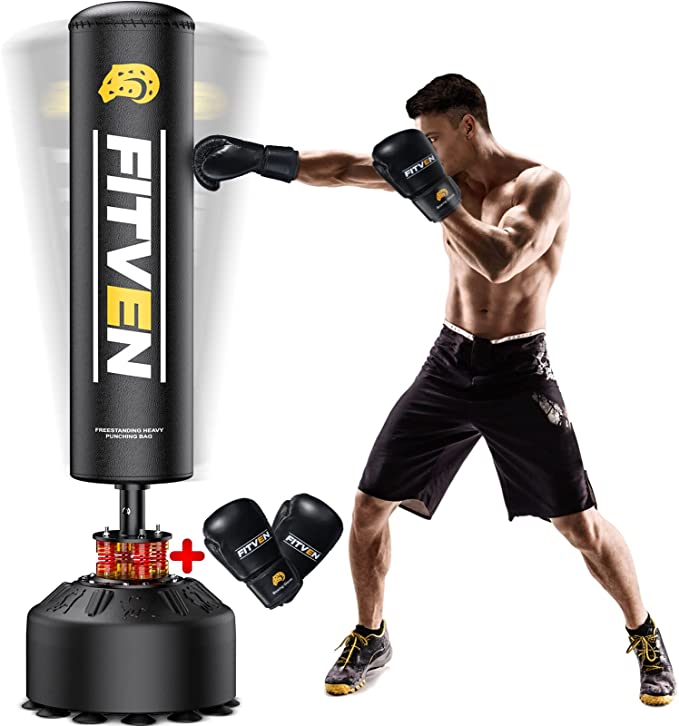 Are you looking for a free-standing punching bag that can suit both kids and adults in your small apartment or suit your indoors? Then, FITVEN freestanding punching might excite you.  
Under 200$, this punching bag is a big thing because it has huge features that can help you level up your boxing training. 
This kickboxing bag stands 70 inches and helps you develop throwing strikes at an entire range of your body. So even if you aren't into boxing training, you can use it for relieving stress and building strength. 
Designed with multi-layer construction, this punching bag has an eco-friendly buffer, stainless steel tube stand,  2mm premium PU leather, and high-density EPE foam. All these materials make it a durable and reliable punching bag. 
You don't have to invest in separate gloves as this set comes with 10mm thick foam gloves with a curved anatomic hand design. It can easily absorb shock and protect your palms and knuckles. 
The manufacturers recommend filling the base with sand to make it stand more stable. Overall, the punching bag is tear-resistant, durable, and compact, so it can fit in your small apartment. 
Everlast Single-Station Heavy Bag Stand with a 70-lb. Heavy Bag Kit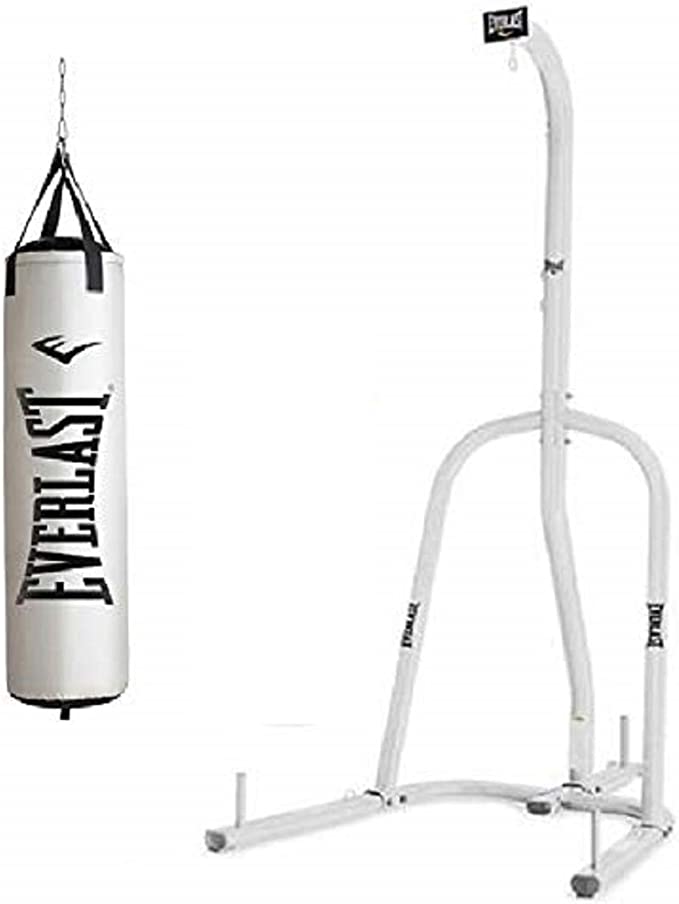 If a heavy-duty boxing bag stand and a punching bag combo are what you are looking for, then Everlast single station heavy bag stand and heavy bag kit are worth taking a look at. This combo gives you a complete gym setup feel and can meet all your requirements. 
If you are starting with boxing training, it is essential to begin with, a lightweight punching bag. That said, this 70lbs small heavy bag will be the right choice. You also get boxing gloves and hand wraps that help you stay fit. 
Talking about the stand, it comes with sturdy three-weight plate pegs that offer excellent stability. It is easy to install and can support up to 100lbs of weight. 
If you are a beginner boxer, this combo can suit you well. 
Title Boxing Doorway Bag Set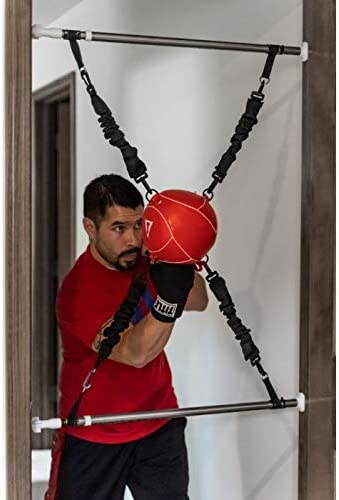 If you are looking for a quiet punching bag, then doorway punching bags are the best. That said, we recommended Title boxing bags which pave the way for silent boxing. This bag is round in shape, resembling a ball. So it suits high-speed punching bag practice sessions. 
The 8 inches ball has a leather out cover, and four attached metal D-rings with the other end connected to the four nylon-wrapped accordion attachments resistance bands. These bands are then connected to strong PVC attachment clips. 
One of the exciting features of this bag is that it can be adjusted by the spacing between two-doorway bars for varied resistance. 
This punching bag is also easy and simple to set up and remove. You can practice every punch in the arsenal using this bag. However, while practicing, this bag didn't take heavy punches, and the tension rods were a bit weak and fell off a few times.
What To Consider When Investing In A Punching Bag For Apartments And Small Spaces?
Consider several factors while investing in the best punching bag for apartments and small spaces in 2022. Some factors include sound, vibration, material type, build quality, and punching bag size. 
Sound And Vibration
Staying in an apartment and practicing boxing using a punching bag can annoy your neighbors. The sound and vibration generated by normal punching bags are reflected throughout the room, walls, roofs, and floor. So it is recommended to look for punching bags that emit less noise and vibration and don't disturb anyone.
Durability And Build Quality
Nobody would want their punching bag to tear off after a few hard punches. So the next factor to consider is durability and build quality. So check if the outer material is made of high-quality leather. Also, check if the freestanding bags are multi-layered as they last long. 
Size
This is the most crucial factor to consider. Suppose your apartment is small, it can't put a large punching bag inside it, or you can't drill holes in your ceiling to hang any bags. With these things in mind, you are given limited options to opt for while choosing the best punching bag for apartments. 
Doorway punching bags or double-end punching bags are compact and serve the right purpose. Heavy bags can be hung using stands, and freestanding can be fixed using a weighty base. All these types are compact. However, it would help if you chose them based on your expertise.  
Conclusion
That's the end of this article. We have reviewed the 9 best high-quality punching bags of 2022 of various types like freestanding, doorway punching bags, single station heavy bags, double-end bags and heavy bags that can suit your small apartment. 
We have tested and picked only the punching bags which worked best for us, and we believe that they will be useful for you as well. Thanks for reading through!