Let's face it, finding the best home-training mats for you is not as easy as it sounds. For one, it needs to level your expectations in terms of size, thickness, weight, and of course, budget. With the different mats available in the store, it's quite hard to decide for yourself, right?
Well, fret no more! We got you covered with these lists of home-training mats that will fulfill your idea of the best mat for your training. With these lists, we make sure to give you a high-quality product that is both cost-efficient and long-lasting.
Best Mats for Jiu Jitsu, MMA, & Boxing
10'x10′ Dollamur Flexi-Roll® Wrestling Home Mat (black)
In warm and humid countries such as America, gym mats are generally more prone to microbial growth. This is especially a concern with garage-turned-home-gym settings that are not well-ventilated.
Hence, this product is perfect for you. It has a bio-pruf technology that includes incredible germ resistance. As a result, microbes are less likely to survive in this type of mat.
To add, it will drive your worries about skin infections away! What's more, the texture of this mat does not get slippery at all – just in case it is one of your concerns, too.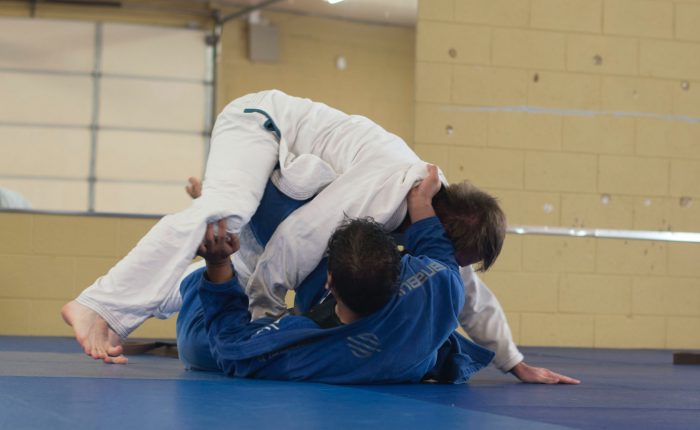 BalanceFrom Puzzle Exercise Mat with EVA Foam Interlocking Tiles
This particular mat includes interlocking tiles that click together and twelve border strips which form straight lines on the edges of your home gym area.  
What's unique about this mat is the dual density of the foams used. Hence, you can say that it is durable enough. Plus, it provides a comfortable cushion for takedowns or ground training. It sounds like a deal, right?
IncStores Cheer Mat | Rollout Gymnastics Mat with a Grippy Gym Carpet Top
As to say, this mat is perfect for home workout and training practices.
For aesthetics purposes, if you want a rollout mat with a variety of combinations to pick from, then this mat is the perfect one for you. It provides mobility and cushion-supported training.
To add, you can connect multiple mats together if you opt for a bigger size than the regular one. This can easily be done since Velcro strips are fastened around the edges of the mats. It sounds convenient, right?
Look! You can even choose from the eight available colors of this mat: black, charcoal grey, light grey, grey, blue, purple, red and teal.  
If you choose to train with this one, you can just unroll and drop it one the floor then boom, you're good to go.
Z Athletic Gymnastics, Tumbling, Folding Mats 
If convenience is your top priority, then you might as well consider this folding mats. In just one simple step, you lay the mats on the floor and you're ready to train all day long.
This mat is secured on all sides with hook and loop closures. So, you don't need to worry about it falling off while training or detaching per se.  
If you are concerned about the environment, as well as repercussions that may occur due to high-accumulation of plastic, then you'll love this mat. It is made of closed cell, non-toxic, polyethylene foam.
Due to the materials used, its longevity is guaranteed. Hence, you get to utilize it up until every centavo that you use will pay off. Plus, it is extremely durable.
Polar Aurora 4'x10'x2 Thick Folding Gymnastics Exercise Mat 
Another convenience-centered mat is this product. You can quickly roll and unroll this mat whenever, wherever, and however you want. That being so, it can be easily stored to cabinets or any other storage you have at home.
Moreover, it is made of a high-density, environmentally-friendly foam. This means that you can safely execute takedowns or ground work against the mat.
The material used in covering this mat is a PU leather, hence it can get slippery in warm, humid, and non-air-conditioned rooms. However, it also means that I can be so easy to clean whenever it gets dirty.
To add, it is securely fastened with Velcro latches on both edges. Hence, you can expand and customize it bigger for as long as you want.
As for the color combinations and styles, there are ten available options: black/green, blue/green, red/black, rose/black, pink/purple and blue amongst others.
We Sell Mats 4 ft x 10 ft x 2 in Personal Fitness & Exercise Mat
Next on the list is this we sell mats that are composed of crosslink polyethylene foam with a heavy-duty vinyl. As to say, it is good for compact storage.
If your training routines include solo drills (or drilling in general), grappling, and casual sparring with a live partner, then this mat is perhaps the best for you. However, it is not entirely up for full-blown and competitive sparring sessions.
This is because of the grooves in the surface that may lead to feet or toes injuries. Hence, if you want to train for sparring exclusively, then I'd suggest you consider the other options listed.
Moreover, this can easily be expanded into however big you want your mats to be. This can easily be customized through the hook and loop fasteners on all edges of this mat. In fact, you can cover the whole floor of the room if you want!
As for the color variations, the ones available are: black, blue, purple, pink, green/blue and green/red/yellow/blue.
IncStores 1-Inch-Thick MMA Foam Flooring Tiles 
These mats are not just for jiu jitsu, but also for BJJ, MMA, and other forms of combat sport. That is how incredible this product is because it supports all kinds of training. After all, it is made for modern MMA actions.
For one, it does not necessarily take up storage space when you wrap them up. Therefore, you can easily roll and unroll it, then place it away somewhere without going through so much hassle.
Ideally, the tiles available are in the size of 2ft x 2ft or 3ft x 3ft. For the lock, you do not have to worry at all because it is fastened together securely. Hence, you do not have to worry that it may detach or fall apart during your exercise or training.
Additionally, the tiles are made of non-toxic and high-density material of foam. As to say, they are light-weight so they can be carried around easily.
The materials are also incredibly durable. In fact, it will last for years especially if placed or used indoors.
Final Words
Here, your comfortability is the priority. After all, you are the one using the mats, right? Hence, we aim to provide what will best suit your liking.
At the end of this discourse, we hope that we've offered you some help in your current dilemma of choosing the perfect mats for you. Rest assured that the products listed above are of good quality, it just depends on your preference.