So, finally, you decided to go beyond the gym memberships. You're here, which means you've chosen boxing over all sports. Great! I believe; that boxing is a never-ending journey! Once you try your first class, you will leave with a feeling of confidence and strength.
Whatever! Are you looking for the required monetary investments for your first boxing class? Hey, no need to wander around more. Stay tuned till the end.
In this article, you'll know all the probable essential costs of starting boxing training. 
Which Factors Affect The Cost Of Boxing Classes?
Before getting into the pricing list for different types of boxing lessons, let's have a look at what affects the cost of your boxing classes – 
Class Size
Naturally, the cost of a group session is less than one-to-one private boxing lessons, as the total charge will be split between the group members. If you're just thinking of starting, group lessons will be the ideal choice for you. The cost will remain less plus you can learn more from others. 
Frequency of Lessons
Most boxing academies compose their course with a single class in a week. If your coach feels that the additional classes are necessary, they will increase their monthly fees automatically. 
Duration of Classes
A one-hour-long boxing lesson is enough for beginners. If your trainer advises you for longer sessions, it will add some additional fee. 
Instructor's Experience
You'll want a highly qualified trainer for you. If you desire to take training from a national-level trainer; who coaches professional boxers, it's natural their remuneration will be high. 
If you've recently started with a basic level trainer or a senior player, make sure they're registered as a boxing coach, and their training procedure is up to the mark and correct.   
Student's Proficiency Level
If you are at the basic level, where you get trained regarding proper posture or the correct way to hold your hands, those may not charge you a huge amount. If you're at the level where you are about to fight in a competition, you'll need a top-class coach; who can teach you some more challenging techniques to defeat the competitors. 
Naturally, they will charge you as per their reputation and the advanced training you're getting caught. Also, You can't get admission into the advanced stage if you're not proficient enough to withstand the heavy training. 
Location
Location matters for all things, be it a gym or a beauty salon. If the studio you choose is at the center of the city or you belong to a capital city, the charges of the boxing clubs naturally will be more too than the smaller cities. 
The Price of Different Types of Boxing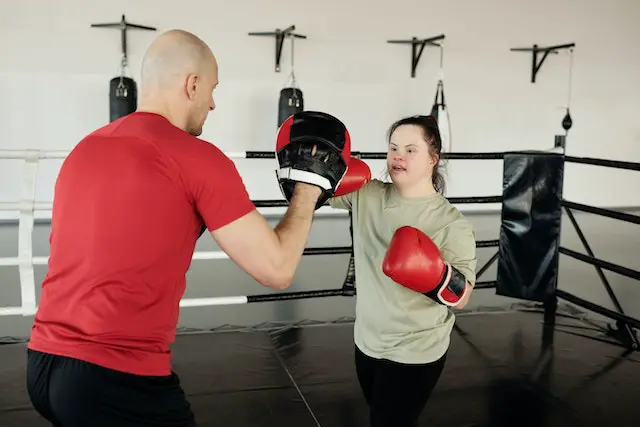 Kickboxing lessons:
Several kickboxing clubs charge from $70 to $140 for unlimited classes each month. On the other hand, some others charge $10 for a single class. Some American kickboxing academies offer courses of 3, 6, and 12 months; that cost around $417, $774, and $1,428, respectively.  
Martial Arts Classes:
On average membership, the martial arts academies cost from $100 to $200 per month, depending on the location. Generally, they provide up to 3 or 4 classes in a week. Some private MMA instructors charge $25 to $50 for each class or $10 per hour. 
Muay Thai boxing Classes:
In Thailand, Muay Thai training classes cost between $10-$23 (300-700 bahts) per session, $64-$96 (2000-3000 bahts) per week, and $222-$318 (7000-10000 bahts ) per month. The boxing academies in the United States charge from $20 to $50 for a single Muay Thai class. 
Other Essential Expenses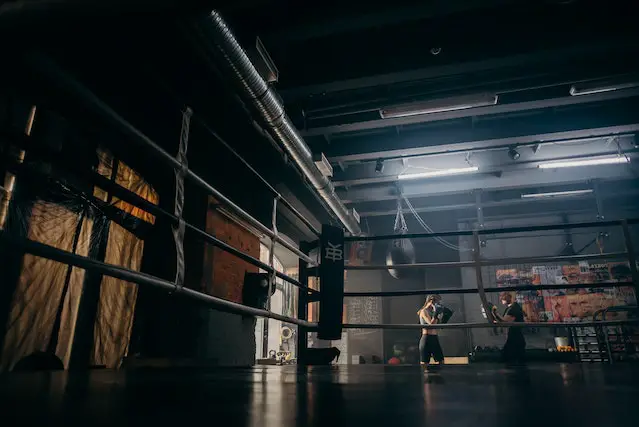 Cost of Boxing Equipment
If you just started thinking of joining a boxing class, the cost could be a bit bigger depending on whether the studios or clubs will offer you free gear or not. Several boxing clubs don't offer free gloves, headgear, or other protective equipment for brand-new members, so you may have to purchase these essential items by spending extra. 
To help you out, we have listed the essential items with their probable price tags – 
Gloves: 7.99-39.99 Pounds
Mouthguard: 2.49 – 7.99 Pounds
Head guard: 14.99 – 24.99 Pounds
Shin pads: 1.99 – 4.99 Pounds
Shoes: 39.99 Pounds
On the other hand, some trainers or clubs set their remuneration by including the cost of uniforms, belts, or other protective gear and testing fees.
Medical expenses
Before starting any sports training, most clubs and trainers require a medical fitness certificate. They arrange your workout and training schedule according to your fitness level. So, please be ready to present several medical reports when you come to take the admission. 
Conclusion
If you have ever dreamt about being a professional boxer and started stepping back due to your financial background, please don't do that. Here, we are fighting our fight. Everyone is working together and learning from each other; just start your journey.
After walking for a while, you will see many roads to take your dream forward. You'll get several boxing scholarship competitions to pursue your dream and professional careers.