Boxing socks may be one of the most overlooked gears in the sports world, but the right socks can play a more prominent and more significant role in the ring and in your training than you think.
It can amplify your performance by providing a higher level of support, protection, and stability with such a minor upgrade. And most importantly uncomfortable socks can bug you all the time and hinder your concentration.
Below is a breakdown of the best boxing socks currently available in the market that you should check out.
Should I Wear Socks with Boxing Shoes?
It totally depends on your personal preference. But, many boxers and youngsters like to wear socks during their boxing workouts and matches.
When doing footwork drills in boxing, your shoes should be comfortable, and it's up to you how you feel comfortable, with or without socks.
Best Boxing Socks in 2022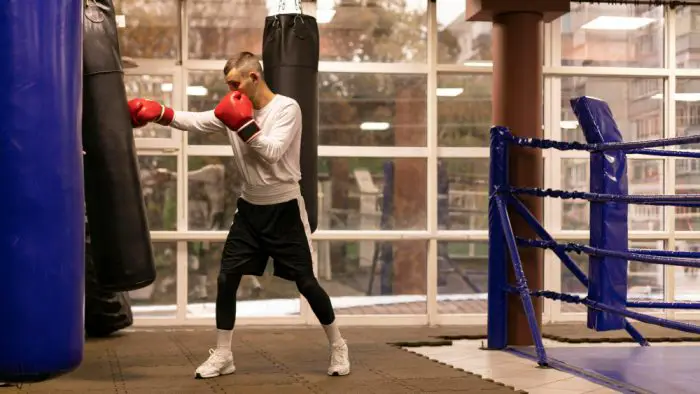 Sanabul Foot Grips
These socks feature a highly breathable and comfortable 4-way stretch neoprene design that stretches in all directions to prevent constriction while wearing.
It is designed to give you optimal movement and allows you to create pressure on the heels and on the toes to give you a solid footing in every kick and strike during boxing or kickboxing.
This stretchable material offers the perfect fit without constraint on your feet and delivers a greater range of movement. When you wear them along with your boxing shoes, you'll feel how comfortable they're. And trust me, it was a pleasure to wear these boxing socks.
The material is also designed to be sweat and dirt resistant to prevent it from collecting as much grime to reduce the risk of foot fungal or bacterial infections keeping your feet fresh and comfortable during your long hours of boxing training.
These non-slip foot grips give you a better grip on the floor or mat to ensure that you don't lose your footing and balance while boxing. I personally felt the added benefits while using it.
It also prevents accidents and injuries to happen from slipping down, so you don't have to worry and compromise your movements while punching or striking, giving you a better performance in your training or in the boxing ring.
The socks also help protect your feet and toes from friction burns, abrasions, and cuts from frequent and abrupt movements.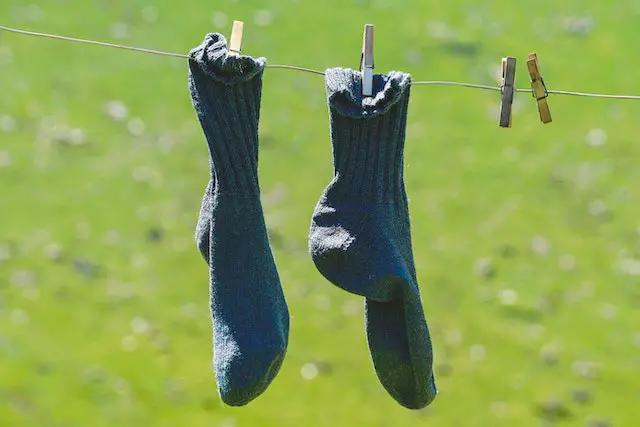 Odd Sox Novelty Crazy Cool Silly 80s
For more fun and expressive sock options, Odd Sox adds a lot of spice to the normal and conventional socks we are all used to.
Their advocate is to "Stand out, be ODD," and you will be with their socks that come in an array of vibrant colors and funky and trendy designs. I mean, I am a great fan of vibrant socks. Let me know about your preferences!
Their novelty socks are officially licensed, featuring characters from your favorite shows and brands.
It is knitted from a blend of cotton and elastic that is very stretchable and breathable to give you optimum movement and a comfortable fit. These socks are thick enough to protect you from abrasive surfaces while boxing without restricting the feet and calf.
The knitting on these socks is also well-done to deliver breathability keeping your feet fresh and dry during long hours of wear while training. To top that off, the impressive knit technology also gives the sock designs precise details. The overall feeling of these boxing socks was quite evident to it in practice.
These crew socks have an extended cuff for a more snugged feel and feature a Y-Gore light cushioned heel for a more secure fit.
It enables you to create pressure on the heels when striking or punching while boxing more comfortably because of the added cushion. I believe
It is incredibly lightweight and soft, yet durable delivering you the softest foot feeling and ensuring it lasts for a long time. In my case, I sometimes even forgot that I have socks on and you can tell how lightweight it is by this.
So, in your regular boxing workouts, whether you use boxing shoes or wrestling shoes, you can wear them, and you'll love these socks.
Roar Neoprene Socks
These MMA socks provide non-slip foot grips perfect for boxing, MMA, kickboxing, wrestling, yoga, or any other sports that require a lot of footwork and extra traction.
It helps provide a solid footing on the surface to prevent you from slipping and losing your balance while training giving you more confidence and better performance.
It highlights its Neoprene/Silicon Ankle Support that features new unique silicon innovation technology to deliver increased protection, firmness, and support throughout the feet and also helps to aid in the recovery of the injury. I feel that it is a great addition from the company.
The Silicon design follows the contours of the tendons and ligaments for further ankle support and compression when doing a lot of kicking and footwork which makes it one of the best socks for boxing.
The Roar Silicon Ankle Support also features technology that enables heat retention to encourage blood flow and oxygen to soft tissue injuries for faster recovery and help prevent further injury.
The Roar socks are made from 2mm neoprene and Lycra-X, along with its 4-way stretch neoprene design that contributes to the durability and comfortability of these socks. I felt it to be extremely comfortable and well built.
It is highly stretchable, allowing you to have more free and spontaneous movements without constriction.
It features AeroTherm technology that helps in removing excess sweat allowing the skin to breathe and reducing odor and bacterial growth to keep your feet dry and fresh.
RDX MMA Socks
These non-slip MMA socks have a unique patent-pending design specifically developed to provide greater strength and flexibility and allow you to extend your grip on the floor or mat. I am seriously impressed with this technology and hoping to try this out.
The rubberized dot-mapped sole offers excellent slip resistance on almost any surface offering superb grip and traction for a more solid and steady footing allowing you to keep your balance and control while boxing.
It is also designed in a way that you won't be able to feel the dots and bumps through the fabric for a more comfortable feeling. And I can imagine you can't wait to try this out!
The RDX socks are engineered with Neoprene and Lycra fabric to deliver elasticity and durability for more unrestricted movements and a greater range of motion ideal for boxing, MMA, kickboxing, and other high-performance sports. As I have used many socks for boxing, I can definitely put this one up at the top of the list.
It also offers flexibility and excellent resilience to withstand extreme temperatures and regular wear and tear.
The Achilles and forefoot structures incorporate high-density compression to support the foot balance while encouraging blood circulation and aiding the tendons and weakened tissues, giving you better and firmer movements while boxing.
Let me tell you that I have really sensitive tendons and even small pressure or disturbance can cause a huge problems for me. In that case I definitely want to experience the how it feel in real liufe practice, but, the claims are really promising.
It also has Spandex monofilament blended with Lycra for enhanced fit. It also helps in absorbing sweat to keep your feet dry and fresh.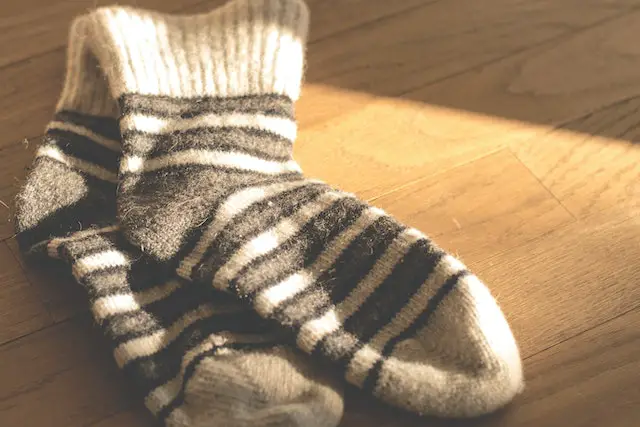 TCK Baseline 3.0 Athletic Crew Socks
The Baseline 3.0 is made with a blend of 79% Polypropylene, 13% Nylon, 6% Elastic, and 2% Spandex, making these socks highly stretchable, durable, and breathable for maximum performance.
It has ergonomic cushioning and arches compression for a solid and secured fit and better foot support. It also has a double welt top at the cuff of the socks to ensure that it stays in place and doesn't slip down without constriction around the calf while boxing or training.
These socks highlight TCK's DRY-IQ moisture control technology that helps wick away sweat and any moisture to keep your feet dry. And yes, after a long boxing session, I think you will not spot any drop of sweat on these boxing socks.
It also offers additional liners to reduce friction on the problematic area, protecting you from debilitating hot spots and blisters. It is also a breathable mesh at the top of the foot, which promotes airflow throughout the socks keeping your feet cool. I think it's a great addition from the company.
On top of these, the socks are infused with antimicrobial yarns to reduce bacterial growth and foul odor even during long hours of boxing. And I can definitely vouch for this technology as it would keep the foul smell at bay and you know it's a great thing!
Baseline 3.0 features compression zones in the ankle and arch areas to provide an increased level of support and aids in promoting blood flow to reduce foot strain and fatigue.
These zones also help in ensuring proper fit and provide extra traction to prevent slippage on smooth surfaces. You can wear them along with your high-top shoes or the low-top boxing shoes, your choice.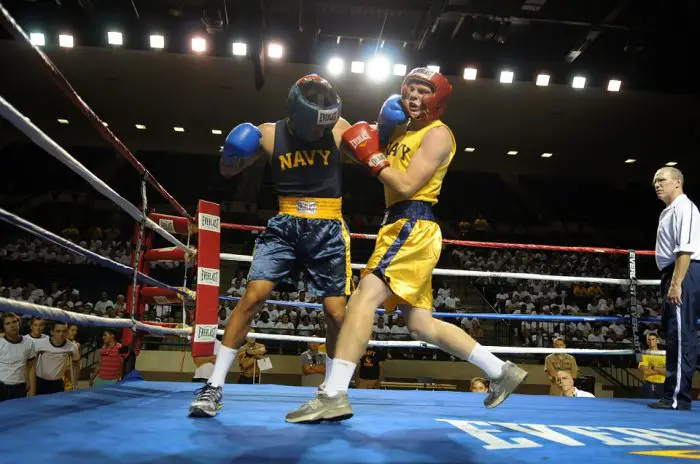 Final Words
Boxing socks are made differently in contrast to regular, mainstream socks, so make sure you opt for the best socks specifically designed to meet the specialized needs of boxing.
However, make sure that the socks you choose are comfortable and allow for adequate movement without being too stuffy or itchy.
You might be surprised at how much help it can provide to boost your performance.
I hope you enjoy reading the list, and that it has helped you decide which product to purchase to amp up your game.